David Townley joined his parents' business, Townley Pools and Spas, on a full-time basis three years ago. He was in for a surprise. Like many in the industry's younger generation, Townley was taken aback by his store's outdated customer experience.
"I was just shocked by the lack of technology we had," he says.
Townley, president of Townley Pool and Spa, holds a degree in computer science and saw a plethora of ways the store could benefit from a high-tech makeover. That instinct was compounded by a trip to a BioGuard dealer conference two years ago, where he met BioLab's Digital Marketing Manager, Israel Saari.
"He said, 'Hey, look at the Apple store. They get you in there touching stuff, pushing buttons.' So that's what we've done," Townley says.
However, Townley's goal wasn't just to make the store look cool — it was about using technology to engage his customers and improve the retailer/customer relationship.
"We want to try to connect with people," Townley says. "The products we sell can be bought on the Internet. The things that we have can be bought at other pool stores. We felt that in order to keep our business going, we were going to have to connect with our people."
To make that happen, Townley decided to modernize the store and focus on improving the shopping experience for his customers.
Showroom Appearance
Today, as customers walk through Townley Pools and Spas, they're likely to encounter one of the three flat-screen TV's on the walls, all of which play looped video content. For example, a TV in the hot tub area shows footage from Hot Spring and a second TV in the pool toy area shows kids having fun with various toys (some of which was provided footage and some shot by employees). Finally, a 42-inch TV hangs right behind the counter.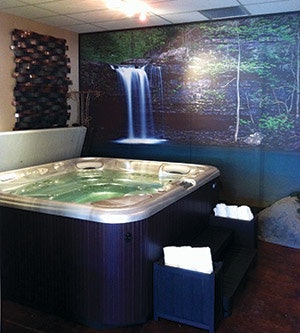 "That's the one everybody's looking at while we're running a water sample or ringing up a transaction," Townley says. "That's my generic pool and spa shots, tips and techniques and before/after pictures. It's the whole gamut of my business."
The video also shows products the store carries, which sometimes prompts a conversation.
"People waiting in line for a pool sample will see something on the TV and come up and ask us, 'You know, I've never used any kind of preventative algaecide; when I get algae, I attack it.' And I'm like, 'Well, let me explain this,'" he says. Plus, Townley believes the video adds credence to what he is already telling the customers about products and services.
Making the videos was fairly simple. An employee used Windows Movie Maker to assemble the videos, which were tossed on flash drives and hooked up to Roku streaming devices. All Townley has to do is turn the TVs on in the morning.
"You figure that TV cost me $300, the Roku cost me $80, the flat panel TV mount, probably another $100. So for less than $500, you've got a pretty big, visual billboard sales tool for yourself," he says.
Then there was the matter of the art on the walls.
"When I came in, we had what I would refer to as 'motel art.' It's fine, but it's not doing anything for us," he says.
To that end, Townley hung large posters printed on PVC throughout the store to help reinforce the message of pools and spas as places of relaxation and togetherness. The images found in the hot tub area were provided by Hot Spring, while others throughout the store were simply found online or made from photos he took personally. For example, one poster depicts six kids — including two of Townley's children — wearing goggles underwater.
"A friend of ours took this picture with an underwater camera. It came out so good, we said, 'You know what, we're going to print that out and hang it up,'" he says. "We hung it right above our little goggles area, and our goggle sales have tripled this year.
"And then you get someone like me at the counter going, 'Well those are my two kids right there in the middle,' and it's just a way to build that connection with our customers."
Finally, Townley and his team revamped the mood room — it now features large murals of local waterfalls as well as 500 fiber optic lights in the ceiling to create a starry night effect.
"It's a place people can decompress, rather than just having a room with some drywall painted blue," he says. "That can be a pretty persuasive room."
Improving Customer Relationships
However, looks aren't everything. Townley also sought to revamp the store's operational procedure with better technology to make a lasting impression on customers. For example, a renewed effort on Facebook raised the fan count from 40 to more than 500.
"We recently had a big snow and ice storm. We were reaching out to our customers on Facebook to give them a heads-up that they may need to drain their pool equipment or do something with their spa, and we got a ton of responses from Facebook fans saying, 'Oh my gosh, I didn't even think about what I should be doing with the spa.' We're trying to get ahead of that before things happen.
"I think technology helps us because, you know, the pool guy at Walmart isn't going to do that," Townley says.
In addition, the store uses RB Control Systems software to create prescriptive reports and maintenance calendars for customers.
"It's one page, it's short and sweet and people who've been with us for years will come in when they've got a problem and go, 'Okay, give me that sheet. I know it works, just go ahead and give it to me,'" he says.
The Facebook tips, emailed receipts, customer satisfaction surveys and easy troubleshooting advice, when combined with a friendly staff, make for a better in-store experience, Townley says.
"We just try to make sure people know we're not just there to sell them chemicals; we're here to help them take care of their pool and their family — you're putting your body in this water."
Comments or thoughts on this article? Please e-mail editors@aquamagazine.com.