Thanks to the power of technology, the pool and spa industry — and the world at large — is advancing faster than it ever did before. Not only does this evolution yield products that are cool and fun, but it also means products are easier to use and care for than ever before, and that's something that benefits the entire industry.
We asked manufacturers to send us a new or bestselling product they think is especially innovative. Take a look at what they shared with us.
Leisure Conceptswww.smartopcover.com(888) 965-6694
Smartop, the new cover from Leisure Concepts, is made of rigid, hard-shell polymer to provide long-lasting durability, even in harsh conditions. With its zero water-retention design and 800 lb. load strength — and additional features such as a steel cable lock system and integrated hydraulic cover lift — Smartop will provide a solution to your customers needs while increasing profits, the company says.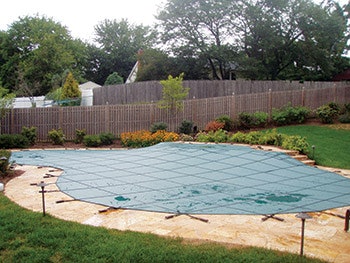 The Cover Companywww.coverlon.com(908) 707-1122
The Cover Company announces its high-quality safety covers are now available in new materials and colors: Tan Super Mesh, Blue Super Mesh, Solid Tan and Solid Gray. The covers feature heavy-duty springs and locking pieces for quick installation. Tough-to-fit water features including waterfalls, walls and other obstacles are handled with ease. Builders looking for a quote can fax or email a drawing.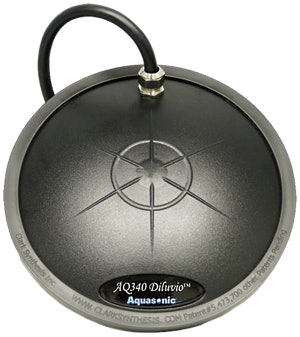 Clark Synthesiswww.clarksynthesis.com(303) 797-7500
The Diluvio 340 Underwater Speaker is the new and improved version of Clark Synthesis' AQ339. With manufacturing now in the United States, the company says it has been able to give this speaker some great updates resulting in easier installation and greater output.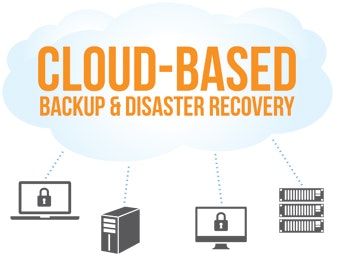 Evosuswww.evosus.com(866) 235-5103
Evosus has partnered with Centerlogic to provide its customers with reliable data backup and recovery services in the event of a disaster. The Data Backup & Disaster Recovery Service is designed as a proactive approach to safeguarding business data and ensuring minimal interruption in business flow when data restoration is needed, the company says. The service is completely automated, streamlines reporting and validates information was received and stored.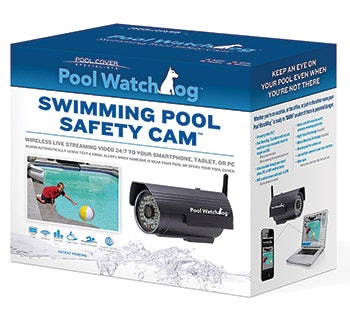 Pool Cover Specialistswww.poolwatchdog.com855-POOLCAM
The Pool WatchDog Swimming Pool Safety Cam, from Pool Cover Specialists, can help keep an eye on the pool when your customers are not there. The WiFi-enabled camera streams live video to the customer's smartphone or PC and sends warning texts or emails to alert of potential danger.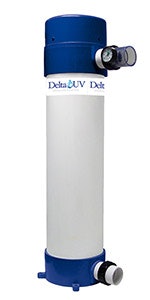 DeltaUVwww.deltauv.com(866) 889-8765
The new BlueLine UV Series by Delta UV offers a new look for its line of sanitizing UV products to fit any size pool. The company says its Clean Light UV technology removes the smell of chlorine to help prevent red eyes, dry skin and damaged hair while destroying microorganisms not eliminated by chlorine and salt systems. Easy to install and maintain and made in the USA, the BlueLine series is ideal for upselling, the company says.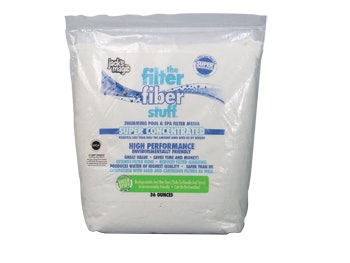 Jack's Magicwww.jacksmagic.com(800) 348-1656
Biodegradable and non-toxic, The Filter Fiber Stuff is a safe alternative to D.E. Jack's Magic says this NSF 50-certified product filters to 2 microns. Since D.E. only filters to 4 to 5 microns, expect the first filter run to be shorter as more than twice the debris is filtered. After conditioning water to 2 microns, filter runs will be extended significantly. Just 36 ounces charges a 60 square foot D.E. filter, making it a great value, the company says.
Caldera Spaswww.calderaspas.com(800) 669-1881
All Caldera spa models feature FiberCor, a proprietary, energy-efficient insulation introduced in 2012. FiberCor is made from recyclable loose-fill material, making it easy to service, environmentally friendly and economical. Featuring four times the density of the urethane foam used in most hot tubs, FiberCor provides unmatched insulation while improving spa performance and lowering energy consumption, the company says.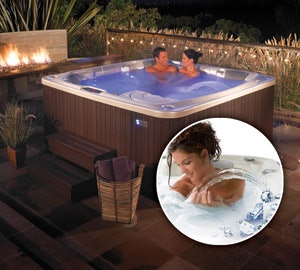 Hot Spring Spaswww.hotspring.com(800) 999-4688
Hot Spring's fully integrated ACE Salt Water System uses diamond technology to automatically generate effective cleaners from just a small amount of salt and water. The result is water that is soft and clean, without the harsh chemical smell or irritation associated with traditional spa water care, the company says. The ACE system communicates directly with the spa control panel, making it easy to monitor and adjust. Available only on Highlife and Limelight Collection Spas.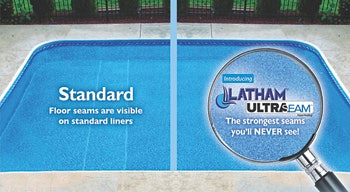 Latham Pool Productswww.lathamint.com(800) 833-3800
A common issue with vinyl liners: visible floor seams that can detract from the look of the pool. Whether for a new pool or as a replacement liner, Latham Pool Products' exclusive Ultra-Seam process makes floor seams stronger and virtually invisible, the company says.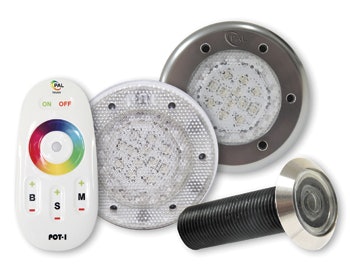 Horizon Spa & Pool Partswww.horizonparts.com(800) 874-7727
Horizon's PAL Lighting products are among the few UL-listed, low-voltage LED swimming pool lights available, the company says. These remote-controlled lights are made in Australia for use in pools, spas and water features. Compatible with concrete, fiberglass and vinyl-liner pools.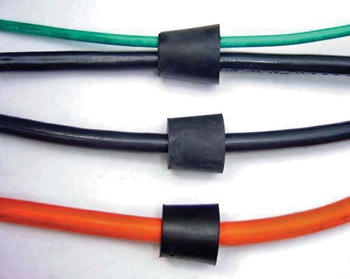 G&P Toolswww.gandptools.com(573) 431-6998
Wondering if that light niche conduit is sealed? With G&P Tools' Cord Stopper, you won't have to, the company says. The Cord Stopper features molded rubber stoppers that fit snugly around cords to seal the light niche without messy silicone or putty, and the retrofit is split to make below-waterline repair on a leaking light easy.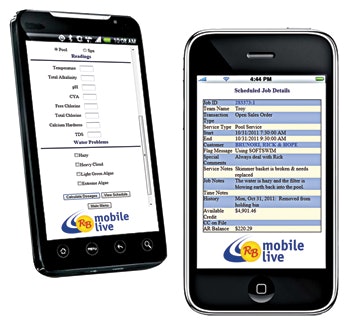 RB Control Systemswww.rbcontrolsystems.com(866) 933-9099
With RB Mobile Live, users can access customer data, view the schedule and update sales orders, among other tasks, to keep your in-field workforce connected, the company says. In addition, the Pool Check iWater testing feature is fast and accurate, automatically recording the customer's water results.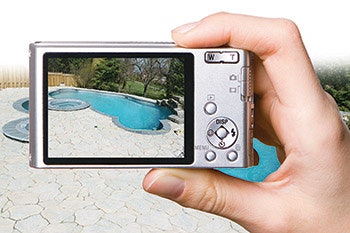 LOOP-LOCwww.looploc.com(800) LOC-LOOP
With IMAGE-LOC, LOOP-LOC's revolutionary way to measure covers, all you need is one person with a camera to achieve highly accurate cover measurements, the company says. Just follow the simple instructions and you'll have measurements in 10 to 15 minutes — no A-B measuring process needed.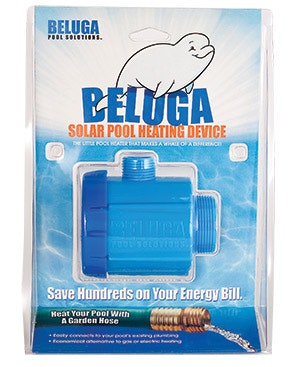 Beluga Pool Solutions www.belugapool.com(517) 627-6911
You know that when a garden hose sits in the sun for even a short time, the water is warm when you turn it on. Beluga Pool Solutions took that logic and applied it to their new product, a device that can direct water from your pool's filtering system through a garden hose to heat any size pool with solar energy.
Sider-Cretewww.sider-crete.com(888) 743-3750
Sider-Proof FF-PR is a roll-on cement-based pool plaster and resurfacing coating for plaster, concrete and ICF swimming pools. Packaged as a kit and easy to apply with a standard paint roller, this advanced coating can also be used to waterproof waterfalls, fountains and concrete ponds. The product is suitable for residential and commercial applications and compatible with hot tubs and saltwater system applications.

Oreq Corpwww.oreqcorp.com(800) 420-3255
The EndForcer is a 22-inch professional pool brush. Available in five different models for the best surface compatibility and functionality, EndForcer brushes feature a flexible and durable body; longer and thicker UV-protected bristles than most brushes; and end caps that provide corner brush action with built-in magnets to recover stain-causing objects.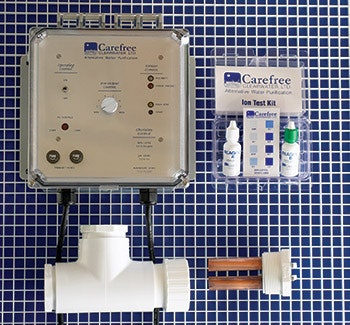 Carefree Clearwaterwww.carefreeclearwater.com(800) 364-5710
Carefree Clearwater's Model 1200 series now comes with a more versatile, upgraded enclosure design, a new complete and accurate testing kit for all important water balance parameters and improved anode hardware. As an alternative to chemicals, the mineral ions automatically control algae and bacteria while maintaining a stable sanitizer residual and increasing profits and customer satisfaction. The company offers a lifetime warranty.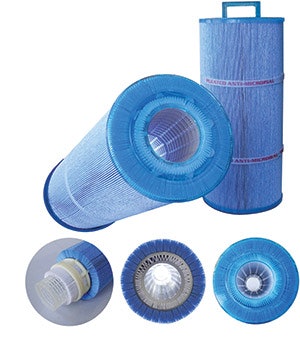 Pleatcowww.pleatco.com(800) 886-5160
Traditional filter cartridges use a single filtration fabric. Pleatco's proprietary Advanced Filtration System (AFS) DUAL CORE uses two innovative filtration medias which will clean water to the highest level without reducing the life of the filter, the company says. The inner fabric is a new advanced media that captures the smaller dirt particles and doesn't get clogged as larger particles are pre-filtered by the top performance outer antimicrobial media. Additionally, Pleatco's FREE FLOW CORES maximize water flow.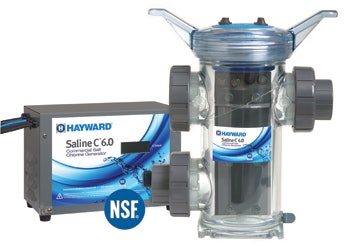 Hayward Commercial Pool Productswww.haywardcommercialpool.com(800) 657-2287
The Hayward Commercial Salt Chlorine Generator, Saline C 6.0, is NSF listed and designed to produce up to 6 lbs. of chlorine per day, the company says. Utilizing a single industrial-grade cell and power supply, the need for daisy-chained cells is eliminated, which lowers your ecological footprint and installation costs. In addition, users can easily combine Saline C 6.0 with a pH/ORP chemical automation system by plugging it into a Hayward CAT Controller to create a self-managing, automated water chemistry solution.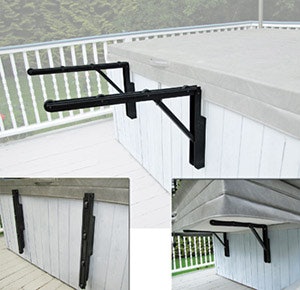 SPAccessorieswww.888SPALIFT.com(888) SPA-LIFT
The Cover Roller is the only cover remover with a patented on/off roller design with four rollers per arm, the company says. The product comes preassembled and requires only a screwdriver to mount on a spa. To use, lift/lock the two arms, fold the cover and smoothly push it onto the arms. In the open position, the cover may be used as a table. When not in use, the arms fold down against the spa cabinet.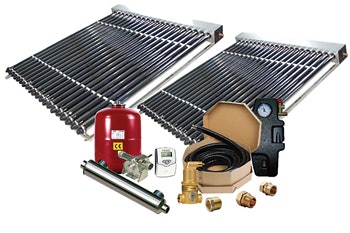 Northern Lights Solar Solutionswww.solartubs.com(800) 317-9054
According to Northern Lights, vacuum tubes with a closed loop mark the latest in pool heating technology. Because the system is isolated from the pool with a titanium heat exchanger, there is no contact with chemicals, which greatly increases the product's life expectancy. The vacuum tubes work in cloudy conditions and are unaffected by wind and temperature, the company says.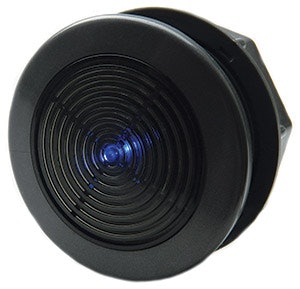 PQN Enterpriseswww.spaspeaker.net(805) 794-6475
PQN offers the SPA24, an innovative in-spa audio speaker. With a wall-fitting design, SPA24 installs without additional hardware, which decreases your labor costs, and its threaded body prevents direct contamination of the speaker, the company says. In addition, SPA24 features an integrated, audio-driven blue LED lighting system that serves as an accent show. Available in assorted models.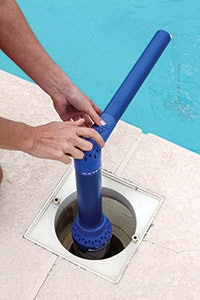 Water Techwww.watertechcorp.com(800) 298-8800
The Pool Blaster Skimmer Vac is a hydraulic, easy-to-use manual device that, with a few easy pumps, sucks out all debris from pool skimmer baskets without having to remove the basket itself. Leaves, twigs, insects, rodents and other debris are instantly removed and sealed in a watertight compartment. The product protects the user from contact with the many health and environmental dangers that make their way into an otherwise clean and healthy pool, the company says.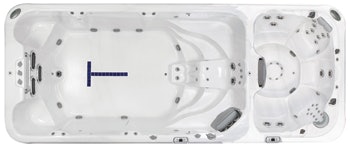 L.A. Spaswww.laspas.com(800) 569-2344
The In-Fit 19 DT is L.A. Spas' newest addition to its In-Fit Exercise Pool collection. The swim channel in this dual temperature exercise pool is artistically tiled, lit, and designed for swimmers of all levels, the company says. Three adjustable river jets provide a gentle or powerful current and a leveler jet increases the swimmer's stability. The pool and spa are independently controlled to offer an optimal environment for workout and recovery. Standard features include 10 lit water features, 3X Training System and Aqua Klean filtration.