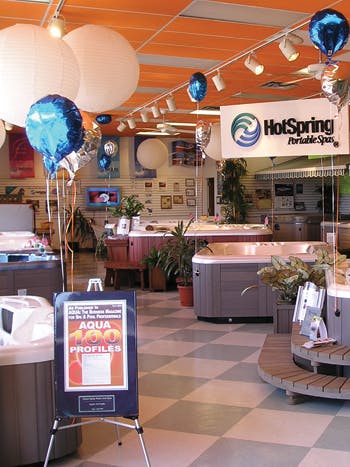 Though the housing market still stinks, too many people are out of work and consumer confidence is shaky, the Great Recession (I think it merits upper-case treatment) is over. In fact it's been over, if you use a strict definition, for a couple of years.
That academic end to the recession did little for pool and spa retailers, whose customers didn't go on spending sprees when editors at the Economist gave the all-clear signal in the summer of 2009.
There are signs, however, that things are beginning to change for the better. Unemployment has dipped to below 9 percent, home prices have stabilized, sales of existing homes are showing some life, and, for the seventh consecutive month, consumer confidence rose in March, according to the Reuters/University of Michigan poll. These findings contain glimmers of hope, and they mirror the attitudes gleaned from the 255 respondents in our State of the Industry Retail Survey.
Among the highlights of the survey was the fact that more than a third of retailers hired new workers in 2011, and although 23 percent had to lay off personnel, only 2 percent thought they'd have to downsize in '12.
Unit sales of spas and aboveground pools rose last year for 25 and 26 percent of respondents, while retailers had mostly positive results for ancillary products such as game room equipment, outdoor kitchens and parts.
"We sell fireplaces and the revenue is equal to our spas," said one respondent. Said another: "Covers and chemicals get me through slow times."
Taken together, retail sales of core products and ancillary items contributed to an increase in gross revenues for four in 10 respondents. Better still is the outlook for 2012: Only 4 percent predicted a drop in sales this season. Is this warranted optimism that will be rewarded, or simply the stubborn sort that spa and pool retailers have shown since the economy tanked five years ago? An early spring favors the former, but stingy bankers and jittery consumers, wary of rising gas prices and stagnant wages, threaten to stifle the spark of good feelings that came out in the survey.
Another threat is competition from big-box stores and (especially) the Internet. Retailers large and small expressed concern that, while the economy will certainly regain its footing at some point, customers lured by unbeatable online prices will be hard to win back.
"Recessions come and recessions go. This has been a very, very severe one, but I fully expect our great country to come out of this recession," said Bob Dooley, owner of a pool and spa store in North Carolina (see the full interview on page 52). "But, that doesn't affect the way our market has changed due to online purchases. That has nothing to do with the recession. The Internet has had a huge impact on retailers and service companies in our industry, and it's not looking like it will get any better soon."
These warnings aside, survey respondents were generally optimistic about 2012 and beyond.
Said one dealer in the Lone Star State: "I believe people are just tired of being afraid to spend any money."
TOP SELLERS
Where the money was in 2011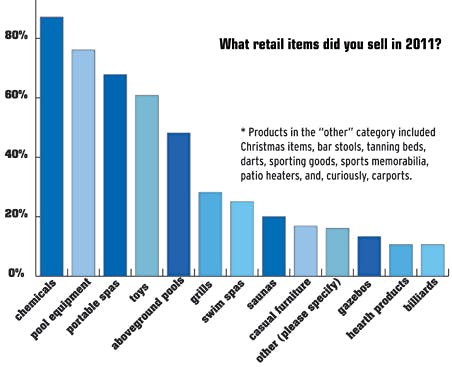 The retailers that responded to this year's State of the Industry survey range from small, single-store shops that sold only hot tubs to larger operations with multiple locations and a slew of SKUs. A great many sell spas and chemicals, and aboveground pools and pool equipment are also popular. It's among these categories that competition is fiercest.
Other product categories, however, can set a retailer apart from the guy on the other side of town, and offer business owners a chance to attract additional customers. Items such as saunas, hearth products, casual furniture and billiards do more than serve as window dressing for a store's core products — they can contribute significantly to revenues and keep a dealer afloat when spas aren't selling.
In terms of the typical mix of backyard products at pool and spa stores, little has changed from a year ago, which in the case of abovegrounds is a good thing. About four years into the global recession, after several top manufacturers had closed shop or shifted focus, and after an all-out assault from soft-sided pools sold either online or through non-specialty channels, it looked as if the category was on its way to marginal status. But nearly half of the retail respondents still sell them, which is actually up from only 42 percent a year ago. Perhaps the steady decline has been stemmed and venerable nameplates such as Buster Crabbe and Esther Williams will emerge as survivors.
STAFFING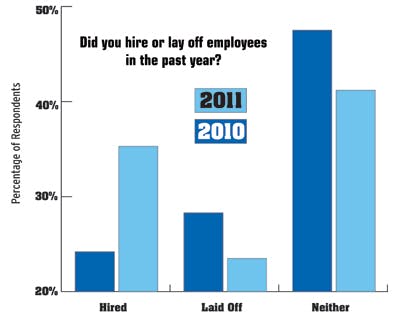 Mom-and-pop shops with one or two outlets make up the majority of retailers in this business. Those types of stores might have a salesperson, someone manning the water-testing station and a cashier who answers the phone. Sixty percent of the 255 survey respondents fit this description and employ between one and five during the busy season.
There are some bigger companies, however, with multiple locations and product lines that have far larger payrolls. Eight percent of survey respondents employ 16 or more, with the largest of these paying 65 people to service their customers.
We asked retailers about changes to their staffing levels in 2011, and 35.3 percent — more than one in three — added people to their payrolls. This can be seen as a positive indicator, as it represents a jump of about 10 percent compared with last year. More hired, fewer fired.
Don't look for a lot of changes this year, as the percentages of respondents who told us they planned to hire, lay off or keep staffing levels the same was nearly identical.
RESULTS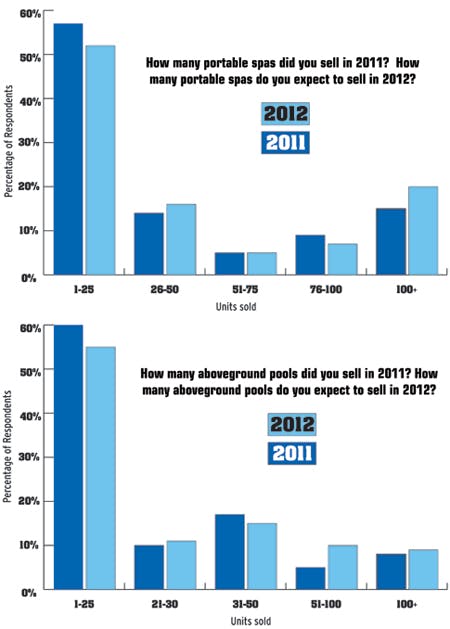 Sales of core, big-ticket items were somewhat mixed in 2011, according to our survey. Among this year's respondents, only 26 percent saw sales increases in hot tubs while unit sales remained unchanged for 43 percent.
As a group, survey respondents sold 11,231 portable spas in 2011, for an average of 65 units per dealer. Asked how many spas each expected to sell in 2012, the group came up with an average of 76 per store, an increase of 8.5 percent.
The aboveground pool market isn't a place one looks to for good news lately, but there was a little to be found there in the survey. One quarter of dealers who sold them in 2011 reported sales increases, compared with a paltry 14 percent of survey respondents who reported gains on last year's survey.
Dealers who sold abovegrounds shifted 5,187 units from warehouses to backyards. That's an average of 44 per store. Next year, the group's predicting it will sell 5,897, an increase of 14 percent. Keep in mind that the surveys were sent in January, well before respondents saw the record warm temperatures that had dealers and their customers thinking spring a good six weeks earlier than usual.
"Cost cutting, better pricing for products sold which equals being able to maintain low retail pricing for customers."
"I believe people are just tired of being afraid to spend any money, and decided to get out and about."
"The economy is better in our area, sales are up, but not by a lot, but any increase is a good increase."
"We didn't branch out into more areas of sales such as spas, grills or furniture. We increased the quanity choices in the areas we already had."
DAVIDS AND GOLIATHS
The portable spa and aboveground pool dealer base is wildly diverse in terms of store size, geographic reach and gross sales. The biggest of these stores sells the lion's share of units, and nowhere is this more pronounced than with aboveground dealers. In that segment, the top five percent of dealers sold as much as the other 95 percent combined. Among those who sold spas, the top eight percent sold half the spas, and brought the average-per-store figure up.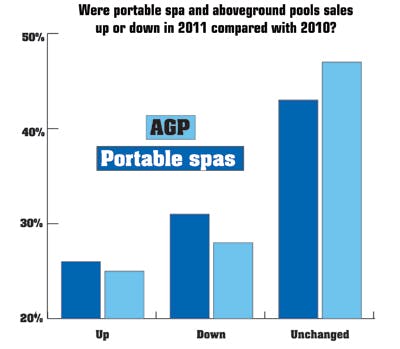 Here's a closer look at some of the non-core products and small-ticket items retailers sold in 2011 and what they had to say about their effect on business.
Reviews were generally mixed, with some retailers finding great success in ancillary offerings, and others struggling enough to vow discontinuation. Factors behind success with these products varied widely, but generally effort and focus were rewarded.
"We sell billiards and darts. Billiards was down in 2011, but darts were up and are still growing."
"Pool and spa chemicals are our bread and butter."
"Spas were 30 percent down but furniture and grills kept our sales unchanged."
"Hot tub service and parts have kept us afloat."
"Enzyme-based products and chlorine generators both allow for good margins and are selling quite well. The enzymes create repeat customers."
BOTTOM LINE
Data from this year's State of the Industry survey suggest that retailers maintained the slow sales growth that began in 2010. While no one would confuse these market conditions for those found in 2007 and before, it seems the worst is over and that customers are slowly beginning to spend more money in backyard businesses.
Of the 255 respondents, 40 percent saw sales grow in 2011 as compared with 2010. Considered together with last year's survey, in which showed 49 percent of respondents reported revenue gains, a picture of a mending industry begins to emerge.
Why were sales down?
"All the homes that are going in to foreclosure."
"Less traffic into our stores and very poor traffic at our five local home shows."
"Internet sales of products sold cheaper with no sales taxes added."
Why were sales up?
"The economy even though is still a rollercoaster, seemed to be a little better last year."
"An increase in customer serivce and promoting "staycations."
"A strengthening economy and an improved product offering from Watkins Mfg."
"Our trade-in spa program."
"An unusually hot summer and pent-up demand for our products."
"New management with stronger controls."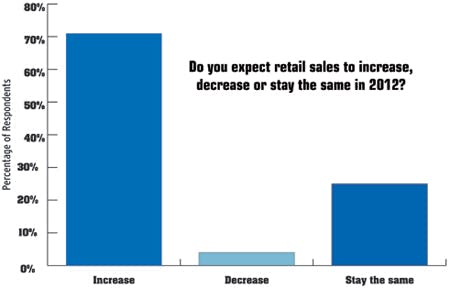 While revenue gains were broadly reported by survey respondents, big companies fared best. Among those that grossed $3 million or more in 2011, 63 percent saw revenues rise and none expected sales to dip in 2012. These companies were also twice as likely to hire new workers to handle the extra business in 2011.
AN UNFAIR FIGHT?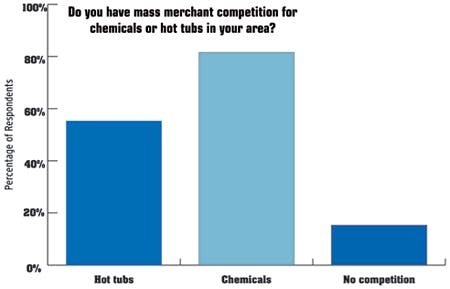 In a bad economy, customers look to save where they can. One opportunity many of them identify is to buy pool and spa chemicals – or even abovegrounds and spas themselves – from either big-box retailers or the Internet.
Some of our survey respondents told us they faced no local competition from mass merchants, but no one could make that claim about the Internet, which is completely ubiquitous. Ninety percent of respondents said they saw some of their core products cheaper online than they can get through distribution. That's not cheaper than they retail the products for, but cheaper than they can get them. Frustration on this front was evident in the responses. The short responses ranged from simple yeses, to ones repeated several times, others in upper case, with exclamations attached, and even some expletives.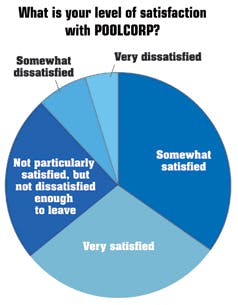 Even though POOLCORP was singled out for suspicion for undercutting retailers online, only about 12 percent of retailers that deal with it reported dissatisfaction with the distribution giant.