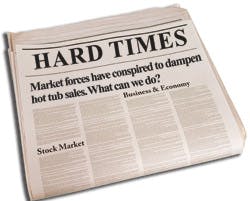 Remember the late '90s and early oughts? The U.S. economy seemed unstoppable, with low unemployment, low inflation and low interest rates. Home values and 401(k) balances soared and effects of the economic boom were felt across a wide swath of America, from Main Street to Wall Street and everywhere in between.
At times it seemed the party would never end, even when the IT bubble burst in 2000. Rather than dampening spirits, that just seemed to fuel a rally in speculative real estate, which in turn led to even bigger gains in equity and big lines of home-equity credit.
Homeowners used a lot of this money to finance vacations, home improvements and, yes, pools and spas.
Today, we see a stock market that's given back a decade's worth of gains and home values that have slid nationwide. Predictably, people have grown conservative with their money, as have the banks, which are loath to lend to anyone but those with the highest credit scores.
These changes have hit portable spa retailers hard. Customer counts and profits are down like some long-time observers have never seen before. AQUA spoke with several dealers to gauge their moods and to find out how they're dealing with the current economic climate.
Storm Clouds
Norm Coburn is president of New England Spas, a very successful three-store dealership in the Boston area that sells Sundance and Hot Spring. He says this is the worst market he's seen in his 23 years in the business.
"The only other real rough period that I can remember was 1989. We were only four years into this and really just getting to the point where we were figuring out how to run the business," he says. "We had very few employees to begin with and only one store, and we just cut employees back to the point where we were bare bones."
After a couple of years, things started to improve, and in the next decade business took off. The company opened three more stores. Then, business hit another rough patch.
"The difference is, when things started to slide for us, maybe two years ago, we had four stores and 30-plus employees, whereas in 1989 we only had eight or nine employees. So the scale is different.
"The other difference for me is I'm a lot older and I don't know just how far things are going to go in terms of getting worse before they get better. At that time (1989) I had no idea that I was in any kind of cycle. I was kind of green and just put my nose to the grindstone. There was no fear."
This time around, Coburn is more concerned, and says he's not sure the economy or the hot tub industry has hit bottom yet. "It's a little scarier," he admits.
About 500 miles to the southwest of New England Spas is Charlottesville Aquatics, in Charlottesville, Va., and things aren't any better there, says vice president Christine von Lewinski.
"People are very, very concerned about the economy, and as for the leads that our sales department have had to work with, well, the stack has gotten smaller and smaller," she says. "Each time they contact customers, people are giving them definite 'nos' because they're scared."
Sales Sinking
Coburn, von Lewinski and retailers across the country can take some comfort in the fact that they're not alone in having a hard time selling as much as they once did. In fact, anecdotal evidence from last November's International Pool | Spa | Patio Expo in Las Vegas suggested that overall, the market was down an astounding 30 percent in 2008, and that's following a down year in 2007 - and another off year the year before that. This writer spoke with several manufacturers and retailers at the show who privately said sales last year would be only half of what they were back in 2005, or somewhere around 200,000 units nationwide, a trend that could force some spa makers out of business.
"We're probably going to see some of the manufacturers fold up their tents before this is all over," said one show exhibitor.
The retail segment of the market is also likely to suffer losses. In fact, Kelly King, owner of Mountain Hot Tubs, Bozeman, Mont., says a few of his local competitors have already thrown in the towel.
"We saw three disappear this year," he explains. "One had been around for several years, but was smaller. And the other two had been selling for four or five years, too.
"That leaves us and two other main dealers now that half of us have disappeared."
Fewer competitors means an increase in market share to the dealers that survive, but that's cold comfort in a downturn as severe as this one, according to Coburn.
"My manufacturers call me and they're telling me the 'good news' about my market share. And I say, 'Great, but I don't think that's as good as making money,'" Coburn says, laughing.
Morale Boost
Owners of hot tub companies aren't the only ones worried about the downturn; their salespeople are equally concerned, and can become discouraged when fewer people walk through the door.
"It's hard to keep them excited and motivated," King says. "So we're looking at new things to sell. We've always carried saunas, but we just kind of kept them in the corner. This year we went really big with saunas. We took up more floor space - we have seven models on display now. And there are all sorts of other products we could add. That's a good reason to go to a trade show."
King also reduced Mountain's sales force at its flagship Bozeman store.
"The key people doing sales right now are actually keeping pretty busy, but we have fewer of them," he explains.
Charlottesville Aquatics, which sells six of Watkins' brands, was also forced to let a couple of salespeople go, leaving the company with two.
"We have regular meetings with them and we try to talk about things that are within our control," von Lewinski explains. "The economy isn't one of them. We just try to focus on what our company has to offer customers in general rather than focusing on the gloom and doom."
Bursting Bubble
Different parts of the country have been affected in different ways by the economic slowdown. In the Northeast, skyrocketing home prices began falling back to Earth a few years ago, a time when much of the country was still in pretty good economic shape.
"We started seeing the effects in New England earlier than a lot of the country did," say Coburn. "It seemed like in 2007, when I talked to people on the West Coast about it, they were like, 'What are you talking about?' Now they know."
Now everyone knows, in fact. Everyone who watches the news, reads a paper or talks to a neighbor lately, that is. All the talk about home foreclosures, the economy, the $700 billion bailout and possibly the collapse of the U.S. auto industry has really soured people on spending, even if their personal financial situations haven't changed to the extent that they can no longer afford a hot tub.
"We've seen real estate prices fall and equity loans shrink up," Coburn says. So, when people have less money to spend, they spend less money. That's clearly a factor.
"I do think, though, that a lot of our customers - and this is true for hot tub dealers everywhere - are not people who are going to lose their houses any time soon. They could still spare $10,000 for something like a hot tub. But mentally we're just beaten daily with how badly the stock market is doing, and how 30 percent of our retirement money is just disappearing. So psychologically, we think, 'Do I really want to spend 10 grand right now?' While that's the bigger factor, there certainly was some positive spending for our industry when equity money was available."
King also points to dropping home values after a years-long run-up as a key factor in his company's recent sales slump, but also says his two satellite stores have been performing better than the Bozeman flagship location.
"They're not doing better as far as numbers go - we're still outselling them in Bozeman - but they haven't taken as big a hit as we have. We think a big part of that is that Bozeman was a very fast-growing housing market and prices were going up really fast. A lot of investment properties, a lot of resort-type homes at Big Sky and Yellowstone Club."
Mountain's Helena location has been buoyed by its status as the state capital, where government work is more stable than other employment sectors.
"It's been a growing city, but at a pretty steady pace, not a boom like we've had here in Bozeman," King explains.
Mountain's other store is in Butte, a working class city that hasn't seen much population growth or big increases in home values, and therefore hasn't been affected as much by the slowdown as the Bozeman store has.
Perhaps due to this partial insulation from the country's overall economic downturn woes, King says the customers who do want to buy haven't had difficulty getting financing.
"I've talked to our main lender, American General, and I've talked to the local person and she assured me that their criteria for consumer loans in our category have not changed to the point where we should expect any more denials than usual," King says. "A lot of customers are still doing financing."
That hasn't been the case at Charlottesville, von Lewinski says.
"We've traditionally had a very good relationship with our lender, and I feel like we still do," she says. "But the number of people who have been turned down has increased. Everything is a go and then they get turned down for financing. Or everything is a go and they find out their home equity line of credit has been frozen. So it's really hard."
Where Do We Go?
Despite the slow sales and the abundance of bad news nationwide, hot tub retailers, including the ones we spoke with, seem to be optimistic about the future of the industry. It's a cautious optimism, but it's optimism.
"I am optimistic about the hot tub business," Coburn says. "I always have been and I always will be. We sell something that people really, really get a hell of a lot of benefit from, and I've always felt that if more people knew, we could be selling four times what we're selling. I really believe that.
"But what is it going to take to turn this around? I don't know, but I hope I live long enough to see it."
King is likewise hopeful about the future, and he does his best to make sure his employees feel the same.
"When the market rebounds, we'll be in a very good position," he says. "That's the message we're sending to our entire staff: Hang in there with us, sharpen the axe, and when things break, we'll be really successful."
Inventive Incentives
Salespeople are notoriously upbeat, or at least the good ones are. But even the most gung-ho guy is apt to get a little glum when people stop shopping for hot tubs and his paychecks suffer.
Norm Coburn is president of New England Spas, a mega-dealer in the Boston area. Lately, he's been upping the ante on his sales contests to keep his crew motivated. "Instead of 50 bucks for this and 75 dollars for that, I started buying event tickets, because I like to go to shows and sporting events myself," he says. "Luckily I have some connections and an American Express card. So I've been buying some pretty cool tickets for our sales contests."
Among the recent prizes were tickets to the Eagles, Eric Clapton, Cirque du Soleil, touring Broadway shows such as Wicked, and tickets to Red Sox (a big hit) and Celtics games (those were only recently considered valuable enough to motivate, Coburn deadpans).
"And we have a lot of fun with it because we send out weekly updates to the guys as far as where they're standing, with promotional clips from the events, so we generate a lot of enthusiasm.
"We also started giving them out not just for No. 1 sales, but for salespeople that sold the most old leads, or old quotes, so they'd start to go back to the basics in terms of their activity. And that's the kind of production that we wanted to reward. So we kind of tweaked the whole incentive plan to keep people excited."
-B.K.