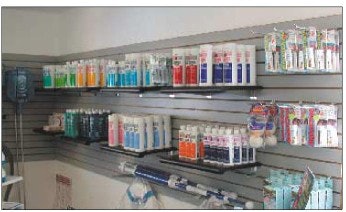 As the popularity of residential spa use increases, so does the number of chemical products that insure consumers have clean, clear and safe water. Chemical manufacturers now vie for the increasingly precious retail shelf space — precious because there are more chemical products than ever competing for the same amount of space. The ones that win are the ones that sell strongest.
What factors contribute to what sells and what doesn't? It is important that products perform according to the manufacturers' claims, of course, but AQUA learned that other factors strongly influence what chemical brands make — and stay — on the "bestseller" list. Consumer advertising and promotions, dealer incentives, dealer attentiveness, profit margins and even packaging are driving forces behind product sales. Yet everyone, chemical manufacturers included, agrees that dealer influence is the No. 1 reason why consumers choose the chemical brands and programs they do.
Spa Manufacturers' Spin On Chemicals
The majority of the more than 100 spa manufacturers in the United States provide basic water-care information in their manuals, but most do not endorse specific brand or product names, claiming there are too many variables related to chemical programs. Factors that determine an effective program include consumer concerns and priorities, the type of use the spa will receive, local climate and weather conditions.
Rick Singleton is the owner of Southern Pools & Spas, a dealer in Abingdon, Va.
"When a customer buys a new spa, we guide them to a chemical program that is right for the climate, the anticipated use and the customer's priorities," he says. "Depending on those variables, we recommend one of a couple of programs. We suggest Avecia's BaquaSpa, a biguanide program, if an odor-free spa environment is the customer's priority. Advantis' Leisure Time offers bromine and chlorine spa kits in several packaging options. Nature2 is a natural purifier that provides yet another choice."
Singleton says it is important for retailers to have sound relationships with the chemical companies they represent. "Our relationships are based on product satisfaction," he says. "We add a new line when we feel it will benefit our customers. We added Avecia, for example, because consumers wanted to bring their water to us for testing and they offered us a superior water testing system. Customers often come to the store to get their water tested for free — but they often end up buying chemicals."
"The information in our owner's manual offers the basics of water care," says Sam Natter, creative services director for Dynasty Spas in Athens, Tenn. "The advice we offer is derived from our knowledge of the spas' operating systems — what is best for the ongoing care of the system — and what is known about chemicals. We don't advocate one chemical program over another. Instead, we feel retailers understand the variables in their area and their customers' desires. They, therefore, should be the ones offering advice. We offer only general information regarding water testing, the importance of proper chemical balance and cautions regarding chemical use."
An Option For Everyone
Mike Smith, owner of River Mist Spas in Columbia, Mo., carries a full line of outdoor products, including hot tubs.
"The point of installation is key to educating customers on their chosen chemical system," he says. "Once the tub is delivered and set up, we walk the owner through a complete orientation, including chemical maintenance. Besides following the information provided in the spa owner's manual and the chemical manufacturer's instruction sheet, we also supply our own information and instruction sheet that has been developed specifically for the climate and weather conditions in our area."
Smith also suggests that customers return to the store after two weeks of using the spa to review their progress with the system's operation, including the chemical program. "They are less excited about their new spa by then, and they seem to absorb details better," he says. "This follow-up meeting gives them a chance to ask questions and clear up any lingering confusion."
Before introducing a new product to customers, Smith and his staff test the products in their home spas. "I wouldn't offer my customers anything that I wouldn't use," he says. "We carry Robarb, Spa Essentials and Sea-Klear products. These companies offer good vendor support, and they are reputable. Profitability margins and incentives are similar between brands, but I do consider these factors when adding a brand to our inventory."
Bruce Bagin, one of three brother partners in B & B Pool and Spa Center, a retailer and builder in Chestnut Ridge, N.Y., says, "We represent chemical companies with wellknown names, but ones that also provide dealer support." The firm caters primarily to an upscale customer base.
"Unless the customer owns a pool, they generally have little or no knowledge of chemical products," Bagin continues. "The most common concern they have regards chemical odors — they don't want them. We strive to start them on a program that requires the least amount of harsh chemicals."
B & B represents chemical products based on name brand recognition; reputation; range of product line; research and development; dealer support in the form of promotional programs, consumer support manuals, spa care guides, water sample bags and other materials; incentives to dealers and sales teams; and the ongoing personal relationship between the company and the retailer.
"Your choice of chemicals and how you introduce them to your customers is key to an ongoing relationship," Bagin says. "People whose water is in pristine condition keep coming back."
Partnering Trends
BioGuard and Sundance Spas recently announced a partnership agreement. The venture provides direct product buying and spa chemical education advantages for eligible Sundance Spa dealers. To kick off the union, BioGuard introduced a line of SpaGuard spa starter kits labeled with the Sundance name. BioGuard's director of marketing, Scott Newton, says the kits are designed to match the specifications and needs of individual Sundance Spa models.
"We try to look at how consumers use their spas and what they need," Newton says. "We agree that needs vary, so the SpaGuard line offers three program choices: bromine, chlorine and biguanide."
Newton says that while it is imperative to a chemical company's success to manufacture top-quality products, focus-group studies have indicated that the decision of what chemical products a consumer buys depends largely on what the retailer promotes. "They get a lot of information at the point of purchase," he says. "Independent retailers appear to be much stronger at influencing customers than mass merchandisers. Independents have the advantage of salespeople who are trained in chemicals, where mass merchandisers typically do not. Pretty packaging may attract consumers who are standing in front of a display without the guidance of a trained chemical salesperson. Although we all like nice-looking packaging, independents demand to know how effectively the product inside works."
"Retailers have a myriad of chemical products available to them," says Jerry Greer, vice president of sales and marketing for Sundance Spas in Chino, Calif. "Sometimes the result is a chemical cocktail that confuses consumers. By partnering with BioGuard, our retailer representatives can offer a system that is easy, convenient and gives the consumer clear, clean water. That is what we mean by a chemical system that adds to the consistently good experience of owning a spa."
Simplicity Is Key To Sales
Chemical companies want more than for retailers to introduce their products to new spa owners — they want repeat business. Renee G. Henze is the international marketing director for spa products for BaquaSpa chemicals, manufactured by Avecia. He says one way to secure repeat business is to keep the chemical program effective — but simple.
"Research indicates that consumers stick with a chemical line that is simple and effective," he says. "It also reveals that one reason people don't purchase a spa is because they believe it is difficult and time consuming to maintain. For these reasons, we feel that systems must be simple and lessen the amount of hands-on work required by consumers. Products that irritate skin or have strong odors don't become bestsellers.
"Our sample kit includes a 30-day supply of chemicals. Many retailers send this kit to the customer with the spa when it is installed." To assist dealers in educating clients on how to continue proper maintenance of their hot tubs, BaquaSpa has introduced a new program this year: WET, which stands for Water Education Tour. "Our staff goes to select retailers with a van and a tent and hosts a weekend event," says Henze. "They answer consumer questions and offer incentives to get people to switch from their current chemical program to the BaquaSpa system."
Mike Moore, vice president of marketing for Alpharetta, Ga.-based Advantis Technologies, manufacturer of Leisure Time, GLB and Robarb spa care products, agrees that retailers are the major factor influencing what chemical program consumers choose. Because jof that, he says, "Incentives are important and they come in many forms. We offer several at any time: gift certificates, product vouchers, vacation travel and seasonal rebates on select products that help dealers be more competitive. These and others are key to properly supporting your retail community.
"But dealer support must also come in other ways, such as strong promotion programs on the manufacturer's part. Keeping current supplies of materials in retailers' hands is important, as are comprehensive Web sites with dealer-dedicated sections. Staying up to date with technology is crucial. We introduce new and improved products on a regular basis, indicating that we never stop our R & D on how to make things easier for the consumer, and easier for the retailers to sell."