The following content is supported by one of our advertising partners. To learn more about sponsored content, click here.
Smart home devices have been around for quite some time, but connected product options may be even more beneficial than you imagined when it comes to operating and maintaining your pool. From monitoring water chemistry to spot cleaning your spa, leveraging connected products and pool automation solutions make operating and maintaining your pool a breeze.
Simply put, automation is defined as the creation and application of technology to monitor and control the production and delivery of products and services. That is exactly what pool automation does. Pool automation provides the ability to monitor and control select products on your pool, giving you total control over your pool ownership experience. Traditional interfaces include pool/spa side remotes and indoor control panels, but recent technology has allowed pool automation to become even better…giving you complete control from a mobile app.

Peace Of Mind at Your Fingertips
Imagine receiving an alert when your pool pump is disconnected, or when your pH levels are unbalanced in your pool. In many cases, being able to address potential problems with your pool early can save you headaches and money in the long run. Mobile apps provide proactive and reactive alerts and dashboards to simplify your pool maintenance needs. Through virtual dashboards, you can see a helpful snapshot of the health of your pool and monitor your products' performance. 
Certain apps will also allow you to set up a "theme," or "routine," which will turn on specific features for you. For example, when going on vacation, you can establish "Vacation" mode to clean the pool at specific times and run the pump at a lower speed, whereas "Pool Party" mode, will turn the heater and lights on to create a fun and enjoyable atmosphere without you having to move a muscle. Automation allows users to spend more time enjoying their pool and less effort programming.
Making the Most of Your Technology
While smart connected products give users command of their pools from anywhere, at any time, below are some steps users should take to ensure they are getting the most benefit and efficiency out of their technology.
Automated products require a reliable internet connection. Newer smart control systems can easily connect wirelessly with home WiFi connections, but users will need to ensure download speeds of at least 3 Mbps wherever the smart device is located. 
An important step after you purchase a product is to register your product with the manufacturer. By registering your products, you can streamline future service needs as manufacturers can view your history and send you important information about your product when needed, including information on software updates or news. 
Like any technology, pool automation systems require ongoing software updates. As tempting as it may be to skip those updates, it is recommended to run updates on an ongoing basis to ensure your pool equipment is working exactly how it should.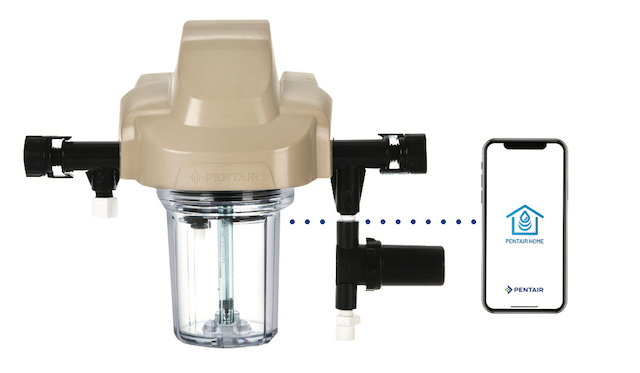 Pentair ChemCheck™ Water Quality Monitoring System
Smart, Connected and Protected with Pentair Home
The new Pentair Home application has a range of connected water management devices to help you move, improve and enjoy your home's water. The Pentair Home app allows users to control their swimming pool system, monitor water chemistry and more, all from the easy-to-use dashboard on their smart device.
Multiple connected Pentair products can be managed through the Pentair Home app, with several designed to monitor and optimize your pool water and overall experience, including:
The new Pentair ChemCheck™ Water Quality Monitoring System which works with the Home app to help pool owners stay one step ahead of their water quality maintenance so they can rest assured that their water is under close inspection, decreasing the possibility of potential problems.
The IntelliSync™ Pool Pump Control & Monitoring System gives users 24/7 control of their Pentair pump. Using the Home app, users can adjust their variable speed pool pump and receive maintenance alerts as needed.
The new versatile and powerful Prowler 930W Robotic Cleaner creates a hands-off pool cleaning experience for users. Through the Home app, users can customize their cleaning schedule, try out the fast clean feature and spot clean before a special event to make sure their pool shines at the optimal time.
When adding Pentair automation products like these that can help save energy, be sure to check for benefits like product rebates or other special offers that companies may offer.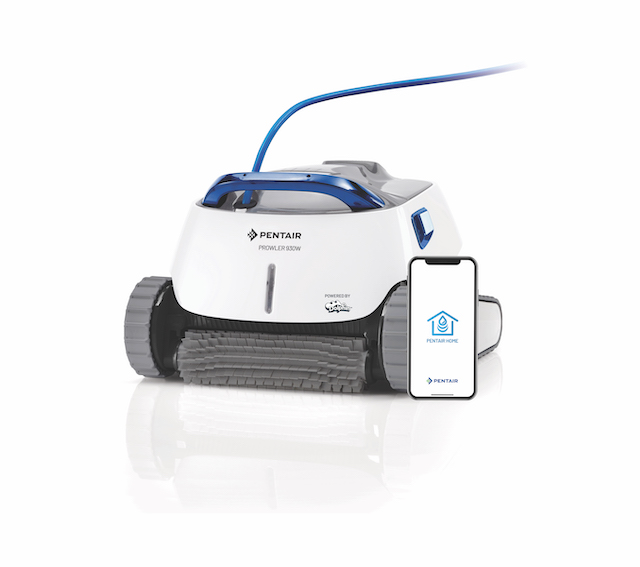 Prowler 930W Robotic Cleaner
A Helping Hand When You Need It
The Pentair Home app exists to make your life easier by offering pool product connectivity in the palm of your hand. Whether your whole pool is connected and automated or just a feature or two, there are opportunities to create an on-demand oasis from anywhere you are. Learn more about what the Pentair Home app has to offer at Pentair.com/home.