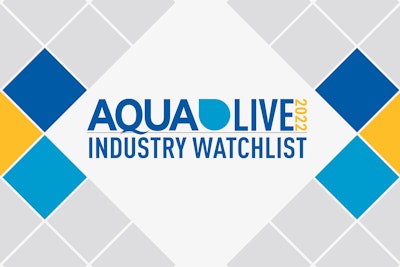 From October 5-7, the halls of the Charlotte Convention Center will be filled with popular and successful pool and spa professionals, people who have given their working lives to this industry. Who can you expect to see in Charlotte? Here are just a few of the friendly faces you should look out for.
AQUA spoke with these industry veterans about their passion for the pool and spa industry, a favorite memory or two, and why they're excited for AQUA Live. We hope you'll enjoy getting to know them better, and if you see them, don't be afraid to say hello.
---
RUDY STANKOWITZ
Speaker, "The Truth About Black Algae"
"I don't know if I chose a career in the pool and spa industry, or if the career chose me," says Rudy Stankowitz. He first entered the industry because "like everybody else, I needed a job." Now, after 31 years, he is very grateful for the series of events that led him to where he is today.
"I thoroughly enjoy working with people, homeowners and other professionals — and the mechanics behind this industry," he says. "Most of all, out of everything I do, I enjoy helping people…and I like sharing what I picked up along the way, as well as learning from my peers."
Looking back on his career thus far, Stankowitz says one thing he quickly picked up on is that pool pros and homeowners speak a different language. "I can remember a time, early on in the industry, where I gave a homeowner instructions to add Yellow Out product. I talked them through adding it — the way the directions call for it is to broadcast half the dose across the pool surface and pour the rest around the perimeter of their pool, then follow with an equal amount of shock added the same way the next day.
"Well, that homeowner came in, and they were really upset because it didn't turn the pool from green to clear like it was supposed to. In asking questions, I found that the homeowner poured half the dose around the perimeter of the pool, but up on the pool deck.
"It was kind of like a horror movie where people pour salt around themselves in a circle to keep the demons from getting to them — that's what the homeowner did with Yellow Out and calcium hypochlorite."
A roundtable discussion at the 2019 International PSP Expo — "The Great Cyanuric Acid Debate," hosted by AQUA Magazine — also holds a special place in Stankowitz's memory. "That was pretty awesome because, you know, I'm a pool guy, and you guys put me up on stage with three scientists, and I think I held my own," he says. "It was a very exciting conversation. It was standing-room only, and there were people literally standing behind the walls, and extending beyond that."
Stankowitz, already an award-winning PHTA and NRPA instructor, is looking forward to teaching an AQUA Live seminar that he says will be a real "eyeopener."
"We're going to be talking about algae. You know, I just went down this wormhole and found that there wasn't much information there, and that wasn't okay with me," he explains. "So I decided I'd take it upon myself to figure it out. I spent a good few years researching in the field and in laboratories — partnering with different scientists within the industry — and I found a lot of things we didn't know, and debunked a lot of myths about some of the different strains of algae."
He even took it upon himself to write a book on the subject, publishing "How to Get Rid of Swimming Pool Algae" in 2021. Stankowitz's AQUA Live seminar will draw from the book's carefully researched pages, diving deeper into black algae (see page 65 for a full course description).
"It's going to give everybody a better understanding of what we're dealing with," he says. "And because we have a better understanding of what we're dealing with, it's going to make algae a lot less intimidating."
---
STEVE BARNES
Speaker, "VGBA Field Application & Inspections"
Every so often, a single, split-second experience goes on to impact the rest of a person's life. For Steve Barnes, that moment came as a teenager when he realized he was trapped at the bottom of a wave-generator swimming pool at a waterpark.
"It was basically a giant wall that held 110,000 gallons of water. It created a wave every minute and 10 seconds," he recalls. "This was before there was a drain cover standard, much less the federal law, and that drain cover was running at 110,000 gallons a minute, or thereabouts. And the lifeguard directed me behind the line and said, 'When you hear the next wave, swim down.'"
Barnes swam down — and for the next minute and 10 seconds, he was trapped helplessly underwater by the suction of the drain. "When the next wave came, I got away from it because the suction stopped, and I swam to the surface," he says. "The lifeguard was being hauled off to the administration office."
They say nothing clarifies the mind like imminent death, and that moment of terror at the bottom of a pool led to a career in professional codes, standards and safety, particularly those that impact pool drain covers — the kind that would have prevented the near fatal accident that day in the waterpark.
In time, Barnes became directly involved with writing drain cover standards. "Once we had the suction entrapments with Virginia Graeme Baker and Abigail Taylor and a bunch of others, that's when I got involved on the standard writing side, because I'd been designing and making them safe, at least that was the goal, for 20 years," he says. "And the standards didn't test for any of the stuff that I knew was the problem.
"At a couple of different companies, I've been the one who would represent the company in depositions, which meant I was across the table from a parent who had lost a child due to drowning. Of course, I had my personal experience at least, and that helped me build empathy," he says. "All you can do is explain that if they'd had the drain cover in place, it wouldn't have happened. So, we're actively pursuing and educating to build the codes, the products, our education, and all such safety aspects."
VGB, the law which governs pool drain covers, has been updated recently with important new guidelines, and Barnes will be at AQUA Live to share with builders and service pros the new information they need to keep swimmers safe and keep pools in compliance (see his full course description on page 69).
"Once you understand the three steps to addressing [suction entrapment], it's not as complex," he says. "If you know those three things, then you can go select the product that will address all of the hazards, all of the time. But if you don't know those three things, and you try to read the law and figure it out on your own, it's way, way more complex. That's where people miss one or two things and get in trouble with code officials. Or worse — somebody gets hurt."
---
ERIC HERMAN
Official Show Sage, WaterShapes
As is the case with many industry veterans, former AQUA editor Eric Herman wound up in the world of pools and spas by chance — and liked it enough to stay.
"I was determined to make a living as a writer and an editor. And so, I was looking around and finding any gig I could," he says. After answering an ad in the Los Angeles Times, he scored an interview with Pool and Spa News for an associate editor position.
"I had a background in writing about science, and that seemed to be enough to give me a try. That was really the start of my journey through the industry…I thought, 'Oh, what the heck? Let's give this a try, and see where it leads.'"
Now, nearly three decades later, Herman has enjoyed a variety of roles as an industry scribe. These days, he serves as editor of WaterShapes.com. "For as quirky as the pool and spa industry is, I've always really enjoyed it," he says. "I like the fact that the bottom line with the product is that it exists to make people happy."
Herman is looking forward to strolling the AQUA Live floor this October.
"Trade shows have tremendous value. There's no question about it," he says. "From a publishing standpoint, it's really valuable. We sit at our desks and put this communication project product together, and you don't really know if it lands with the people reading it. And so, some of the most valuable input I've received has been in those face-to-face conversations that happen at trade shows. You realize that there is an audience, and that what you do does matter."
By establishing those face-to-face connections at shows over the years, Herman has met many lifelong friends. "The social aspect of being at trade shows is really important, to build a culture within the industry and to create a sense of personal satisfaction," he says. "We have a lot of independent, very self-determined, entrepreneurial types that are kind of lone wolves. So I think there's particular value in having gatherings, large or small, within our industry that bring people together, to create a sense of common purpose and unity."
---
STEVE HASENMUELLER
Speaker, "Selling in the Post-COVID World"
Back in the eighties, Steve Hasenmueller was a college kid with a bartending gig — until he heard about a job opening for a spa salesperson.
"I thought, 'I don't even know what that means, but okay,'" he says. "I mean, what's a spa, who knows, in 1983? And I went and I met this guy, a local entrepreneur, who ended up being a tremendous influence and mentor for me. He said, 'Hey, let's take 30 days and live, eat, and breathe spas, and figure out how to do this.' And we went out to Los Angeles to a Mr. Spa seminar, which was a terrible thing. But you learn a lot."
Those 30 days turned into 40 years in the industry. Of all the career memories he's made since then, Hasenmueller's favorite are the people he's gotten to know and work with.
"I'm from Memphis, and my first outside road sales job was for a regional manufacturer in Connecticut. I covered the Northeast, and I had great trepidation, you know — they're sophisticated, I'm from freakin' Tennessee. And then I found out that people in upstate New York are more country than the people in Tennessee."
"It's funny, the valuable lesson was truly that people are basically the same everywhere," he continues. "And once I realized that…I mean, everybody's wired very, very differently, but human beings are pretty much the same everywhere. Then, it was very easy to go anywhere in any part of the country at any time to talk to people and do business."
A storied career doesn't come without challenges, and Hasenmueller dealt with more than his fair share of flack over the years: "A long time ago, someone very close to me wanted me to do something. I said, 'I can't, I have to work.' And they said to me, in all seriousness, 'It's not like you do something important, you sell hot tubs"
But those words didn't shake him, he says. "That was just a signal to me that sometimes people don't take you seriously. But the big takeaway is that just because somebody else doesn't take your life seriously, or doesn't take your career seriously, doesn't mean you don't have to.
"And here we are in 2022. Not only does everybody know what hot tubs are, everybody wants one. It's the long road to redemption of the credibility of a category. The whole outdoor living segment, we all believed in it, wanted it. And now, it's exploded and it's part of life everywhere, all over the world."
At AQUA Live this fall, Hasenmueller will share his expertise in a special education seminar (refer to page 68 for the full course description). "We've got this whole downward, self-fulfilling cycle of how people think about sales people," he says. "This is my opportunity to talk about it. Every day is a presentation, and every part of your life is a presentation. The best presentation wins. Now — let's apply that to our entire lives."
This article first appeared in the August 2022 issue of AQUA Magazine — the top resource for retailers, builders and service pros in the pool and spa industry. Subscriptions to the print magazine are free to all industry professionals. Click here to subscribe.