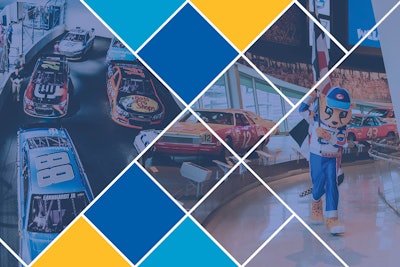 Photos courtesy charlottesgotalot.com / Kyo H Nam, nascarhall.com
The NASCAR Hall of Fame in Charlotte, N.C., is one of the signature attractions in the area and a must see for anyone, whether they like racing or not. Hundreds of thousands of fans line up each year to relive stock car racing glory and the personal stories of legendary drivers. On the night of October 6, there will be no lines — the place will belong to the pool and spa industry.
AQUA, in conjunction with sponsor Lyon Financial, has rented the entire facility to host the first AQUA Live Welcome Party from 7 to 10 p.m. Just steps from the Convention Center via skybridge, the party will be a seamless culmination of the show's first day, as attendees will be able to stroll straight to the party in minutes.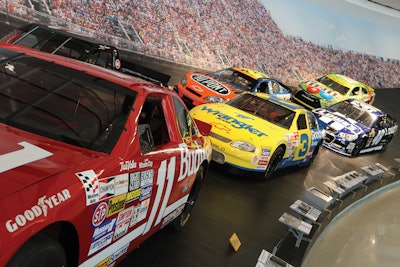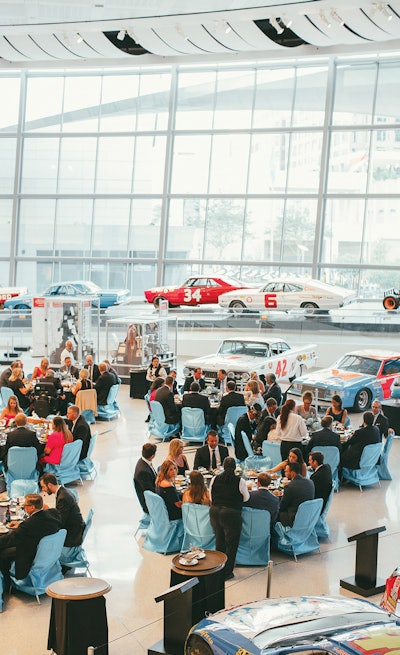 The interactive venue honors the history and heritage of NASCAR — whose presence looms large in Charlotte — and was designed to educate and entertain both race fans and non-fans. It includes artifacts, hands-on exhibits, a Hall of Honor, a NASCAR Productions operated broadcast studio and more.
AQUA's Executive Editor Scott Webb and Account Executive Jared Fish visited the Hall of Fame earlier this year and were particularly excited about the Pit Crew Challenge, in which two teams compete side by side to jack up a race car, change a tire with an airgun and fill the fuel tank. Plus, the eight NASCAR stock car replicas equipped with iRacing technology were the most realistic racing simulators they'd ever seen.
"Actually, I was blown away by the place. Everything is extremely well done, from the exhibits to the interactive experiences," says Webb. "I think it will be really cool to have it all to ourselves, to share the experience with our industry friends. I don't think there's ever been an industry party venue like this — not that I've been to, anyway."
AQUA Live will take place at the Charlotte Convention Center from October 5-7 and is the first conference and expo AQUA has hosted since 2006. As in the past, this event will be done "AQUA-style" — which means it will be both industry-focused and fun, on-point and laid back. The Welcome Party will offer food, drink, music and dancing, as well as an opportunity to connect with fellow attendees, exhibitors and speakers in a casual, enjoyable environment.
"We have had a close relationship with AQUA for years, because we value what they do — which is provide resources and information that ultimately better the industry," says Sarah Bess, director of marketing for Lyon Financial, which is based in nearby Mooresville and works with more than 9,000 pool contractors nationwide to finance swimming pools and other backyard improvements. "We wanted to get involved in AQUA Live, and the AQUA team told us they wanted to do something unique to Charlotte. That's how we mutually came up with the idea to host the Welcome Party at the NASCAR Hall of Fame."
Lyon Financial's owner, Richard Lyon, is a huge NASCAR fan, and he relocated the company he founded in 1979 from California to the Charlotte area in 1993 because of the city's huge NASCAR presence. But you don't have to be a race fan to enjoy the NASCAR Hall of Fame.
"You're going to have a ton of fun, even if you're not a NASCAR fan and even if you can't name a single driver," says Bess. "Trade shows are not just about education; they're about networking and relationship building. The best way to do that is if you're having fun."
And as she explains, you can also have fun while learning. "As the prices of pools and other things have increased in the past couple of years, financing has become more popular," Bess says. "So we just want attendees to know that, 'Hey, we're partnering with AQUA because we want to help the industry. We want to help educate them on financing and be a partner for them to help their clients.'"
If the NASCAR Hall of Fame taps into your need for speed, there are plenty of other places in Charlotte to make a pit stop at when you're not attending AQUA Live's lineup of fresh and relevant education seminars or taking in the exhibits on the expansive trade show floor, including the Charlotte Motor Speedway, home of NASCAR's annual Coca-Cola 600 and Bank of America Roval 400. The facility is considered one of the busiest sports venues in the country, and scenes from the 1990 Tom Cruise racing movie "Days of Thunder" were filmed there.
The Welcome Party is free for AQUA Live full-conference attendees and exhibitors; just bring your badge. Tickets are available to expo-only attendees and guests at the AQUA Live registration desk for $30 each and must be purchased by 5 p.m. on October 6. All Welcome Party attendees must be at least 21 years old.
---
This article first appeared in the June 2022 issue of AQUA Magazine — the top resource for retailers, builders and service pros in the pool and spa industry. Subscriptions to the print magazine are free to all industry professionals. Click here to subscribe.