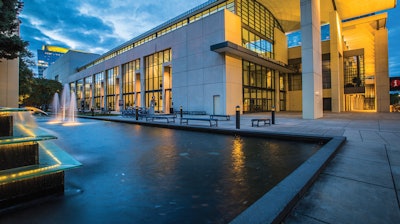 Photo courtesy charlottemeetings.com
Although summer is with us now, the new fall classic, AQUA Live, is right around the corner. Between October 5-7 (pre-conference begins Oct. 3), thousands of successful pool and spa professionals will gather at the Charlotte Convention Center in Charlotte, N.C., for education, forums, exhibits and events — not to mention a Welcome Party at the NASCAR Hall of Fame.
From the beginning, the mission for AQUA Live was to capture everything readers love about the magazine into a one-of-a-kind trade show experience.
"When we were thinking about a name for the event, of course we thought of the usual ones like "show" and "conference," but we settled on the word "live" because that's our vision for this gathering — it's going to be a live event, AQUA-style," says Scott Webb, editor of AQUA Magazine.
When people think of an AQUA event, they think of The AQUA Show. The comparisons are inevitable, Webb says. "In the last year, a lot of people who attended The AQUA Show in the 1990's and 2000's have approached me about AQUA Live. They have talked about the quality and feel of that event, hoping we can replicate that. I was there, and I agree it was a great show, but I think the industry has changed since those days, and AQUA Live needs to be even more on point. More than ever, we have to make sure that everyone who comes to this show goes home a better professional."
AQUA has been working behind the scenes to develop an engaging, informative education program on par with its signature content. AQUA Live's pre-conference and conference sessions will cover all the bases: from retail and service, to building and design, to small business management. Attendees can choose to dive into some of the industry's most pressing issues or brush up on classics like water chemistry, construction, marketing and more. See below for some of the AQUA Live sessions that will be headlining the show in Charlotte.
For further details on the show, including class times, click here.
---
SUCCESSFUL SOCIAL MEDIA STRATEGY FOR POOL & SPA RETAILERS
Julie Richard (pictured) and Cristina Nikolov
Richard's Total Backyard Solutions, a 2020 AQUA 100 winner, has developed a large social media following, built on creative marketing videos, sales promotion, customer testimonials and more. Owner Julie Richard and Social Media Marketing Strategist Cristina Nikolov will teach attendees how to incorporate a successful digital marketing plan into their business with simple content creation to in-depth campaigns. You'll learn how to shoot short and impactful videos — along with tips and tricks for video editing — and how to create social content using products already on display in your showroom, as well as how to plan a social campaign for the entire year.
---
YOUR WORST PLUMBING NIGHTMARES AND EXPERT SOLUTIONS
Rick Howard, President at Rick's Pool Service, Inc.
In this seminar, attendees will learn how to correct and improve flow issues with modern PVC fittings, how to identify incorrect plumbing configurations, and how to address repairs and upgrades, as well as how to identify plumbing problems.
---
7 CRUCIAL MARKETING SECRETS EVERY POOL BUILDER SHOULD KNOW
Brett Abbott, CEO & Chief Marketing Guru at Pool Builder Marketing LLC
Pool builders get bombarded with hundreds of different ideas and "opportunities" to promote their business, but most of them are a complete waste of time and money. If builders would just focus on these seven crucial marketing secrets, they would have all the success they could ever hope for. This highly popular and fast-paced session will give you straight shooting advice on ALL the key marketing strategies and tactics you need to know, including your website, social media, pay-per-click, SEO, sales tools, referral strategies and more. (It will also help you to figure out whether you should fire your salesperson, or your marketing person, or your SEO / PPC ad agency.)
---
EMPLOYEE TRAINING & RETENTION THROUGH PROPER ONBOARDING
Carlos Gonzalez, Marketing & Analytics Specialist at Texsun Pools
The pool and spa industry faces a difficult task in acquiring and retaining new employees. According to BLS.gov, our national unemployment rate is back down to pre-COVID levels, but the pool industry's retail division has not recovered its pre-COVID workforce. Studies show the onboarding process is crucial for employee retention, so how can we quickly and effectively train and retain our new hires using a structured onboarding system? We'll discuss what you should include in your onboarding program and how to streamline the process. Our goal will be to better understand how proper onboarding techniques greatly benefit our brick-and-mortar establishments and set employees up for future growth and stability, alongside your improving workforce.
---
ADDING VALUE WHILE REDUCING STRESS: MAXIMIZING THE IMPACT OF A POOL CARE PROGRAM
Alicia Stephens, Branding and Education Manager at Biolab, Inc
Sanitizing is the first step to successful pool care, responsible for keeping swimmers safe. But in a time of supply shortages and rising costs, managing your sanitizer supply chain can be stressful. This seminar will focus on creating the right pool care program to improve water quality and enhance the swimming experience, all while minimizing problems and maximizing the efficiency of the maintenance program. An in-depth look at specific actions and products that can be utilized to minimize sanitizer consumption and ensure clear and beautiful water will be the core of this program, all while exploring the choices that are available to make pool care easier to manage. You will leave with new ideas and plans for routine pool maintenance and be confident that the season ahead will be truly successful.
---
THE TRUTH ABOUT BLACK ALGAE
Rudy Stankowitz, CEO/President at Aquatic Facility Training & Consultants
This seminar is based directly from the speaker's research in his 2021 Amazon best-selling, how-to book titled "How to Get Rid of Swimming Pool Algae." Join pool industry veteran Rudy Stankowitz for a 60-minute, pool-pro-to-pool-pro session that promises to end the rumors of this plaster plague once and for all — and debunk all myths associated with swimming pool black algae. The riveting discussion will also reveal scientific data directly from Stankowitz's research and share the best methods of treatment and prevention.
---
TODAY'S TOP SOCIAL MEDIA PLATFORMS FOR BUSINESS
Patricia Stofanak (pictured) and Jessica Howard
Learn the ins and outs of marketing your business on today's most popular social media platforms, from Facebook and Instagram to TikTok, YouTube and more. Dive deeper into the world of content creation best practices, scheduling posts, driving engagement and understanding insights and reporting to better optimize your efforts.
---
TRENDS IN OUTDOOR DESIGN
Kate Wiseman, Principal Landscape Designer at Sage Outdoor Designs
This class discusses the types of improvements that homeowners are willing to invest more in, where the details matter and the budgets are larger.


---
CONSUMER ATTITUDES & PERCEPTIONS OF POOL OWNERSHIP
Sabeena Hickman (pictured) and Patricia Stofanak
New research commissioned by PHTA is explained in this can't-miss session exploring consumer attitudes and perceptions towards pool ownership. We'll share key attributes that drive pool consideration, purchasing motivations and barriers, financing preferences, as well as targeted marketing messaging and media preferences to resonate with today's potential customers.
---
ELEMENTS OF LITIGATION
Skip Phillips (pictured) and Steve Getzoff
Avoiding litigation is always the best practice, but sometimes, no matter how well you perform, you may be named in a suit even if a problem is the direct result of someone else's work. Learn how to protect yourself and your company with contractual considerations and real-world experience. It is always better to learn from the mistakes of others, and these instructors will share a bit of their expert witness experience with the class.
---
FLUID HYDRAULICS FOR POOLS & SPAS - DAY 1 & DAY 2 (Pre-Conference)
Terry Brannon, GENESIS Engineering Faculty Advisor, Brannon Aquatics International
Develop a basic understanding of the hydraulic principles in order to design more efficient and serviceable hydraulic systems. This class is required education for the Advanced CBP certification.
---
GENESIS CONSTRUCTION SCHOOL: CONCRETE POOLS - DAY 1, DAY 2 & DAY 3 (Pre-Conference)
Greg Andrews (pictured), Ken Milbery, Terry Brannon, Travis Bozick, Randy Dukes, Skip Phillips, and Tom Dankel
This three-day intensive school encompasses all of the necessary disciplines for building a structurally sound water vessel. Topics covered within the school include site analysis, introductory fluid engineering, geotechnical and structural engineering that includes a review of difficult sites, shotcrete, waterproofing, tile, interior finishes, coping and concrete decking. The course concludes with an interactive walkthrough of a complex project from start to finish. This program is designed to move each student through all phases of concrete pool construction. This course fulfills the educational requirements for the CBP Exam. Upon course completion, students can apply and schedule their exam time.
---
INTRODUCTION TO POOL HYDRAULICS AND PLUMBING
Terry Brannon, GENESIS Engineering Faculty Advisor, Brannon Aquatics International
Hydraulic engineering cannot be explained in four hours and neither can proper plumbing methods. However, this program provides a good start by providing an overview of the design and engineering process as well as a good list of best practices for everything from layout to assembly to pressure testing. It is not a prerequisite for E101, E211 or E311, but it does combine some elements of all three programs to provide an excellent introduction to pool hydraulics and plumbing.
---
JOB COSTING FOR PROFIT VERSUS EXISTENCE
Brian Van Bower, GENESIS Co-Found & Ambassador, Aquatic Consultants, Inc.
Determine how much your product or service is worth based on your costs, overhead, and after what you think is a fair return or profit. Whether you are a small service company, retail store or a large builder, the formulas are similar. Everyone in business should constantly review his or her costs and profitability in our continually changing industry.
---
NPC START-UP TECHNICIAN CERTIFICATION (Pre-Conference)
Kent Westfall, Director of Technical Services at National Plasterers Council
The swimming pool finish is the last part of the pool to be done, yet it's the first thing the customer sees when they enter the pool. Protect the finish by starting it right the first time, every time. Why should you become an NPC Certified Start-Up Technician? This is an eight-hour program that will certify an individual in the National Plasterers Council industry method of properly starting up the water chemistry and care of a newly surfaced swimming pool and/or spa. The course will conclude with a 60-minute written test.
---
POOL SURFACES — PROBLEM & SOLUTIONS
Randy Dukes, Technical Sales Director at Aquavations
There is a recurring issue of cementitious pool surfaces within our industry. Industry expert Randy Dukes will provide you with visual issues of the more predominant discolorations, degradation, delamination, and startup issues happening. Randy will review surface preparations for both new construction and remodeling with plausible prevention of bond failure issues discussion. Additional topics will include sound technical surface application procedures, specific water balance targets, and maintenance procedures.
---
PROFITABLE POOL INSPECTIONS
Rick English, Owner at English Pool Consulting
Residential pool inspections make a great addition to any pool business. Service people, builders and/or retailers can all become part of the inspection industry. Inspectors meet a lot of interesting home buyers. No matter what the outcome of the inspection, the client is happy. No unhappy customers — imagine that! The purpose of this session is to help the attendee to get started in this business.
---
RWIS AND CHEMICAL INJURIES: WHAT'S NOT IN YOUR STANDARD TRAINING MATERIAL - PARTS 1 & 2
Jennifer Huang (pictured) and Roy D. Vore
Despite decades of safety efforts, there are thousands of illness and chemical injury cases each year resulting from swimming pools. Traditional training materials used to promote a healthy, safe pool environment require the memorization of parameter ranges, chemical names and regulations, and are often written in legalese. However, the continued high RWI and injury incident rates signal a training gap, as they do not include the explanation of why certain key treatments are valuable and the consequences when they are ignored. For example, what conditions cause the release of chlorine gas and result in mass exposure events? Instead of memorizing a bunch of numbers and rules, this session will dig into how and why real-world incidents happened using root cause analysis, a method used in major manufacturing incident investigations. This talk will closely examine a number of incidents in detail. By increasing the understanding of past incidents, operators and their supervisors can improve management practices at their own aquatic facilities. In nearly all cases, the resources needed are already in place, so these improved management practices can be adopted easily, at little or no additional cost.
---
RWQC: LET'S CLEAR THE AIR: AIR QUALITY FOR INDOOR SWIMMING VENUES
Ken Gregory (pictured), Jody O' Grady, and John Weber
Indoor swimming venues present different opportunities and potential risks for both swimmers and operators. Managing the quality of the air inside those facilities is becoming a more prominent challenge as these facilities become more popular to swimmers. We will discuss the unique and potential risks associated with these venues as well as ways to mitigate those risks. We will explore the literature and put fact against fiction as well as discuss the latest new methods of controlling indoor air pollutants. This includes current regulations and guidelines including tips on ensuring proper water balance and testing.
---
ADVERTISING EFFECTIVENESS AND THE IMPACT OF VIDEO IN THE DIGITAL LANDSCAPE
Timothy Corken, President at Teft Media
This seminar will discuss the changing media landscape and how to be effective across the purchase funnel. While you can reside in the lower end of the funnel, you must be in the service of brand and demand. Video is the most effective way to impact the purchase funnel and the predominant format in programmatic buying. Shed light on OTT (over-the-top) advertising as well as digital, social and traditional capabilities and methods for impacting the customer in the funnel from a predominant video perspective. You will be able to correlate this presentation to real life examples and implement strategies to help your pool and hot tub business grow.
---
AN IN-DEPTH LOOK AT SPA CARE: IT'S NOT JUST A LITTLE POOL
Alicia Stephens, Branding and Education Manager at Biolab, Inc
This interaction seminar will focus on nuances of spa water chemistry, highlighting the differences in chemistry between spas and pools. Topics of discussion will include the impact of aeration, volume, temperature and bather load, as well as the challenges associated with balancing in a hot water environment. Recreational water illnesses common to spas will also be discussed, with a focus on how to prevent problems from occurring. We will dive into different spa care programs, including saltwater spa care, and address the challenges with different approaches to spa care as well as the benefits that can be derived from new technology and product innovation.
---
BE A COACH, NOT A BOSS
Bill Kent, CEO, Team Horner, International Swimming Hall of Fame
It has been proven that to increase productivity in today's employees; the authoritarian management style is not effective. Today's entrepreneurs must formulate a new leadership style based on being a coach. This interactive presentation with participants will provide new management techniques to improve productivity generating an increase in profits.
---
EXAMINING PHTA CODES
Terry Brannon, GENESIS Engineering Faculty Advisor, Brannon Aquatics International
This course will provide you with a high-level overview of the immediate need-to-know on ICC/PHTA/NEC Codes. We'll address the 2018 ISPSC and changes in the 2021 ISPSC Code; NFPA 70; and impending updates on PHTA/ICC/ANSI Standards. This course is designed for individuals familiar with codes and standards and not the novice student.
---
SELLING IN THE POST-COVID WORLD
Steve Hasenmueller, Speaker/Trainer at Effort Today Enterprises
This session, geared toward salespeople at all levels, will be informative, enlightening and designed to energize or re-energize sales effort. Selling presentation has never been more important — how we convey our message, build value and get credit for what we do. When it pertains to sales, COVID was easy. Now, in the post-COVID era, there are three types of retail sales categories remaining. Attendees will learn to identify the appropriate one for their company and exploit it fully.
---
STRONG COMPANY CULTURE REAPS STRONG PROFITS
Bill Kent, CEO, Team Horner; International Swimming Hall of Fame
Managers have a responsibility to guide employees into roles where their performance benefits the company's short- and long-term goals. This seminar will discuss how to build a strong company culture where employees are committed both financially and emotionally to the company's success.
---
THE BEAUTY OF THE EDGE - THE DEFINITIVE, INTERNATIONALLY ACCLAIMED VANISHING-EDGE & WATER-IN-TRANSIT DESIGN - PARTS 1 & 2
Skip Phillips (pictured) and Brian Van Bower
Learn the correct methods for creating the tremendous visual and functional applications of water-in-transit such as vanishing edges, deck-level slot overflows, and elevated perimeter overflows. Understand flow rate requirements and different edge details for creating various effects, and their relationship to edge tolerances and special conditions, establishing line-of-sight goals and project objectives. Presentation will also cover hydraulic system design criteria, catch basin dimensions, surge tank sizing, proper slopes, and air venting of gravity flow systems to enable efficient flow rates while minimizing noise.
---
USE AUTOMATION TO SELL MORE AND SATISFY MORE, WITHOUT MORE MANPOWER!
Brett Abbott, CEO & Chief Marketing Guru at Pool Builder Marketing LLC
The "new normal" for pool builders and designers is to be pushed to your limits, and drink from a fire hose. And with experienced manpower exceedingly difficult to find right, we should all be looking at sales automation to accomplish more with less. The technology has been around for years and is now easier to use than ever. It's time to start working smarter, not harder.
---
USING KEY PERFORMANCE INDICATORS (KPI'S) TO GROW SALES AND PROFITABILITY IN YOUR RETAIL STORE
Mallory Bjekich-Wachowski, Retail Operations Manager at DesRochers Backyard Pools & Spas
Every product you ring up, every customer you see, every sale you run and every square foot of space you have — all are elements that can be tracked, monitored and quantified. These metrics, also known as key performance indicators (KPIs), are not just numbers on a page; each one reveals a snapshot of the current health and success of your retail business. The tricky part, especially for pool and spa retailers who face a regular swell of customers during the busy season, is figuring out which KPIs are worth listening to at any given time. Complicating matters further is the organic nature of metrics — your analytical priorities can shift regularly in response to business needs. This presentation will provide creative metrics that are used in speaker Mallory Bjekich-Wachowski's business, DesRochers Backyard Pools & Spas, to make changes, train staff, and provide creative means to measure your successes and failures each year.
---
VGBA FIELD APPLICATION & INSPECTIONS
Steve Barnes, Director of Science & Compliance at AquaStar Pool Products
Identify requirements to successfully evaluate existing pools and spas as well as new build plans for VGBA compliance. The session will focus on the three key elements of the standard: drain size, sump specification and actual pump flow. Speaker Steve Barnes will discuss a brief history of the standard, focused on what industry professionals need to know to be successful in the field, including documenting compliance. There will be an interactive Q&A session at the end.
---
WATERPROOFING
Greg Andrews (pictured) and Ken Milbery
Watertight vessels are paramount to successful watershapes that endure harsh environments through the test of time. Waterproofing has become more challenging as projects become increasingly more complicated, and the solutions are not always easily implemented. This seminar will examine various trades within waterproofing and finishes, explain challenges, concerns, and identify potential solutions.
---
WAYS TO STRETCH CHLORINE
David Gilbreath, Regional Manager at Hasa Pool
A look at what causes chlorine demand and consumption and ways to make chlorine go further. Explanation on the varying types of chlorine and the true strength of each in pool water. Chlorine loss in water with and without CYA. Borates defined and chlorine saving tips.
---
WHAT I'VE LEARNED IN 45 YEARS IN THE POOL BUSINESS: THE LEARNING NEVER STOPS! EXCELLING IN CUSTOMER SERVICE AND QUALITY
Steve Hood, Owner at Crystal Clear Pool Co
This is a great seminar for those just beginning in the pool construction business — or for those wanting to take their company a level up. Speaker Steve Hood explains the pitfalls, highlights and step-by-step building blocks of creating and growing a successful pool construction business by building customer and employee relationships that cultivate more business. Designs and easy, non-pressure sales techniques will also be discussed. Questions involving any aspect of your pool and spa business are encouraged.
---