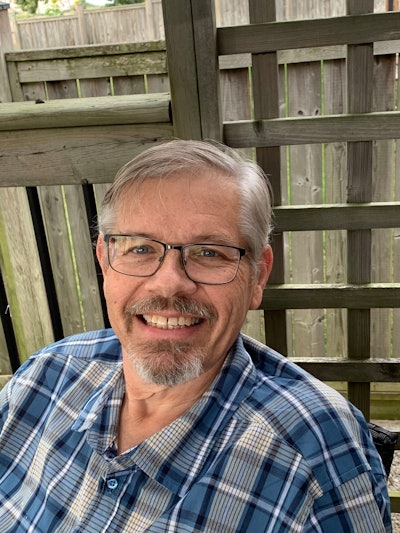 On Tuesday, December 20, Richard Howey passed away at the age of 64. He worked for 22 years at Sunrise Spas as a Product Development Manager and will be fondly remembered as a friend, co-worker, a valued member of the team, and by many community outreach organizations.
Richard was born in Tillsonburg, Ontario, and spent his early years growing up in Alymer, Ontario. He moved to Smithville in the late 1990s.
Richard began his career in the spa industry launching his own business with a partner, and later working with MAAX Spa in Brantford. It was at MAAX that he met and worked with some of the current Sunrise employees who were also with MAAX. He soon joined the team at Sunrise Spas and focused his career on researching, designing, prototyping, and developing features for whirlpool spas.
Richard's collaboration with the many spa equipment suppliers and manufacturers quickly resulted in him becoming well known and respected in the industry, especially with Sunrise's supplier Waterway Plastics. His dedication, experience, and passion for his work will be deeply missed by colleagues and friends at Sunrise Spas.
Richard was President Elect for the Kiwanis Club of West Lincoln Service Club, and he was very involved as a member of Smithville United Church. He was also a proud pet owner of Emma, Cindy, Miss Minn, Frank the friend, Daisy and Lucas. Richard was a Toronto Maple Leaf fan and enjoyed watching NASCAR racing.
Husband and best friend and love of Richard's life to Cathy Howey (nee. Coates). Richard is survived by his mother Phyllis and is predeceased by his father Gerald Howey. He will be missed by his siblings Nancy Miedema (Rick) and Kevin Howey (Rhonda), and will be remembered by many other extended family and friends .
A visitation took place at Smithville United Church on Tuesday, December 27. A funeral service was held at the Church following the visitation.
Donations to Community Care or Smithville United Church would be appreciated and, if desired, can be made through the funeral home. Visit merritt-fh.com or call (905) 957-7031.