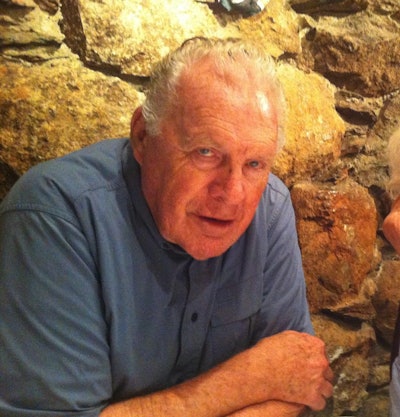 The Independent Pool and Spa Service Association (IPSSA) was fortunate to have had the leadership and talents of Donald Leroy Roddick (1927-2022). Don had a passion for pool and spa service, and he enjoyed providing quality care for all his appreciative clients. He especially enjoyed serving IPSSA as a leader and mentor for his local chapter and Region 10.
Don served in the U.S. Army during WWII as a tank mechanic. Then, after the war, he joined the U.S. Marines and served as an aircraft mechanic. After his military service, Don worked in the Los Angeles area as a jet propulsion and rocket mechanic for North American Aviation, Boeing and Rocketdyne. In his spare time, Don and his brother built and raced significantly modified "hot rods" on the Bonneville Salt Flats. At one time, Don even held the world's record distance flight of a non-radio controlled model airplane.
After his Rocketdyne career, in the late 60's, Don started his second career nearby, working for none other than IPSSA leader Ben Beeler, of Bee Sunny Pools. A few years later, he moved his family back home to Monterey. There, Don started Bay Pool Service, which his loving family continues to operate to this day.
In 1993, Don worked with the Monterey Conference Center and host hotel, Double Tree Inn (now Portola Plaza Hotel), to renovate the swimming pool and spa equipment for the upcoming Pool Industry Expo (PIE Show). Using the industry's latest equipment, Don worked with Sta-Rite, Teledyne Laars, Compool, Letro, Chemtrol, Stenner and Or-Cal to make the pump room into an operational exposition display and pool school.
In 1997, Don became the first president of Monterey Coast IPSSA chapter — one of many chapters borne out of the greater Santa Clara chapter. Being the chapter's respected Godfather, he was "The Don." In 2000, he proudly served as IPSSA's director of Region 10. Don truly enjoyed the camaraderie and continuing education of IPSSA members.
Don had a practical and innovative approach to pool service, no doubt from being something of a rocket scientist. He kept a clean and tidy truck and minimized the payload to just the day's necessities. He did not like to have a tele-pole sticking out or to carry a lot of tools into the backyard, so he made sure every pool had a pole, net, brush, etc., on site. Don was good-natured, healthy, soft spoken, understanding, resourceful, unpretentious and calm. He always took the time to provide excellent pool service, and he did not drive his pool truck fast.
Thank you, Don. We, your family, IPSSA members, clients, friends and nation, are eternally grateful for your military service and your pool industry service. Now, as you please, fly away or float away in peace.
— Robert "Pool Bob" Blade