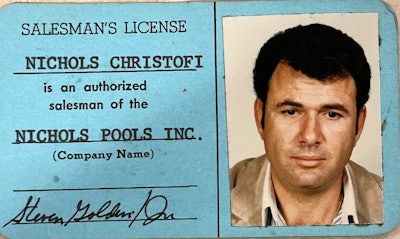 Nicholas Christofi, 72 years old, was taken too soon after a short battle with lung cancer. He was a devoted husband to Flora, his sweetheart, best friend and business partner. The couple recently celebrated 52 years of marriage. He was a caring father, friend and mentor to his children, daughter Theodora and her husband Sotiris, son Louis and his wife Chloe, and son Zack, and an adoring and supportive grandfather to his seven grandchildren Florentina, Andreas, Nicholas, Florendina, Nicholas, Maria and Vasiliki. Christofi was generous brother, uncle, godfather, mentor and friend to all. His kind heart, generous spirit and quick wit will always be remembered.
Nicholas was born in Eptakomi, Cyprus, and at the age of 15, dropped out of school to travel to America to pursue his dreams. Not knowing the language, he soon found himself in the restaurant business like most Greeks at the time. He had many hopes and dreams of success.
He worked hard and created a path for himself to progress in the industry, and eventually owned his own diner.
In 1969, he decided to pivot and began his career in construction, getting his start working for Zahos Pools, then becoming a sub-contractor for Champion Pools and eventually moving to Toms River and working as a sub-contractor to several pool companies in the area, before he ventured off on his own and opened the doors of Nicholas Pools.
Nicholas was a brilliant and esteemed businessman who wanted more and believed, "If you can dream it, you can build it!" A pioneer in the industry, he believed in hard work and integrity, so he moved forward and founded the multimillion dollar company Nicholas Pools Inc. Nicholas, his wife and family devoted their time and energy to create a business model that many have tried to emulate but few have achieved. After 30 years in the industry and building thousands of pools, he decided to retire, selling the business to his son-in-law and daughter, Sotiris and Theodora Sergiou. Over 50 years later, the legacy he created will continue to carry on.
The legacy continues and the business is thriving and expanding, keeping the solid foundation Nicholas created intact and continuing the core values of Nicholas Pools with every pool built or serviced. Christofi is renowned and well respected in the pool and spa industry. He was known as being fair and honest with customers, business partners, employees, and all who knew him. His knowledge, dedication, forward thinking and efforts helped create many wonderful memories for families throughout the state of New Jersey.
Nicholas was The American Dream come true: Finding a solution to every obstacle, succeeding, helping those around him and, despite his prominent accomplishments, always staying humble. His entrepreneurial spirit continued once he sold the business. He kept busy as a property developer, landlord and mentor, building and developing several properties in Ocean County. His wealth of knowledge was invaluable to many who often looked for his input and advice.
Nicholas was a refuge who lost his home and land after everything was taken by the Turkish Invasion of Cyprus in 1974. He was fueled to rebuild a family home for his family in Cyprus. After retiring he was able to return to Cyprus and build his dream home by the sea. He and Flora would spend several months a year in Cyprus enjoying swimming, fishing, traveling and spending time with his wife, family and friends. He hosted many friends and family around the world, in one of his many homes grilling and cooking and often hosting dinner parties for all to enjoy. He was happiest doing things for others. He was proud of his heritage, business venture, and family. A great loss to the community, he will be in everyone's hearts forever.
The following arrangements have been made for Nicholas:
Wednesday June 22, 2022
Viewing 4 to 8 p.m. with a Trisagion Service at 7 p.m.
The Silverton Memorial Funeral Home
2482 Church Road, Toms River N.J. 08753
Thursday June 23, 2022:
Viewing from 10:00 to 11:00 a.m. followed by a funeral at:
Saint Barbara Greek Orthodox Church
2200 Church Road, Toms River N.J. 08753
Burial: 1:00 p.m. at:
Saint George Greek Orthodox Cemetery / 2342 West Bangs Ave, Neptune Township, Monmouth County
In lieu of flowers, please consider making a donation to Saint Barbara Greek Orthodox Church (stbarbaranj.org) or Visiting Nurse Association (vnahg.org).