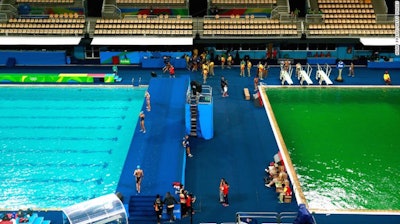 Yesterday at the Rio Olympics, divers and attendees in the Maria Lenk Aquatics Centre were surprised by a big change: the diving pool, overnight, had turned green.
Images of the green pool went viral online yesterday, including this post by Tom Daley, an Olympic diver from Great Britain:
Ermmm...what happened?! pic.twitter.com/pdta7EpP2k

— Tom Daley (@TomDaley1994) August 9, 2016
The green pool is just the latest in a series of problems to strike the Rio Olympics; leading up to the games, Zika threat, water quality and unprepared housing facilities were widely discussed as major issues.
As the Associated Press reported, Rio spokesman Mario Andrada said the discoloration is due to "a proliferation of algae" caused by "heat and a lack of wind."

RELATED: The Science of Starving Algae
Andrada added: "We did all the chemical tests. The pool will be blue tomorrow (Wednesday)."
While event organizers say the green hue poses no risk to swimmer health, athletes say the lack of clarity can affect their performance since they can't see the bottom of the pool.
As Canada Team Leader Mitch Geller told the AP, ""They're used to seeing the water. The visuals are really, really important in diving."
Geller also said a Canadian pool technician was scheduled to come in to treat the water and see if there are any problems with the filter.
RELATED: Water-Testing Tips and Tricks
No doubt there are a great many pool people around the world offering their ideas. Our two cents: The water's green and cloudy, and it looks like algae. But caused by lack of wind?
Somebody help us with that in the story comments.

Update (8/10, 2:40 p.m. CT):
According to a new report from Reuters, the International Swimming Federation (aka FINA) stepped in to take a look at the pool. Their conclusion: "the water tanks ran out of some of the chemicals used in the water treatment process."
"There was a sudden decrease of alkalinity," said Rio spokesman Mario Andrada. "We probably failed to note that with more athletes the water could be affected."
The pool is expected to return to its normal, blue state later today.


Update: (8/11, 9:09 a.m. CT)
Just when we thought it was over...
The water polo pool, adjacent to the diving pool in the Maria Lenk Aquatics Centre, has also turned green. Rio spokesman Mario Andrada again cited low alkalinity as the cause.

Here's a look at Green Pool 2.0: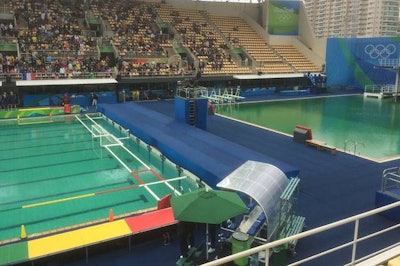 "Yesterday mid-afternoon there was a sudden decrease in the alkalinity of the pool," Andrada said. "Obviously, the people in charge of maintaining the pool and of checking could and should have done more intensive tests."
Obviously, indeed.