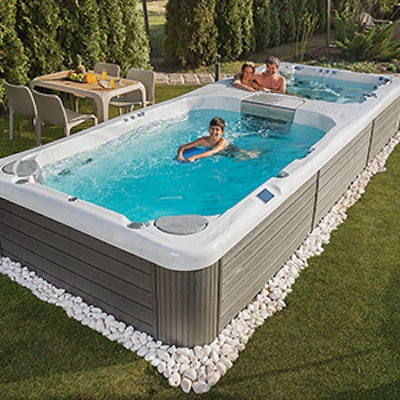 The industry is buzzing over the growth of the swim spa market. In our 2019 State of the Industry report, we found 67% of retailers carry swim spas, and most pros feel confident about the product's future. As one person wrote, "This is a niche market, but as people become more aware of the swim spa, it's only going to increase."
The swim spa largely appeals to space-conscious homeowners seeking an alternative to a pool, or swimming enthusiasts living in seasonal areas. Some users simply seek out the spa's therapeutic benefits. Whether for leisure or exercise, the swim spa has something for everyone, and retailers are eager to explore this growing product category.
From dual-zone swim spas to spas that offer currents as strong as the ocean, we rounded up some of the best swim spas and their accessories. Read on to tap into the swim spa market.
RELATED: These Swim Spa Installations Will Inspire Your Next Job
---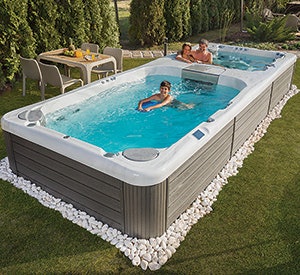 Wellis Hungary
The SwimLine product line from Wellis Hungary combines a perfect workout program and a joyful massage experience with minimum space requirement. Thanks to the counter-current system developed by Wellis, users can enjoy the sensation of relaxing in a swimming pool while also taking care of their body and soul in the comfort of their home. Its new W-Flow counter-current system moves 180 cubic meters of water per hour with a flow width of 50 to 60 centimeters. Five pre-programmed and three personalized swim programs provide a variety of exercises for everyone. The W-POWER counter-current turbine is capable of moving 50 to 160 cubic meters of water per hour, with a power requirement decreased by 75% and, at the same time, provides twice as much water flow as swim spa pumps, the company says.
wellis.com | +36 29 564 380
---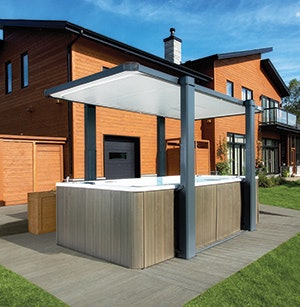 Covana
The Covana LEGEND swim spa cover/gazebo gives swimmers more access to their swim spa than ever. In almost any weather condition, the automated cover can be retracted with the simple turn of a key and after only a few seconds, users enjoy their swim spa without ever having to struggle with a cumbersome cover. When closed, the LEGEND, with a far higher insulation value than more traditional hot tub covers, provides unequaled protection while preventing undesirable access by children, animals and intruders. Once opened, its roof will protect swimmers from bad weather conditions and the solidity of its design will ensure peace of mind, regardless of how bad conditions are. In addition, its universal design makes it ideal for most swim spas.
covana.com | (877) 278-8010
---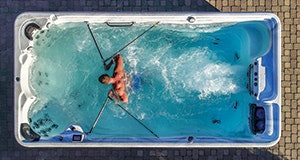 TidalFit
TidalFit Exercise Pools are a tool for fitness, health and well-being. Ranging from 12 to 21 feet, they are ideal for families looking for an alternative to a full-sized backyard pool. Also available are the patented Dual Temp FitSpas, featuring an exercise pool plus a luxury hot tub with separate controls. Customers can relax with the hydrotherapy system or enjoy a workout with the swim jet systems: Dual Swim Jet, Quad Swim Jet or Variable Flow Swift Water Trainer. Available in semi-inground or aboveground.
tidalfit.com | (800) 817-7727
---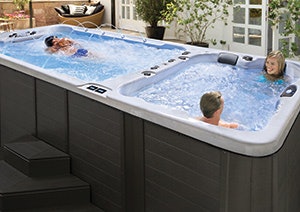 Cal Spas
The F-1896-DZ is a dual-zone swim spa — the swim zone is an endless current made for an extreme fitness experience while the spa zone is a full-sized spa for hydrotherapy that can fit up to three people. Built with Swim Spa Jet System V and two River Jets, the swim spa jet current is comparable to strong ocean waves.
calspas.com | (800) CAL-SPAS
---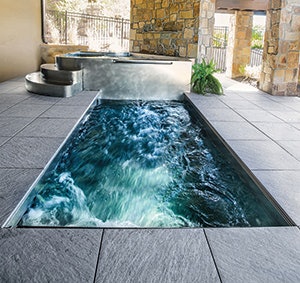 Diamond Spas
Diamond Spas fabricated this custom, stainless-steel swim spa. The vessel has a River Flow swim system, bench seating, interior descending stairway and an automatic cover. Dimensions are 110-inches long, 179-inches wide and 60-inches tall.
diamondspas.com | (800) 951-7727
---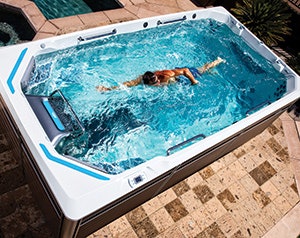 Watkins Wellness
Endless Pool Fitness Systems offer eight models across three distinctive categories and combine the original Endless Pools Swim Machine with an optional underwater treadmill. The laminar current is variable and wider than a swimmer's body and deeper than his/her stroke to simulate an open-water swim. Workouts are programmable using the exclusive Endless Pools Fit@Home App. Other options include the SwimCross Exercise Systems, which feature five airless swim jets for a less turbulent swim current than the average swim spa, and the RecSport Recreation Systems, which offer the ideal space for exercise and play for the entire family at an affordable price.
endlessfitness.com | (800) 999-4688 ext. 8432
---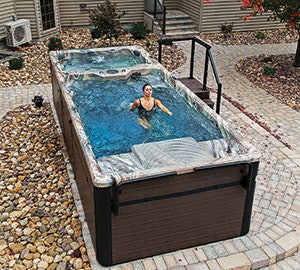 TruSwim by PDC Spas
The patent-pending TruSwim dual propulsion design offers a wide and smooth swim and fitness current. Delivering up to 5,000 gallons per minute, TruSwim is engineered to meet the demands of athletes, beginner fitness enthusiasts, therapeutic use and family fun. With the MotionMat non-slip exercise floor, there is no need for bulky, expensive fitness equipment. Simply walk, jog, swim or workout against the adjustable current for total body results. Features include ozone and UV-C purification standard, a designer cabinet, underwater LED lighting, waterspouts, pressure side filtration, cabinet sconces and a sound system.
PDCspas.com | (800) 451-1420
---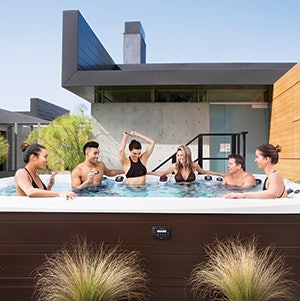 Marquis Corp
Marquis' V150 Swim Spa and Party Vessel features a swim end with three Whitewater-4 jets, eight high-flow therapy seats, the V-O-L-T command and control system with V3 Control Valve to channel flow between seats and two Whitewater-4 jets in the footwell for explosive therapy. Its ConstantClean+ water management system includes Vortex filtration, SmartClean automatic cleanup cycle, in-line sanitizer and mineral system and an optional ozonator. A grab bar, rowing band connectors, swim tether, waterfalls, Starlight LED light system and Cosmic audio with RF control round out this dynamic swim spa. Built in the U.S.
marquisspas.com | (503) 838-0888
---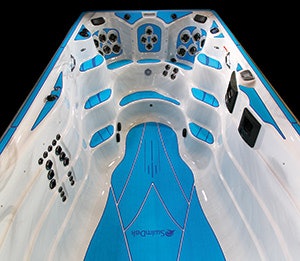 SwimDek
SwimDek is a luxurious aquatic surface that brings safety and style to spas and hot tubs. Manufactured from soft, durable and closed cell PE/EVA foam that will not absorb water, SwimDek provides exceptional traction for slick spa and hot tub surfaces while remaining aesthetically pleasing and supple underfoot. SwimDek is available in a wide range of colors, textures and styles, delivering unparalleled functionality with refined elegance.
swimdek.com | (321) 210-7777
---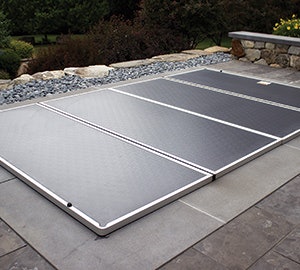 Pool Covers
The Be-Lite Aluminum Spa Cover by Pool Covers is a true safety cover. The company's covers are made to withstand the harshest elements and the toughest pets. They are UL-listed and meet the ASTM safety standards. The covers will not absorb water and won't buckle in the middle under heavy loads, the company says. Each cover is custom made with a variety of colors available. Great for swim spas and fire pit covers as well.
belitespacovers.com | (707) 864-6674
---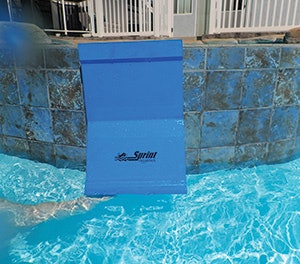 Sprint Aquatics
The 687 Sprint Aquatics Wonder Board is a great piece of equipment for strength building and rehab in the pool — sitting, kneeling or standing exercises can all be done with the board. Constructed out of durable, closed-cell foam, it offers a unique, patented "V"-shape design. It can be used to challenge balance coordination or provide stabilization, depending on use. It measures 20-inches long, 13½-inches wide and 2-inches tall. Currently only available in blue.
sprintaquatics.com | (800) 235-2156
---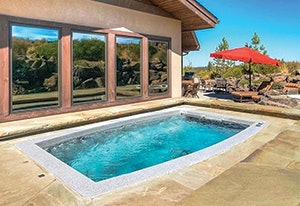 SwimEx
Sold worldwide, SwimEx fiberglass pools are small swim spa pools that offer extreme function. The exclusive paddlewheel water system in SwimEx pools is adjustable, extra deep, spans the width of the pool and accommodates any ability level. SwimEx pools are available in standard models, or clients can customize the pool's interior and color to achieve exercise goals and complement their home design. Since 1986, SwimEx has offered clients individualized attention — from the first phone call to post-installation — to make sure every pool exceeds expectations, the company says.
swimex.com | (800) 877-7946
---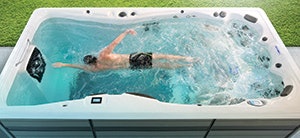 Master Spas
New for 2019, the H2X Fitness Swim Spa line from Master Spas introduces the Challenger Series. These three new models feature an innovative, airless jet system with Velocity Injector Plate Technology to create a smooth, wide current that can challenge a novice or elite swimmer. The AquaSpeed VSP touchscreen display features easy-to-use controls that allow swimmers to set the speed of the current and program a workout. With 25 speed settings, users can dial in their pace for endurance efforts or vary it to benefit from interval training. Plus, when it comes to hydrotherapy, rehabilitation and relaxation, nothing compares to the Xtreme Therapy Seat and Xtreme Therapy Cove, the company says.
masterspas.com | (260) 436-9100
---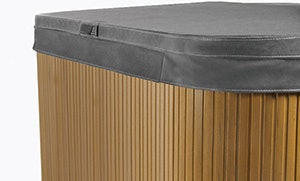 Core Covers
Core Covers now offers spa covers with Weather-shield fabric, a 100% solution-dyed polyester that offers several benefits. The fabric is three times stronger than traditional vinyl fabric and provides superior tear and abrasion resistance, while made with recyclable materials — so it's also environmentally superior, the company says. Weather-shield covers weigh 25% less than vinyl covers, which puts less weight on cover lifts and makes them easier for consumers to use. The Weather-shield fabric is currently available in three colors: black, mahogany and grey. All Weather-shield covers are highly resistant to UV, mildew and mold.
corecovers.com | (855) 763-7450
---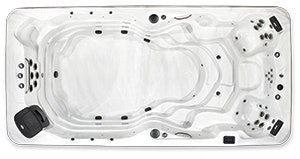 Aspen Spas
Built smarter so users can work out harder, the new S.W.I.M. 16 - E (Superior Water In Motion) from Aspen Spas is bigger (190 1/2-inches long, 94 1/2-inches wide and 52-inches tall) and features a wider and longer swim zone (134 inches by 83 inches). It has three XP3E Swim Pumps, powering six Swim-Power turbo jets (110 gallons per minute each). The spa is framed with four fiberglass column corners and a full fiberglass base. It also features two deep Captain's Chairs, a center bench seat, a recovery seat and dual three-step entry zones.
aspenspas.com | (314) 776-5050
---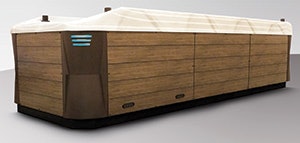 Coast Spas Manufacturing
Coast Spas Manufacturing is pleased to announce the launch of its new 21-foot swim spa, the 2100 VE — North America's largest swim spa and most competitive on the market, the company says. With dual stand-up therapy zones and a double 24-inch waterfall, it provides the opportunity for two people to face each other and socialize while providing a full body hydrotherapeutic massage. Due to its size, Coast has provided dual commercial grade Hydro Cyclonic filtration systems to ensure crystal clear water.
coastspas.com | (604) 514-8111
---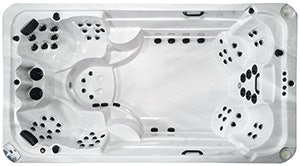 Arctic Spas
As the swim spa segment continues to develop, having a product with a unique story is critical, says Arctic Spas. All Weather Pools by Arctic Spas are purpose built from floor to cover to withstand and thrive in harsh weather conditions. The company offers several propulsion systems to answer the needs of a very wide range of prospective fitness buyers. As Arctic continues to expand its line, six different mould designs with countless variations are available.
arcticspas.com | (780) 789-2626
---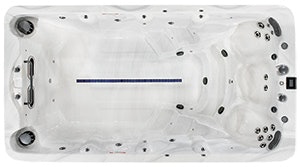 MAAX Spas
PowerPool features the MAAX Force jet propulsion system that provides a smooth swimming experience and is completely adjustable to the fitness level of the swimmer. Along with swimming, PowerPool also allows for other types of aquatic exercises like aqua jogging and an aquatic exercise equipment package, which includes modern resistance band technology for full-body toning. All PowerPools are appliance grade, meaning they can be brought back to factory specifications without leaving the backyard. They have a steel frame and the company's Northern Exposure insulation system.
maaxspas.com | (800) 367-4286
---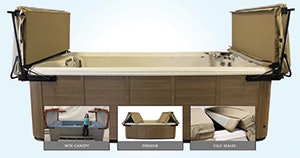 Hot Tub Products
The VacuSeal Swim Spa Cover & Lift System offers easy and complete removal in 10 seconds by just one user, requires no shifting upon closure and now includes a fully-sealed inset that prevents heat loss or rain water from entering the spa. The unique tri-fold upgrade makes it the only swim spa cover & lift system that is both economical and easy to operate on swim spas from 16-inches to 22-inches long, the company says. The VacuSeal provides energy savings, easy operation and can be converted into a canopy.
hottubproducts.com | (860) 469-2580
---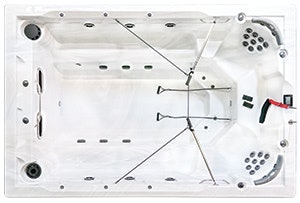 Clearwater Spas
The quality of Clearwater Spas is now available in a swim spa. With the exercise capabilities of a pool and the therapy of a hot tub, users get the best of both worlds in the Swim Spa 1200. It features a two-tone DuraTech cabinet with light bar, two main LED lights, water features, bench seating on each side and two therapy seats in the back. Add-on packages are available to enhance the swim spa experience.
clearwaterspas.com | (425) 483-1877
---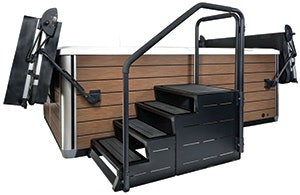 Leisure Concepts
The ModStep by Leisure Concepts is the perfect complement to any swim spa. The ModStep is an expandable series of steps that is unlike any other in the industry, says Leisure Concepts. The components can be custom configured to suit most situations. By adding two or more steps together, customers now have the flexibility to create a long run of steps or an attractive, durable swim spa step that fits most cabinets height or length. Built with a powder-coated aluminum frame and polymer treads, the ModStep is the sturdiest, safest and strongest step on the market, the company says. Made in the U.S.
leisureconcepts.com | (509) 483-8110
---
Nespa Tiled Spas
For over 42 years, Nespa Enterprises has been the leader in all-tiled custom-made swim spas for the residential market, the company says. Each spa is designed, engineered and built to last with high quality products available. Nespa swim spas feature the "Riverflow" variable speed laminar water flow pump system by Current Systems. Each custom, hand-tiled spa arrives finished and ready to install. Nespa works directly with pool professionals, builders and architects.
tiledspas.com | (530) 534-9910