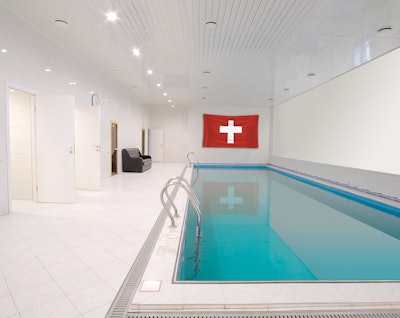 As part of an energy-saving initiative, the city of Zurich is lowering the water and air temperatures of indoor pools.
This action — one of the first in a four-step energy security plan — reduced regulatory water and air temperatures for indoor pools by 1 degree, beginning September 2022.
Zurich's City Council announced additional energy-saving measures for immediate implementation in September, including: reducing the interior and exterior lighting of public buildings, reducing hot water consumption in administration buildings, reducing power consumption in water treatment, and enacting a public awareness campaign. These and other measures were estimated to save an estimated 4,500,000 kWh over the following six months, according to the city.
"As the largest city in Switzerland, Zurich wants to make a noticeable contribution to saving energy by setting a good example and taking immediate action. At the same time, the city council calls on the population and the economy to limit energy consumption," reads a media release from the Department of Industrial Enterprises. "Every kWh of gas or electricity saved today serves to relax the energy supply in the winter months."
Individual energy security measures will now be enacted by the city council in stages, depending on how the situation develops. If a specific shortage arises, the federal government would have primary responsibility in overseeing a fourth stage, which would include quotas or partial grid shutdowns to ensure energy supply.
"The city of Zurich is currently supplied with electricity and gas. Due to the geopolitical situation, however, the city council wants to take all measures to prevent a shortage," the city says.
All of these efforts contribute to the city's net-zero targets, approved by the public in May 2022.
This article first appeared in the February 2023 issue of AQUA Magazine — the top resource for retailers, builders and service pros in the pool and spa industry. Subscriptions to the print magazine are free to all industry professionals. Click here to subscribe.