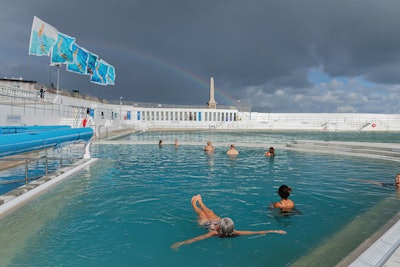 After weathering decades worth of coastal storms, England's iconic Jubilee Pool in Penzance — opened in 1935 to celebrate King George V's Silver Jubilee — was left worse for wear and faced a shutdown.
Thanks to a valiant local fundraising effort, the pool was saved and slated for upgrades. Architecture firm Scott Whitby Studio was trusted with the task of designing expanded community facilities and implementing geothermal heating.
"Our objective was to create a space that feels at home in the community and is fundamentally…a gift back to the people that saved it," says Alex Scott- Whitby, studio director.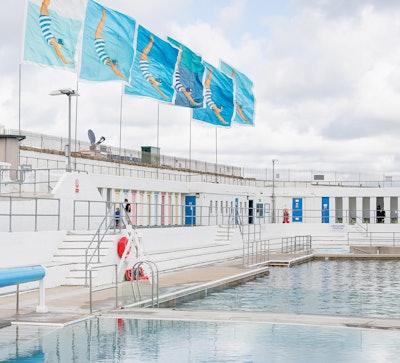 The first step in the transformation project was the excavation of a 410-meter-deep well. The geothermal system operates by "extracting warm water from the geothermal well, taking heat out of that water using heat pumps and distributing it to the pool via a heat exchanger, before re-injecting the cooler water back into the ground," according to Jubilee Pool. "This combined system means that the temperature of the pool can be sustained with a very low carbon footprint."
This enabled sections of the pool to remain open for year-round use: While Jubilee's main pool is not heated, the geothermal pool stays around 30 to 35 degrees Celsius (86 to 95 degrees Fahrenheit).
"It's wonderful to see this unique place brought back to light," says Susan Stuart, director of Jubilee Pool Penzance Limited. "Year-round opening and the resurgence of interest in cold water swimming is supporting offseason growth to reduce seasonality in the local economy and bolster employment prospects for local people."
Additionally, Scott Whitby Studio upgraded the pool's changing facilities and showers, designed a new cafe and created a new multi-purpose community space. The studio was careful to highlight and complement the building's original art deco style.
"We are so pleased that this community-led project is now fully operational. For Penzance, it is often said, it is the connection to the sea that makes it feel so special," says Scott-Whitby. "It is our hope that the rejuvenated Jubilee Pool will strengthen this connection and be a place to create memories that will be cherished for generations to come."
This article first appeared in the February 2023 issue of AQUA Magazine — the top resource for retailers, builders and service pros in the pool and spa industry. Subscriptions to the print magazine are free to all industry professionals. Click here to subscribe.