At its simplest, a pool house is a practical structure offering storage and changing-room privacy. But we've come a long way: gone are the days of the glorified shed that held chemical buckets and musty pool toys. In the wake of a pandemic-boosted backyard renaissance, homeowners are seeking a sort of "Home 2.0" space where they can blend function with entertainment.
HOME (100 FEET) AWAY FROM HOME
"The whole backyard experience has become such an extension of homeowners' houses," notes Chris Argenziano, CEO and founder of The Pool Boss, a pool design and construction company in Wayne, N.J. This means it's common to see elements like grill stations, bathrooms, kitchens, living rooms and bars right beside the pool.
"A pool house takes the pool a step further, to where it's not just a water hole in the ground," says Mike Ciaccio, vice president of Arista Pool and Spa. He adds that a number of his customers opt to extend their seasons by incorporating outdoor heaters. "The pool doesn't even have to be used for people to use the pool house. They could be out there just hanging out, grilling, relaxing and not even swimming."
More often than not, the pool house design process begins with a homeowner simply wanting a shaded area. Inspiration tends to quickly escalate from there. "Ultimately, once [customers] enter the design and see the possibilities, they get enamored with it, and we bring it to another level," says Argenziano. "There's so much you can add to it, whether it's heating systems, cooling systems, fans, lighting, fire features, all those kinds of things."
RELATED: Pool Houses: Ship Shape!
A pool house addition is also a way to keep the main house dry. "For some pools that are farther away from the house, we'll do a bathroom so that people don't have to run back and forth," says Melvin Stoltzfus, sales manager at Homestead Structures. "We do some pool kitchens with refrigerators and sinks, so if you have a party, no one's running into the house and getting it wet."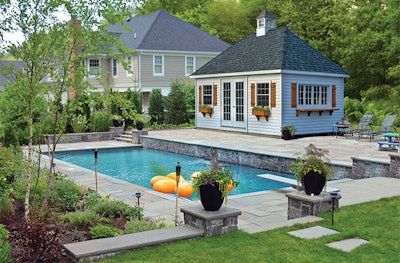 HOLD THE PHONE
So, how does a builder go about selling a pool house? As it turns out, they typically don't. "We find it's usually more of a request," says Argenziano. "They kind of sell themselves."
Customers know what they want, have a vision in mind and try to find someone to bring it to life. "Either the customers are coming to us, or the pool builders are coming to us and saying, 'Our customers mentioned a pool house. Can you help us out?'" says Stoltzfus. "Then, we'll take them through the website and try and figure out what they want. But we rarely or never call anyone. If we see that they're putting in a pool, we don't do any cold calling."
But builders can still make sure to have their best foot out there when customers start browsing for inspiration. "People see pictures or images through social media or different outlets, and they become more and more intrigued by it," says Argenziano. "And people come to us for advice on it." It's a good idea to have a digital portfolio at the ready — an eye-catching, updated gallery could convince a customer to work with you and your subcontractors over someone else.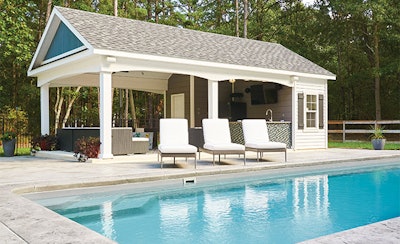 SUB IT OUT
Don't stress: Your main focus can remain on the pool build itself. "The majority of us out there don't have the capability to actually build structures," says Ciaccio. "Pool builders can do hardscaping, fire pits and grill stations, things like that, but as far as the actual structure, that usually gets subcontracted out."
"If there's plumbing involved, like a sink or a toilet, that brings it to a whole other level," adds Argenziano. "And if there's any electrical wiring, you have to bring in an electrician, whether that be for ceiling fans, lighting, electric heaters or things like that."
This is where a collaboration comes in handy. For example, Homestead Structures, specialists in custom building construction, have set up a system to work with pool builders in their area on pool house projects. The company offers builders two ways for them to make an extra profit on the job.
"Some pool builders just send their customers directly to us, so that's more of a referral relationship, but we'll cut them a commission check...and if they refer a certain dollar amount of customers our way, we'll increase their commissions," Stoltzfus explains. "And some pool builders work directly with the customer, so we work with the pool builder, and they're getting discounted pricing so they can price it back up to our retail pricing. That way, they're making about 10 to 15% on the pool house as income."
RELATED: A Zen-Conjuring Pool House Offers a Rustic Retreat in Ohio
Ciaccio is one of the builders that works hand-in-hand with Stoltzfus and the team at Homestead. Collaborating has eliminated some logistical headaches and made the process easier for both parties.
"[Homestead] probably does about 10 to 15 pool houses on our projects a year. We pull the permit for them for the pool house, since we're already doing all kinds of pool permitting with the township, and it makes things easier for everybody," Ciaccio explains. "We schedule [with them] and just stay in touch with each other as the project progresses, as to when they need to get in, start building and get access — and all those things to make sure it flows as best it can.
"And while we're out there doing all of our excavation work, we'll do any footer work that's required for the pool house. Anything that's underground that needs to be done before the concrete is poured — electrical, gas, things like that. We work with the guys at Homestead to get everything done behind the scenes, so it won't be extra calls that the homeowner has to make to line things up on their end."
Ultimately, it's a win-win for the reputation and credibility of both companies. "When homeowners ask us for references, it's nice to have a contact to give them that can be trusted to get the job done, get it done right and really leave the customer happy," says Ciaccio. "At the end of the day, when we're referring to them, it falls back on us, too."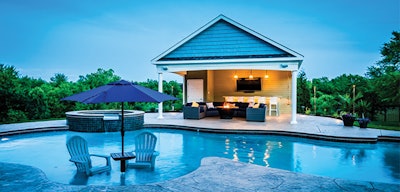 DESIGN WITH THE FUTURE IN MIND
A pool house can be done on a range of budgets, but Argenziano finds that many customers end up going all out. "The value in a pool house is the extension of the entire lifestyle," he explains.
Either way, it's crucial to design with the future in mind, since adding a pool house adds another dimension to the project. If a customer expresses interest in a future structure, planning ahead for wiring and other considerations can save time and money later on.
RELATED: SLIDESHOW: Pool House Rock
"If the homeowner knows that they want a pool house at some point — they don't have to want it right away — I always approach my pool designing with, let's do everything together here. Let's plan for the future, so that you don't have to come back and add something later that might not mesh to what you're doing, or might appear as an afterthought by the time it's done," says Ciaccio. "So in that regard, we plan to arrange the concrete decking accordingly and go over with the homeowner where they want the pool house, as far as in the yard, around the pool, wherever we think it would work best for them."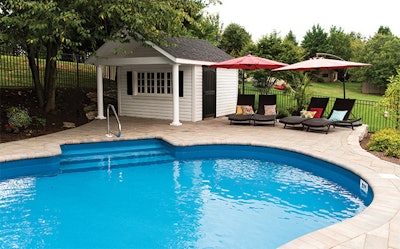 LOOKING AHEAD
Argenziano, Ciaccio and Stoltzfus all saw the huge demand that rocked the industry in 2020. But when it comes to predicting whether or not that spark is here to stay, Stoltzfus doesn't want to speak too soon. "We were very busy last year, and I said I thought it was going to level off this spring, but it just kept getting busier," he says.
In general, however, pool houses seem to be on the rise, just like pools and spas. "Inquiries are pouring in, and people are more and more intrigued by pool houses," says Argenziano. "People staying at home want to make their outdoor experience a complete extension of their home, so they're investing in the pool as the centerpiece of it all. And then extending it into outdoor kitchens, pool houses, pergolas, fire features, water features, all those additional elements."
---
This article first appeared in the June 2021 issue of AQUA Magazine — the top resource for retailers, builders and service pros in the pool and spa industry. Subscriptions to the print magazine are free to all industry professionals. Click here to subscribe.
---