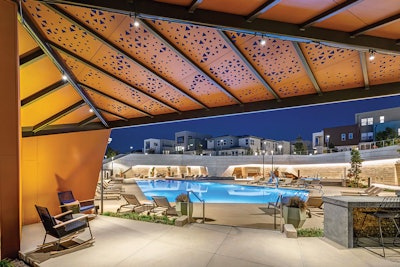 All photos courtesy RMA Photography
In Solis Park, nestled within the larger community of Irvine's Great Park Neighborhoods, AO Architecture Firm has unveiled "The Cave," an impressive, resort-style communal pool and lounge, along with "The Cove," a community event center.
AO's team of interior and architectural designers sought inspiration from the natural world, ancient artistic expressions and the captivating California terrain. These influences converged to craft a truly unique poolside retreat and communal gathering area.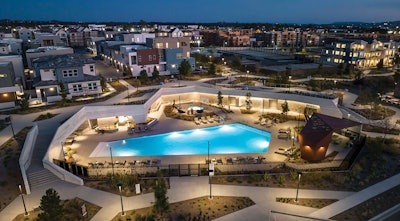 The Cave community pool and lounge features a striking architectural design, drawing inspiration from the Lascaux Cave Museum. The design integrates seamlessly with the landscape, featuring earthy textures, sharp angles and natural stone elements. With three open entrances,it creates a serene and otherworldly atmosphere by uniting the elements of earth, water, air and fire. A cascading rock wall water feature mimics a cave with blue inlay stones, creating a flowing, stream-like effect. In the heart of this space, a custom table and bar radiate like natural canyon rock formations.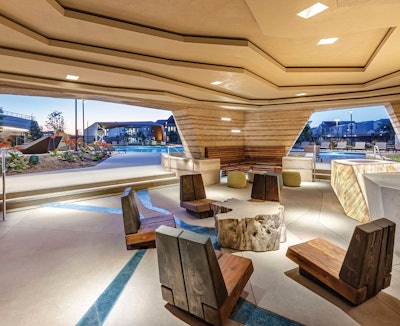 The theme of organic, angular shapes extends to the outdoors, where you'll find a zero-entry pool and a perforated metal canopy structure that houses outdoor barbecue facilities and seating. Above The Cave, a raised promenade, winding pathways and angled staircases offer vantage points, while cost-effective green roof elements support the restrooms located below.
Following the park's geological theme, The Cove, the central community event venue, unveils a striking design. It features a glass onyx tower and expansive entrances on both sides that open up to a spacious event lawn. At the heart of the room, a stunning custom table, meticulously crafted by Jeremy Elkins of Untreated Art, serves as a captivating centerpiece. Thoughtfully arranged seating areas, a well-equipped kitchen and a stylish bar complete the interior space.
"We appreciate that our partners at FivePoint gave us the freedom to tap into our creativity and design something unique at the heart of the Solis Park community," says Richard Clarke, AIA, partner at AO. "Collaborating closely with the landscape design team at Brightview, our goal was to create a space that established a strong community identity and sense of enchantment, while encouraging social interaction and reflection. I think Solis Park achieves what we envisioned and more."