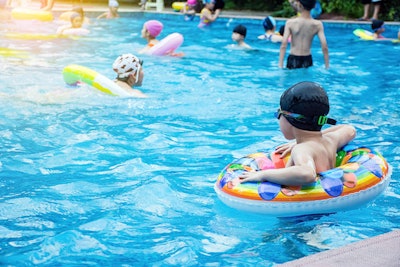 There are thousands of community pools across the country struggling to stay open and viable due to cuts to municipal budgets. The story of the Brook Park Swim Club, my community pool, is typical of many. The Brook Park Swim Club, in the suburbs of Pittsburgh, isn't just a place to swim – it is the heart and soul of our community. Our kids meet throughout the summer for swim team, parties, pick-up soccer games and more. Adults get some much-needed sun and conversation after the long and cold Pittsburgh winters. Many of our children can walk to the pool, where they learn independence and can exercise in a safe setting.
In the past two years, our volunteer board has learned more about pool mechanics and maintenance than we ever wanted to know. From our water and sewage bills, we knew that our pool was leaking, but weren't entirely sure why. We threw ourselves into the effort to fix the problem that was literally draining away our small operating budget. In the end, a pool service company gave us the help we needed to stay open, and continue providing local kids with a great environment to exercise, socialize and have fun in the summer.
Why is Our Pool Leaking?
Built in 1987, the Brook Park Pool is a concrete pool with a custom-designed gutter system. Our coping stones cannot be removed without major construction, the company that designed our pool was out of business and we were trying to read blurry 30-year old prints to understand our processes. We spent hundreds of hours at the pool learning how to best run the pump and other equipment.
Getting three legitimate quotes for this work took eight months. Our first estimate was $30,000 — the contractor, who had done work for other local pools, wanted to replace some of the coping stones as he believed that was the greatest source of our leaking. After receiving the quote, we did our own research and found that he was F-rated with the Better Business Bureau, so we moved on.
Luckily, several of us on the board are engineers. We huddled often, talked with licensed professional engineers, and finally decided that patching the pool concrete and repainting the pool would be enough to fix the majority of our leaking problems. But we aren't pool experts and were afraid that we were missing something. So we called at least 10 local pool service companies to see if they could look at our pool and double-check our theory that patching and repainting the pool would be sufficient.
Most wouldn't return our calls and emails. One local concrete company gave us a quote of $60,000 to repair and repaint our concrete surface. Another expert visited the pool in September but never returned our many calls asking for an estimate until April.
We finally found a reputable pool service provider who was willing to look at our pool. He agreed with us that patching and painting would be enough to fix the leaks and was honest enough to admit his company would charge more than we could afford. He visited our pool twice, spoke with us several times to discuss our situation and readily offered the technical advice that we needed. Truly, his advice saved our pool — we needed a pool expert to confirm that we were on the right track.
We were able to find a local concrete company and painter to complete the work for about $10,000. And the repairs worked – no more notices from the water and sewage company that we were leaking water.
Our Future is Bright
The vibe at our pool this summer is one of gratitude and joy. In an effort to grow membership, we're using Facebook to show all of the great activities and programs that we offer. We're also giving back to our community, presenting at our elementary school's Science Night and inviting the community to pool events, even if they aren't pool members.
When I joined the Pool Board, one long-time member said to me, "If we can keep just one of these kids on the right track through keeping this pool open, then we've done our duty." Our board is committed to preserving our community gathering place for generations to come. My hope is that the community pools that are struggling to find solutions and help can find hope through our story. And, if you as a pool service or renovation company are in a position to help your community pool, please consider helping in whatever way that you can. We volunteers need all of the help that we can get to keep our kids safe and communities intact.
Colleen Paulson is a freelance writer, business consultant, and President of the Brook Park Swim Club Board of Directors. She can be reached at [email protected].