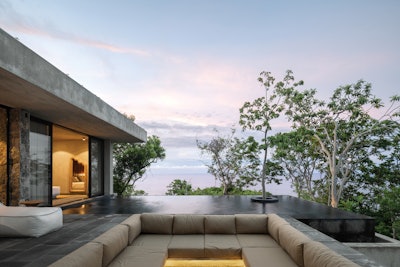 All photos courtesy Cesar Belio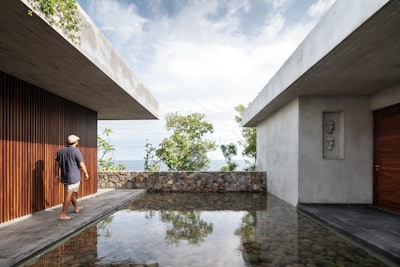 Located within the high cliffs and wild jungle of Mexico, Casa Mateo serenely sits, staring out at the infinite waves of the Pacific Ocean. The owner requested features that would create an atmosphere of relaxation, leisure and overall enjoyment, hence why an outdoor infinity pool was added to the backyard of the home.
"The client wanted a very minimalistic and clean house design from the beginning, but they also wanted to incorporate some vernacular and traditional architecture into the structure as well," says Daniel Zozaya, the project director, in an interview with DesignBoom.
The property can be accessed through a sloping road that leads to the main entrance of the house, as well as the covered parking garage. The entry hall consists of an outdoor staircase that's flanked by two stone walls and leads to the central courtyard of the house, which is a large mirror of water with stones.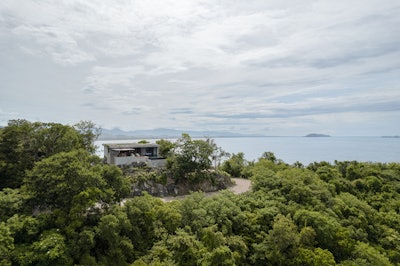 From there, the house is segmented into two halves, which helps differentiate the private spaces from the social spaces. The first half of the house (to the left of the entryway) has three bedrooms with their respective bathrooms, and the second half (to the right) has the living room, dining room and kitchen, with the possibility of unifying the two spaces with the pergola, terrace and grill.
Outside of the two halves, the master bedroom is located towards the back of the home and was built to be an exclusively private space, with direct access to the infinity pool and ocean views in the backyard. "The water features play a really important role in the house because they enhance the calming atmosphere, and they further divide the social areas from the private areas," says Zozaya.
The entire structure is made out of concrete, stone, steel and wood, with contrasting colors of gray and brown to help it blend into the organic landscape of Mexico. In order to mimic the surrounding vegetation, green roofs were incorporated, among various other environmentally friendly techniques and structures.