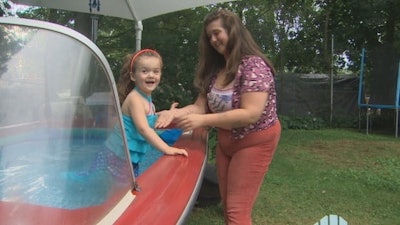 Photos courtesy Auto Evolution
From stock tanks to hay bales, crafty homeowners looking to cut costs have come up with some pretty clever hacks to build DIY swimming pools. A Nova Scotia woman's project, re-purposing a vintage speedboat, is one of the most unusual yet.
In the heat of summer, Olivia Kendall and her 3-year-old daughter needed an affordable way to cool off — but a stock tank, though less expensive than a typical pool, wasn't in the budget. While brainstorming ways to cut costs, Kendall was struck with inspiration after seeing a vintage Chestnut Canoe on Facebook Marketplace.
The Chestnut Canoe company, founded in the 1890s, was a well-known Canadian boat manufacturer until it closed in 1979. Famously, Teddy Roosevelt purchased Chestnut canoes for an expedition in South America.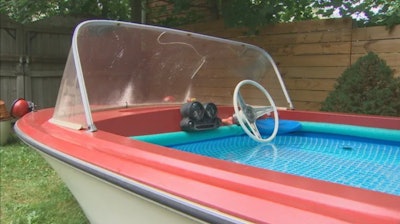 These days, some of the last remaining Chestnut models can be salvaged and given new life. Kendall re-imagined hers as a mini swimming pool: For $200, the boat was hers, and she got to work on fixing it up.
Kendall had to cover the deck with a pool liner, drill holes into the hull for pool hoses and add a waterfall attachment for filtration purposes. She also bought the pool pump, sand filter and chlorinator second-hand to limit costs. Each seller along the way offered up their wisdom, helping Kendall complete her masterpiece.
After just a month, Kendall and her daughter were able to enjoy the stylish swimming boat, complete with an umbrella, drink storage bin and lights.
To view this story in its original format, click here.