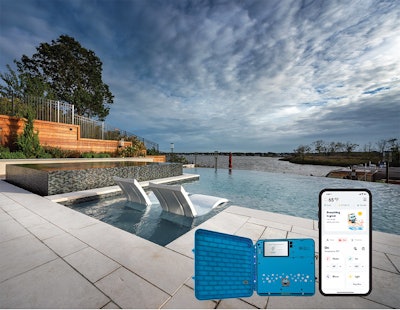 Pool controls have come a long way since the time clock, but as they have become more powerful and sophisticated, one problem has remained a thorn in the side of builders and servicers as they try to keep North America's pool systems operational and under homeowner command: monolingual control systems.
That is, pool control systems only speak one language, that of their homeland. If all the members of the pool pad — the pump, the heater, the jets, the lights — all speak that same language, that's fine, but if they don't, then the control system can't talk to them, which means they're useless to the overall backyard mission.
This problem has been more noticeable in the pandemic shortage era. If a pump burns out in a controlled system, it has to be replaced with another pump that speaks that same language. And chasing down a specific pump is a lot harder than just chasing down a pump that will get the homeowner up and running, says Adam Steele, Steele's Signature Pools, Medford, N.J.
"Prior to using this automation, I've been limited in the sense that, for whatever reason, I may want to use X lights, Y pumps, and maybe Z automation on a particular pool. Before, I couldn't do that. I'd have to find the same for all three to do the pool.
"Where with this automation, I can pick whatever lights, pumps or heater I want. Especially in the last year with the supply chain being so depleted, I've been in the situation where I need a pump, and I've been able to find one in stock somewhere, but it's a different company than the other equipment on the pad, so I can't use it. It won't work with the other parts under the automation.
"It's huge for renovation, if you have to replace a pump due to age. You're not tied to that exact pump."
Adam is talking about The Attendant, from Poolside Tech, the first multilingual control panel, which he began using on his award-winning pools over a year ago. The panel is installed with the pool equipment and links with your smartphone like other pool automation systems, but the software provides an interface (see image on page 56) and some applied intelligence that help it think and communicate effectively with homeowners and service providers that use it as a pool monitor.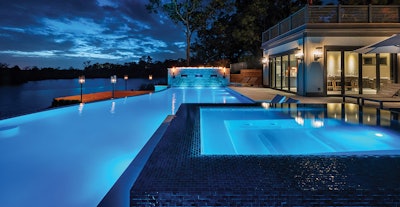 HIGHER LEVEL THINKING
For consumers, aside from the charming interface, perhaps The Attendant's most attractive feature is how it changes the way they heat their pools, resulting in energy and money savings.
"Say you're having a party on Saturday," Steele says. "It'll tell you exactly how long it will take to heat up your pool, so you don't have to heat it way in advance. Because it's learned your pool. That can save energy and money, because you're not just pumping the heat out into the atmosphere waiting for your party. Otherwise, you're just guessing. You probably turn it on the night before just in case. But this thing reads all the conditions and tells you it's gonna take three hours and 20 minutes."
As shown in the image on page 56, the control interface is constantly figuring the utility costs involved with running the pool, and offering opportunities to save.
"We have some pools with both a gas and solar heating," says Jeff Neamand, president of AquaSun Pools and Spas, Doylestown, Pa., an early adopter of the technology. "So we can make solar a priority and save, or it can read the outside conditions and tell you it's not productive to use the solar heating, or it's not fast enough, so there's no reason to open the solar valve.
"Or some people have a heat pump and gas heat combined. It has the intelligence to prioritize one over the other, based on your needs. And it will offer you savings on circulation, figuring out what it costs to cycle your pool one time a day, twice a day, and so on.
"I personally think that most clients just love really great phone control," he adds. "And then when they start to go, 'Wow, my heating bill used to be $280 a month, and now it's $133,' they get excited by that.
"I mean, we can tell them things like, 'At 50% rpm, you cut your electricity bill by 80%,' but they don't always get it, or they get confused. This just tells you right on your phone exactly what you can save if you cut your pump speed."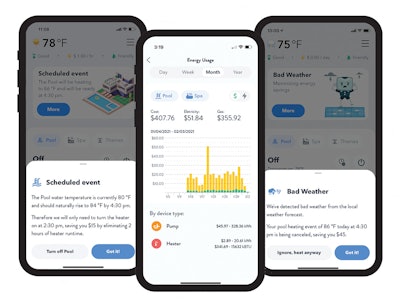 FAIL-SAFE
The Attendant looks after other aspects of the system besides heat and circulation.
"It protects against mistakes," says Steele. "We've all had clients go in the system and start playing around with things, and they mess up their filtration schedule. Well, this thing knows that the pool has not been filtered in so many hours. And you get a message warning you and the customer about it."
Both Steele and Neamand monitor their customers' pools using the app so they get warnings, and they're right on top of any potential problems.
"Mostly, my customers need protection from themselves," adds Neamand, "but they also need something to keep an eye on the pool. Here's a prime example:
"We're here north of Philadelphia, Bucks county, and today it's just shy of 50 degrees, but three days ago it was zero. Sometimes it's really cold, but then it warms right up. So we have pools that are open all winter, because that's the way our customers like it.
"Well, we had a day that was like, negative six degrees about a week ago — a huge Arctic blast that came through for 48 hours. And I look at my app to check on the pools. And one in particular, I was looking at like, 'Man, I'm just gonna take it over. I'm just gonna turn it on, and let it run all night.'
"And at five o'clock, I get a pump drive error on the app. The pump has gone down. So I'm on the phone with the guy driving over to his house. It is frigidly cold, and we're fixing that motor. Because he doesn't have a choice. If you freeze up, everything is going to crack, plumbing shattered. Everything.
"But the app sent me and the homeowner an alert, and I was able to go save that guy 3, 4, 5 grand. But it doesn't have to be winter. It could be in the middle of June, family goes away for the week, and we get a pump drive error or a pump failure. It has an alert that says, regardless of what's happening with the pump, 'Hey, the water hasn't been filtered for 24 hours, is everything okay?'
"And when that comes up as an alert, I can let them know and get somebody out there to deal with it, so they don't come home to a totally green pool because their pump isn't running."
EASY PHONE FIXES
Like other pool monitoring systems, The Attendant provides servicers information that can help diagnose problems and effect simple repairs without making a service call.
"Far too many times in this business, we drive out to the pool just to say, 'You gotta backwash your filter, or your water level's too low.' You know, just the dumbest things," Neamand says. "And your customer says, 'You were only here for three minutes!'
"And you say, 'Well, ma'am, it took 45 minutes to drive out here to tell you that your water level was too low.'" Neamand points out, "Are you justified in doing that? Sure. Does that make a good client relationship? Probably not. So this helps you avoid situations like that."
NEW KID ON THE BLOCK
The Attendant is a control product that is just entering the market during the pandemic surge and shortage, and both Steele and Neamand are among the first adopters of this new technology. In those circumstances, a couple obvious questions must come to the mind of a pool pro reading this article: "Is it robust? Does it really work?"
"I can only speak from my own experience," says Neamand. "I'm operating 71 of these panels. These were the first panels in the field. But I have not had any mechanical failures where the panel has gone blank or something's happened that requires a part.
"We learned a couple of things quickly: On some of the older pools, there were some really weird and unique things that were surprising to everyone. And those guys at Poolside were able to take in that data and modify their software and that took care of it.
"But that's all. I've had zero failures. I had one panel that succumbed to Hurricane Ida. It was 2 feet underwater, but that was due to Mother Nature."
---
This article first appeared in the March 2022 issue of AQUA Magazine — the top resource for retailers, builders and service pros in the pool and spa industry. Subscriptions to the print magazine are free to all industry professionals. Click here to subscribe.