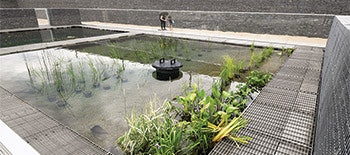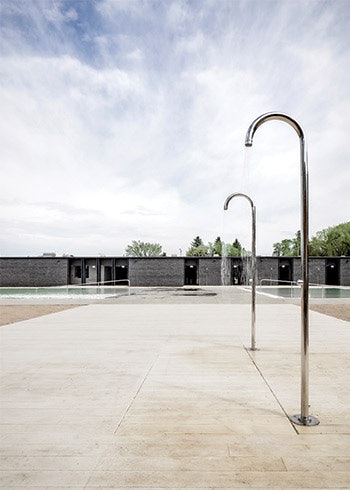 A community park in Edmonton, Canada, is now home to the country's first chemical-free, public outdoor pool.
Designed by Toronto-based architecture studio GH3, the Borden Park Natural Swimming Pool includes a large, natural swimming pool, a children's pool and a pool house with changing rooms and equipment. The water is filtered without machinery or chemicals, utilizing plants and layers of gravel and sand instead.
With Canada's guidelines for public pools being some of the strictest in the world, the architects had to get creative to bring the structure to life. They classified the project as "recreational waters" with the building permit as a "construction beach with variances" — those "variances" being the pools.
"Our challenge was to create a large-scale pool with high-quality water control, while also achieving an environmentally healthy and natural filtration process," say the architects at GH3. "We began by establishing a pool technology that cleanses the water through stone, gravel, sand and botanic filtering processes."
Here's how it works: After initial dechlorination off site, the pool water is filtered using two separate systems. Water for the main pool gets pumped through a bed of gravel, sand and zooplankton, which remove bacteria (and give the water its green tint). Water for the smaller-sized children's pool gets filtered by a pair of biological water treatment ponds, featuring reed plants to help with oxygenation. Finally, all water is sent to a chamber for testing before it flows into each pool.
It takes a holistic approach to make this sanitization regimen work. A series of showers line the pool decks, and all swimmers must rinse off before bathing to prevent contaminants like sun lotion from tampering with the water.
---
This article first appeared in the April 2021 issue of AQUA Magazine — the top resource for retailers, builders and service pros in the pool and spa industry. Subscriptions to the print magazine are free to all industry professionals. Click here to subscribe.
---