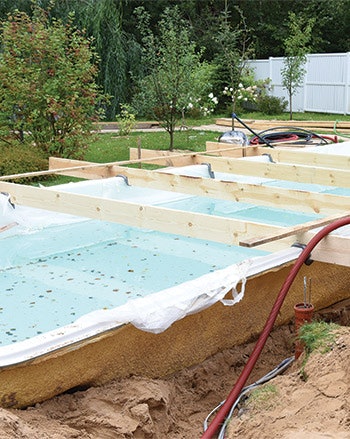 It's been a wild ride for the pool and spa community, but every adventure is a journey in creative management, and that's what we've seen in the last year.
What we've done to address the Great Backyard Stampede of 2020 will echo long into the aftermath, as companies were forced to make drastic changes in order to cope with the severe stress of the supply/ demand imbalance. We saw that in all sectors of the industry. Fiberglass was no different, and actually, some characteristics of fiberglass offered advantages that made the product especially successful in the last year. In particular, speed of installation and low labor requirements were valuable assets in the pandemic.
"It was a very unusual year, that's for sure," says Ed Tallman, president of Tallman Pools, Jonesboro, Ga. "Who expected this in February or March of last year? We didn't know what was happening. And then it hit."
And when it hit, the Stampede came as a shock to every fiberglass builder in the country. Jason Hughes, co-owner of River Pools and Spas in Warsaw, Va., and Genesis faculty member, remembers clearly what that was like: "There was a point where we had a backlog of over two thousand people we couldn't even call — we couldn't even call them to tell them we couldn't help them. That was the kind of year it was."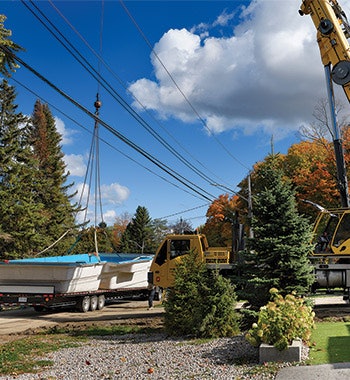 "WE GOT STEAMROLLED"
Like any big shock, there's a moment where you're still doing what you did for years, because you're used to that, even though the situation has changed. Then realization dawns.
"At first, with so many people calling you at once, it was hard to focus," remembers Michael Bowers, CBP, CSP, president of Pool Pros, Green Bay, Wis. "We were focused on our pool jobs, trying to get more done, to be more profitable, and then suddenly, there were all these people trying to buy a pool.
RELATED: Fiberglass: The Builder Friendly Product
"It became a balancing act last year. We came up with some new ideas and some new strategies that helped, but it was definitely a challenge for us — just the overwhelming amount of leads that we received and how to handle them."
"We changed our sales process four times," says Hughes, "as we constantly tried to adjust to what was happening, because we are trying to give our customers the best experience possible. But we just didn't get back with them very fast, which is criminal. Normally, we try to get back with people in five minutes, literally. And we didn't come close to that.
"And the reason was because we were not able to clearly map out how to handle it. We'd get a fl ood of leads, and we'd bring in the whole team to call them. But we'd still be four weeks behind. And so we kept setting these unrealistic expectations: 'Hey, we will get back with you within four weeks.'
"But we just couldn't even keep up with that, and finally we just shut it down and now we just say, 'Hey, we're not taking any more calls for now.'
"We just totally got steamrolled from a sales standpoint last year."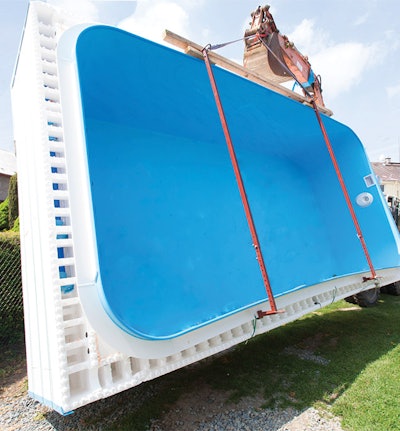 QUALIFYING LEADS
With the whole world on the phone pleading for a pool to keep sanity in the crowded households of COVID, builders realized the crucial importance of qualifying leads. You had to separate the wheat from the chaff if you were going to manage the situation at all.
"One thing that helped us was we implemented a 'fielder,'" says Hughes. "We hired and trained two fielder positions, and their role was just to call people — they had a script, and they qualified leads. Because we don't want the designer or sales rep doing that, we only want them talking to people who are ready to buy a pool."
The internet helped. The pandemic necessity of digital communication actually helped speed the sales and customer communication process, whereas in other times, customers might have expected an in-person visit. River Pools asked customers to take pictures of their backyards and send information by email, and that step separated out less committed customers. From there, a zoom call became the first face-to-face exchange and chance to build rapport and answer questions. The bank had to confirm a deposit before the first site visit.
RELATED: Fiberglass Pools: As Beautiful as Concrete
Up in Green Bay, The Pool Pros website helped customers self-sort themselves. "We have an online pool estimator," Bowers says, "and there you go through our different pools and get a rough preliminary price. It will give you a price range, typically plus or minus $8,000 for each model, saying, 'This is what you can expect on the low end, and this is what you can expect on the high end.'
"And that helped us drastically. We're working on improving that right now, because it really helps pre-qualify people, so we're not going into a meeting with a client that has a budget for an aboveground, but thinks that they can have a $100,000 project."
THE FIBERGLASS ADVANTAGE
By the crest of last year's demand surge, fiberglass builders had begun to notice certain advantages that made it easier to cope with the demand and profit from it. The most obvious of these was the labor factor. Fiberglass pools require a great deal less labor than gunite pools, and that labor can be organized and scheduled more easily since the shell is manufactured at a factory and arrives ready to go into the hole. So when the Stampede hit, it was easier to ramp up production and thus, revenue.
"We travel about three hours from our base location in Virginia to build pools," Hughes says. "And we found that one crew of three to four guys with a skid steer and a full-size excavator can install about 80 pool shells per year, If that's all they do. The average pool shell takes two to three days.
"Compare that to a gunite pool shell, which can take several weeks, and then you've got the curing process for the plaster finish. That's a lot of man-hours at the jobsite and resources going into that project. But the big thing is the demands of the modern family, which became even more urgent during COVID.
"By that I mean: They want the whole process to be expedited. They want us to get in and get out of there — and just shorten the amount of pain. That's what they're thinking, 'Please, let's just shorten the amount of pain.'"
Hughes believes these two factors are the main drivers of the growth in fiberglass. "It better meets the needs of the consumer, and it helps with the labor shortage that we're having right now. With just a few guys, you can create a ton of revenue and have less to manage on the site. We were able to train up three new crews and stay very fluid on the operation side. That helped us increase capacity while not compromising quality, because even though we added three new crews, we made sure we maintained our quality standards."
TRAINING IN A PANDEMIC
"I probably made that sound easy — training up three crews in a pandemic," Hughes laughs. "It wasn't easy at all. Training people to join a fiberglass crew depends a lot on who they are and their experience."
For someone coming in with some base level skills, just a little equipment experience and some plumbing and basic craftsmanship skills, River Pools can have that person contributing on a crew in as little as a month.
RELATED: Tips and Tricks for Installing APCs on Fiberglass Pools
"If they don't have any experience," Hughes says, "if we're waiting for them to develop basic skills, who knows, it could be six to 12 months. A lot of it is just the knowledge of how to handle yourself around a jobsite, how to move dirt, just basic things like that. Really, the only specific skills that are unique to us as fiberglass builders are things like leveling the pool shell, unloading and setting the pool shell, and then, there's a few other things like setting up the equipment pad. For someone coming in from the outside, those things have to be trained every single time."
SUPPLY PROBLEMS
Training and retaining labor has been a challenge for every builder, but there have been others since March 2020, including the same supply problems the rest of the industry has faced. Like manufacturers of everything from chemicals to equipment, fiberglass pool factories struggled to keep up with the need for shells.
"Last summer we were waiting between six to eight weeks on the delivery of shells," Bowers says. That complicated the crucial scheduling process that is a foundation of fiberglass efficiency in 2020, but it's the situation this summer that has Bowers concerned. As president of the Midwest Chapter of PHTA, he talks to lots of builders and manufacturers, and there is some apprehension that lead times for shells in 2021 may lengthen to 12 weeks or longer.
"This is a worry for the builders I've been talking to lately," he says. "It's probably a little more of a problem for us up here in Wisconsin, because we have such a limited season and typically people kind of wait until the last minute to try to buy pools up here. But it's especially a problem for small to mid-size fiberglass pool builders that don't have that 12-14 weeks worth of projects presold."
If a builder can presell enough projects — that is, get enough customers to put down a deposit so the shell can be ordered — then the builder can stay busy working on other projects while waiting for shells to arrive. If not, Bowers says, "If you can't presell enough shells, you could be sitting on your hands for a couple of weeks waiting for your next pool shell to come in, or needing to find some other type of pool related work to try to keep yourself busy."
In a way, fiberglass has been a victim of its own success. With builders putting record numbers of shells in the ground this year, a backlog has been inevitable in spite of manufacturers expanding facilities and optimizing processes to attempt to keep up.
RELATED: Fiberglass Pools Taking Market Share from Gunite
"The manufacturers are doing everything they can," Bowers says, "but they're having the same labor problems the rest of us are having: the demand for workers now is really high. It's really hard to find good quality workers these days."
LOOKING AHEAD
For fiberglass builders in the North, there's a definite pause in operations as cold weather grips the land. It's a moment to reflect on the lessons of last year, and now, as the first shoots of spring appear in February, look to the future.
Hughes is determined to serve customers better this time. "Like I said, we got steamrolled last year. That happened to us once, but if it happens twice, then shame on us. The first time we couldn't possibly see it coming, but now we've been through it. We know it. We've got to have the systems in place to handle it when and if it happens again — which it probably will, I'm thinking, in the first part of 2021.
"We have to have better clarity for the customers out there. We strung too many people along this year waiting for us to respond."
As for the inventory problems, according to the law of supply and demand, the two will equalize out over time. Eventually that tension will be relieved, and supply will meet demand. Theoretically, if demand remains high, supply will increase to meet it, and the overall size of the pool and spa market will grow significantly.
"It's anybody's guess, of course, but as for us builders, I think we'll all be backlogged through next year," says Hughes. "Even with the challenges we've had, I do think that over this three year span, we're going to sell more pools than we would have sold without COVID, because there's been so many people who are now interested that haven't been able to buy, and that demand is not just going to vaporize. I don't feel like we've just pushed the future demand forward, as some people say. I think what everyone has been through has actually created new demand."
---
This article first appeared in the February 2021 issue of AQUA Magazine — the top resource for retailers, builders and service pros in the pool and spa industry. Subscriptions to the print magazine are free to all industry professionals. Click here to subscribe.