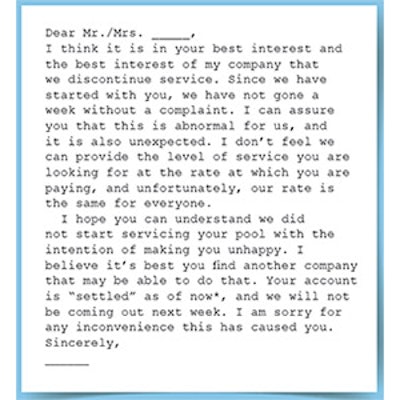 When service professionals choose to let a customer go for whatever reason, it can benefit staff morale and improve daily operations. But doing so can be a tough conversation, especially when you want to avoid bad reviews and reach the other side with a clean, positive break. How do you fire a customer? Industry pros share their insights.
"How do you fire a customer? We have a customer who complains about every single thing we do in an attempt to get money off his bill."
---
Jake Fortner
Carolina Pool Technologies by Atlantic Pools | Lugoff, S.C.
"I send pictures to all clients after every visit to reassure the client and to cover us. If they complain at the end of the billing cycle, I have proof and documentation. If it continues, I will call them when in route to their house and after every visit. When I start blowing them up, it turns their perspective around."
---
"I would use the following response in this situation: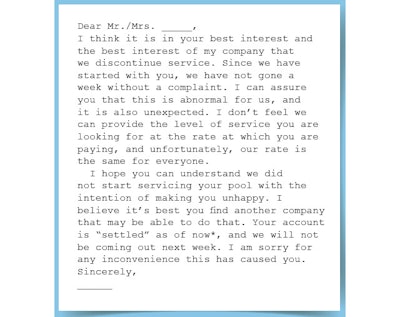 *The account is only settled if the customer does not owe you money and vice versa."
---
Wesley Lance
A & L Pool Service | High Bridge, N.J.
"I let go of about a dozen clients this year. I simply told them that I don't haggle. I am way too busy to spend my energy on this and said there are cheaper companies if this is your issue."
---
"I collect a last month's deposit for exactly this reason. If I need to quit service for any reason, I finish the month, and then notify them I quit their pool and last month's deposit is applied."
---
Joey Bradley
Bradley Pool Service | Arlington, Texas
"I suggest giving the customer their last month's payment back. And tell them, 'How about we just leave on good terms? No harm, no foul.'"
---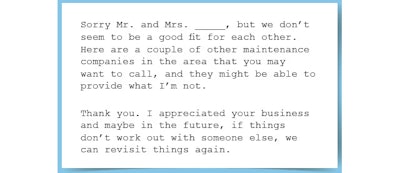 Francisco Melchor
Jovanni's Pools | Katy, Texas
"(Another option would be to increase your rates until they quit you.)"
---
"Be polite and professional. Some will blow you up with bad reviews, so be prepared to respond to all of them. Try to get them to admit in writing that they are happy with the service before you fire them. You can use it in review responses. They are usually only unhappy when a bill is due."
---
Nick Russo
Lazy Days Pool Service | Trinity, Fla.
"My advice is to professionally send them a message that you are terminating services for their account. No reason is needed, but if you feel the need to explain, simply state that it's not economically viable for you to continue. You can also say that you are constraining your service area. It's just business, and you'll soon find out that even the most chatty and easy-going customers will drop you at a moment's notice, too.
I usually wait until the weekend after the final service of the current pay schedule and after receiving the last payment. So if they pay post-service, you are going to probably lose a week or so waiting for that last payment from them — and then the following day, just send them an email."