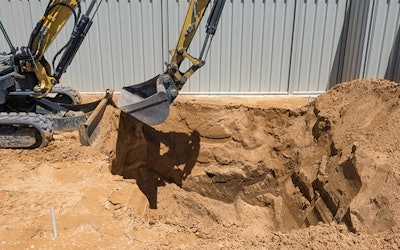 Everybody involved in a pool-building project likes the creative and artistic parts of the job. It's fun to stand in a barren backyard and dream up a better one with a pool, spillover spa, decorative lighting and harmonious hardscaping and landscaping. The good times continue for the designer pitching the project as she takes the customer's abstract ideas and puts them to pixel or paper. Glorious! What joy this pool backyard business is!
Eventually, though, commerce calls, and no matter how precisely and patiently you itemize and explain the job, some people will be numbed by the number on the bottom of the bid.
"We definitely have people who get that shock," says Marcus Gentry of Sunshine Fun Pools in College Station, Texas. Gentry has been designing and selling at Sunshine since shortly after it opened 15 years ago and is pretty good at setting realistic expectations before the process gets going in earnest. If that fails, he's got a secret weapon to keep these customers from bolting.
For the last eight years, Gentry and his compatriots at Sunshine have been working with a pool and backyard loan brokerage that processes credit applications and looks to other institutions to actually provide the financing and service the loan. It's a nifty arrangement that allows the company to concentrate on what it does best — servicing approved pool builders and their buyers with a balanced approach that protects both parties.
"Pools are a major investment, and financing really helps the customer feel more comfortable starting the project. It's like with cars," Gentry explains. "Not everybody can go out and just drop $50,000 for a car, so they get a loan on it and break it down into small payments over time.
RELATED: Financing: Turning Backyard Dreams Into Reality
"Even if they do have the money, not everybody wants to pay in cash, so we help arrange financing and that helps them move forward on a project they otherwise may not have.
But what constitutes "good financing?" Is there any more to it than finding a bank willing to shell out a pile of money after a credit application? Gentry thinks so. So does Daniella Rodriguez of Silver Springs Pool & Spa in El Paso, Texas.
"I'd advise builders to look for a lender that is upfront about the numbers," she says. "You want someone that's very transparent about interest rates, monthly payments, whether it's an adjustable rate or fixed and whether there are prepayment penalties."
Both say the key to finding the right lender is to ask questions. That way you'll have informed answers to customer inquiries when you have to bring up the "F" word (financing) at the kitchen table.
MONEY MATTERS
"Swimming pool financing is kind of a funny situation with clients," says Rodriguez, who serves as the sales and marketing director for the growing family business, which builds almost a third of the pools that go in the ground annually in the southern border city straddling the Franklin Mountains. "Usually they don't want to talk about that right off the bat, so I'll try to get a good idea of what they are looking for and an approximate budget on the initial inquiry. I would say that 70% of the time they don't know what the pool is going to cost, and they have no idea what the financing options are."
Some people will go in with plans to deal with a traditional bank, or just put it on American Express to rack up some miles. Others are lucky enough they can pay with checking accounts they don't even need to check on before signing a contract. But these are the exceptions, and only add up to about 15% of Silver Springs' customers. The rest need some guidance, and that's when Rodriguez steps in to outline some terms and explain the advantages of working with a loan broker that specializes in pools and backyards.
Perhaps these customers will still want to check with their local bank first, either for a signature loan or to refinance the mortgage. That is fine, but it's best to have an attractive alternative for them in the likely event they will be disappointed in the size, interest rate, length and payment on the loan, or they'll be discouraged by the closing costs and assessments associated with a refi. Your job here is to remove the mental and monetary barriers that can scuttle almost-done deals.
RELATED: Running A Service Business: 5 Financial Mistakes To Avoid
"Really, a lot of them just want to figure out a way they can afford a swimming pool, and clients get really excited when they see the project is within reach," Rodriguez says. "So I will sit down with them and help them fill out the application, which is not difficult at all. But I'm there to help, and once we send it off I will be on the phone regularly until I hear that we are clear to start."
Rodriquez says good communication between all parties is crucial in this relationship, so she keeps an open line with Sarah Bess, manager at Lyon Financial, Silver Springs' loan brokerage. "They need to know what's going on with the builders, and how the project is progressing," she says, "and there have been times where Sarah has called me with questions about permitting and things like that to help her other clients. So it's a great two-way relationship."
PAYMENT PROCEDURES
One feature Gentry says is especially helpful to operations at Sunshine Fun Pools is the way his broker manages the money. Rather than the customer getting a lump sum as they would with a home equity loan or a secured or unsecured loan from Wells Fargo, the money is held by the broker and distributed to the builder in stages. This sounds like a good deal for the dealer, but do customers ever balk at ceding control of the pursestrings?
"No, and here's why," Gentry says. "Even though our broker is doing direct payments to us, the customer has to sign off on everything before the payment can go through. They will actually call the customer and say, 'Hey, we're just checking in. What's the estimated completion date? Any problems?' Most of the time the customer is fine, but if they have a complaint our broker will not release the funds."
If at any point a customer does bring up an issue, the lender will check with the builder to hear their side of the story. Most times, it's nothing but a misunderstanding.
RELATED: Success In Renovation
"It just gives the customer a chance to at least voice their concerns. That's their protection," he explains. "I can't speak for any other pool builders, but sometimes we'll tell them, 'Hey, that thing the customer is holding up approval for is not our fault, and it isn't in the contract.' It just gives us a chance to get things resolved.
"This is a small town. We can't have our reputation hurt by those kinds of things, so we have to resolve these sorts of issues fairly and immediately."
It works the same way at Silver Spring, and Rodriguez is similarly understanding when scheduled draws are paused.
"Emotions come into play when you're talking about people's pools," Rodriguez says. "Sometimes a customer can be upset about something aesthetic and not necessarily relevant to the phase of the construction. Say we're in the rebar phase and the customer is upset about landscaping, which is the final phase. The funds are still released to us if we explain that and back up our claims with pictures."
TERMS AND CONDITIONS
When you're picking a lender to partner with, a big factor is getting good interest rates for your customers, and someone who'll get more of them approved than not, according to Gentry, and this should include people with less-than-perfect credit. "Whoever you work with should have loans available for people who are not in that 700 credit score range, because not everybody that can afford a pool has that kind of score, and missing out on those really limits your business. Then, you should consider the rate of pre-approval and how quickly you can get those turned around."
As important as an agile approval process is, interest rates and payments are easily the biggest factor with consumers, so having a partner with competitive rates and terms is essential.
"If you quote somebody 15%, they'll laugh in your face," he says. "But something like 3% for 36 months can make a person who may have wanted to wait until they had more money to put down in cash say, 'Oh! I can do that and pay it off in three years!'"