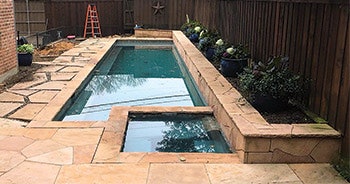 Amid the global shutdown, homeowners' budgets have changed. For the majority of consumers whose personal finances have not been affected by the shutdown, disposable income that used to be directed toward travel or entertainment is now up for grabs, giving the pool and spa industry a unique opportunity for growth. Builders are seeing this firsthand, specifically in a rise of renovation requests.
THE DEMAND IS THERE
Kevin Barry, president of Summit Swimming Pools in Wayne, Pa., reports that despite the economic uncertainty that has accompanied the pandemic, his company has seen a major uptick in sales and especially in renovation. Pool owners, for example, are following up with him to make cosmetic changes through inquiries filed over a year ago.
"A customer called me and explained that he was all set to go to Ireland, but his trip got canceled," says Barry. "He told me, 'Well, now you're getting my Ireland money. Let's make some improvements on the pool.'"
He believes the growing demand is 100% influenced by the COVID environment and has had to adjust his business accordingly. "We just hired another guy, and we're going to hire another person next week," he says. "I've had to raise my hours, and I've recently been on job sites until midnight. There have been a lot of late nights, which is a great problem to have."
RELATED: Pool And Spa Sales Booming As Shutdown Ends
Chris Bowen, president of Bowen Pools in Flower Mound, Texas, has seen a similar rise in renovation sales. "We're seeing a lot more on the renovation side. We are doing four or five bids a day for people who are wanting to renovate," says Bowen. "And I do think that's because people have a lot more disposable income. They may have had to cancel travel plans, so they have money set aside that can now be directed towards a backyard project."
When customers don't actively make renovation inquiries, it doesn't mean the sale isn't there. Barry says he's always encouraged his service technicians to start the conversation and even more so in today's market. "If a pool is in bad shape, we will simply be very honest with the customer," he says. "I start by saying if this was my pool, I would do this. And honestly, right now, it hasn't really taken too much convincing on my end for pool owners to make improvements."
A TWO-WAY STREET
The key to success in renovation is finding the right customer for your business. And because demand is so high right now, Barry says it's important to first agree on two major things: price and timeline.
"One of the first things we talk about is budget," explains Barry. "We get right to it to make sure we are the right fit for them, and they are the right fit for us. And if they are, we start to discuss the renovation process and timeline."
Barry's company works on a first come, first serve basis. If inquiring customers are not willing to get in line, he kindly suggests they look elsewhere. And he makes sure not to overbook himself. (He can't stress this enough.)
"Everybody wants it done right now, and we just tell them right away: It's not going to happen if that's what you want. You're going to have to find somebody else.
"If you are going to leave this renovation market with a good reputation, you can't overbook yourself," says Barry. "Right now, I'm turning down renovations left and right because I can't get to them. The guys I see that get bad reputations or screwed over by clients are overbooking. And I've been guilty of that. I learned the hard way with a $16,000 mistake that I had to make right. I made up for it, but it could have been prevented if I simply didn't overbook myself."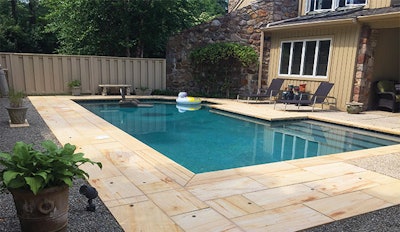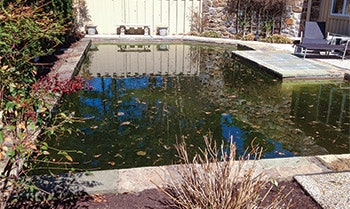 ADDING VALUE. ADDING VISION.
Steve Wagner, owner of Aquatic Design in Tallahassee, Fla., also believes the pandemic is driving his business forward right now. "Many of my customers have canceled vacations, even multiple vacations, and they are using that money to put into their swimming pools and backyards," he says. "We are dawn to dusk seven days a week right now to make it happen."
As a multi-regional designer/builder with 35 years of experience, Wagner takes on one renovation project at a time. He works to introduce the project through the existing architecture of a customer's home.
"When we arrive at our remodels, we often find the pool has no relationship to the architecture or the finishes that were used on the home. There's a huge disconnect," says Wagner. "Our job is to come in and create an easy feeling, rather than a contradictory feeling, when you walk into someone's backyard."
His company remodels pools (some 20-50 years old) and brings them back to life. In his case, he strips them right down to the bare shell. He advises builders to create features that are timeless, but also add value to the property. "LED lights, automation and salt systems are very popular right now, as well as adding spas to existing pool builds," he says.
Wagner also utilizes the Z Poolform system from Concrete Countertop Solutions. "It's a great tool for us because we like to match existing travertine or pavers or just start from scratch. And with that system, I really like having a seamless perimeter opening around the pool, rather than have a grout joint every 4 inches by using a modular-type system."
But it's not all about design: Health benefits can play a major role in pushing a buyer across the finish line. "I tell customers that pool remodels can stop the spread of waterborne bacteria and viruses, and that it is important to keep pools from turning and being neglected," says Wagner. "Especially in states with high mosquito populations, pools need to be up to speed."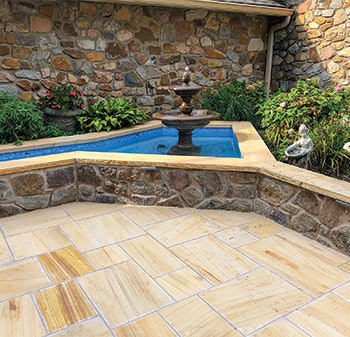 CREATING CONVENIENCE
A lot of renovation sales are made around upgrading the convenience of a pool. Justin Pinson, owner of Round Rock Pool Pros in Round Rock, Texas, says part of this involves installing variable speed pumps, especially with the new DOE regulations right around the corner.
"Our renovations almost always involve switching single-speed pumps out for variable speed," says Pinson. "Not only for the new regulations, but also from the standpoint of saving money, the warranty and the longevity of the product. It's usually a pretty easy sale."
Wagner emphasizes the importance of logically laying out equipment and labeling them accordingly, so the homeowner can make sense of the systems. "I believe that in all of our renovations, it is our job to simplify the operations of the swimming pool," he says. "We make sure that the equipment is not clustered, and we really push to have enough room to make a proper and functional pad where everything can easily be taken care of, whether by the homeowner or by a professional."
Wagner stays with new renovation customers for at least a year before turning them over to a service contractor. "In that year, we can control the warranty better than if we have a pool service company coming in and not knowing what they're doing to the pool, especially the plaster finishes," he says. "We really want them to last a lifetime."
LOOKING AHEAD
As homeowners begin to settle into their new normal, Kevin Barry believes the phone won't stop ringing, but the key to capitalizing on that success will be knowing when to hang it up, he says.
RELATED: Post-COVID, Will More People Be Sheltering At Home?
"Think of yourselves as a top athlete. Everybody is calling and trying to get to know you, but if you spread yourself too thin and spend time trying to please everybody, you're going to come crashing down. At the end of the day, only one team is going to pick you," he says. "That's the key in this business. You have to know when to hang up the phone. This is a two-way street. Figure out if the client is right for your company, and go from there.
"And if builders aren't having conversations about renovation, they're losing a huge chunk of money. There's no better time than now."