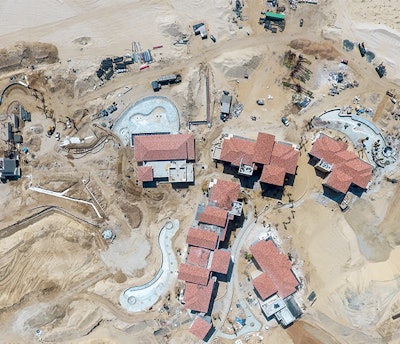 As anyone who's done it will attest, all pool building is an adventure. The labor supply is fickle, the permit authorities are fussy and the clients are often crazy. But usually the project is connected to supplies and civilization by roads, the soil is reasonably competent, the weather generally temperate and clean water comes from a tap.
When you get away from all that — say, to a remote location in Baja, Mexico, you get into what could be called "extreme" pool building. That is, construction under extreme conditions.
Take this small challenge: Ask yourself how you would build a large resort complex containing a massive lagoon pool with a lazy river, waterslides and several infinity pools in a remote location without access to municipal or indeed any source of fresh water, and where everything would have to arrive by boat or by plane along an extended supply line requiring equally extensive lead times.
That's the challenge that confronted a group of designers, engineers and builders as they undertook construction of the Grand Solmar resort on the coast of Baja north of Cabo San Lucas.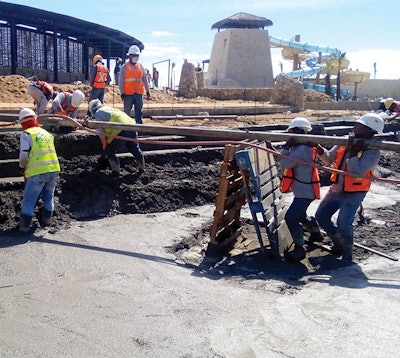 A CASTLE BUILT ON SAND
When the engineers and builders first beheld the proposed construction site for Grand Solmar, they saw nothing but sand dunes, seawater and a sweltering sun. Here they would build a luxury resort.
They'd start with a foundation. Sand dunes cannot support a 900,000-gallon lagoon. The problem with sand as a support for heavy structures is that it moves around a lot, which produces cracks that widen to chasms and eventually the entire edifice lies in ruins.
RELATED: Building A Masterpiece Pool In Bad Soil, With Limited Access
The plan was to excavate the sand — a great deal of sand — and replace it with a foundation made of a mixture of compacted cement and soil laid down over a wide area. The question was, how thick does the engineered slab need to be to support something of this magnitude? This and many other works of genius were determined by the design firm contracted for the job, renowned HKS Architects of Dallas, designers of AT&T Stadium and other famous buildings. They came up with 10 feet.
"So they began laying down 8-inch layers of compacted engineered soil, layer after layer up to a depth of 10 feet," explains Xavier Alvarez, owner of MAXA Watershapes, Awards of Excellence winner and contractor for the aquatic structures at Grand Solmar. "When that was done, they performed a Proctor test of the soil and reached a 98% compaction level, and when we reached that point, we were ready to jump in and start building on it."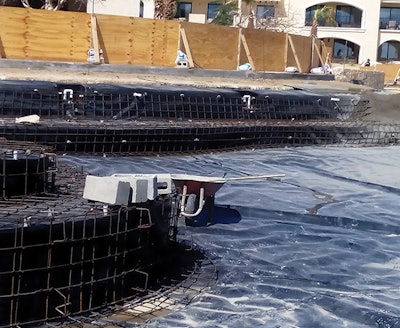 WATER FILLED WITH SAND
So that's how they built the foundation, but what about the water? That would have to come from the Pacific. A desalination plant would turn seawater into fresh water for drinking and other uses, but for the 50,000-squarefoot, 900,000-gallon lagoon, recirculated and filtered ocean water would be used. And that, as any water circulation professional can imagine, was going to be interesting.
"To begin with, seawater corrodes everything, and I mean everything," explains Alvarez. "From hinges and rails to pump room equipment. Even wood is adversely affected by salt water."
For the pool building professionals at MAXA Watershapes, this was unfamiliar territory, and they worked with Pentair and consultants from HKS to come up with a plan to deal with the ocean salt water as the circulating fluid for the lagoon. "We couldn't use the same type of pump room equipment on this project that we would use with a standard, nonsaltwater pool," Alvarez explains. "And we knew we would have to regularly replace equipment, so it was also very important to have readily available parts." (While technically landlocked, the lower Baja is almost like an island as it is a 24-hour drive from San Diego on rough roads. Most supplies come by boat or plane through Cabo San Lucas. Therefore, equipment had to be carefully chosen for serviceability and easy resupply.)
MAXA's answer was seven 10-hp Pentair EQ pumps pushing 4,872 gallons per minute through eight Pentair TH model horizontal sand filters.
RELATED: Filtration Nation: Sand Questions
Though the seawater filling the lagoon would be regularly replaced, chlorine sanitization was still required for health and safety. Seawater has a naturally high pH (about 8-8.2), which presents a problem as chlorine steadily becomes less effective as pH rises out of the standard mid-7 range. Adding to the challenge were periodic heavy winds and rain, says Alvarez.
"Our rainy season is almost like having multiple small hurricanes. The winds and rain introduce large amounts of dirt and sand that quickly alter the chemical balance of the lagoon water."
After some tweaks, the winning sanitizing plan included inline chlorine allied with large UV lamps, subject to constant monitoring to adjust the chlorine dosage.
Dealing with the relentless influx of sand became a project all its own, and like the other obstacles, the response evolved over time. When the lagoon first opened, cleaning out the sand entering the lagoon was a serious problem, says Alvarez. "Sometimes we had to bring in an army of workers to do it. We'd drain the lagoon and quickly, manually, clean up all the sand and refill it with water from the ocean in less than 12 hours." This was especially the case after storms in the rainy season.
Eventually MAXA was able to introduce the use of robotic cleaners into the lagoon to reduce the amount of manual cleaning labor. "The robotic cleaners are terrific but unfortunately we are constantly replacing parts on the cleaners because the ocean salt water corrodes the metal components of the cleaners."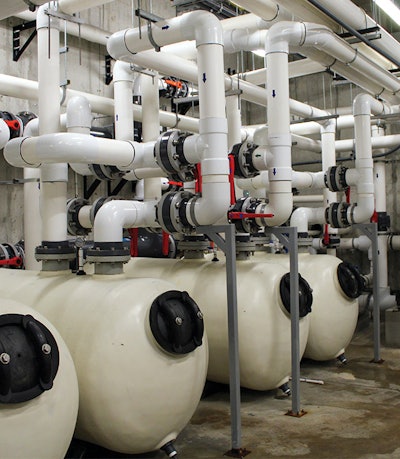 MAINTAINING THE EQUIPMENT
As one would expect of a system ingesting raw seawater every three days and a steady diet of windblown dust and rain, the lagoon's filters require a lot of backwashing. "One of the reasons we really like using the THS horizontal sand filters is that they have a hatch that allows us to visually inspect the sand directly, to see how dirty it is getting," Alvarez says. "Sometimes the sand looks like chocolate!"
Along with all the backwashing, about every two months staff has to open the hatch and manually clean the filter — though most of the debris tends to accumulate at the top of the filter.
RELATED: Backyard Disaster: The Sand Trap Pool
There is quite a bit of plumbing needed to supply the lagoon as well as for the many water features that are included in the lagoon complex — both waterfalls and water bubblers — and initially this extensive system encountered a violent water hammer effect on startup and shutdown of the seven 10-hp pumps (which can be harmful to pipes, valves and gauges over time). The solution was to add three variable-frequency drives to give the pumps the soft start and stop needed to eliminate the water hammer. In addition, the VFDs have also provided added energy savings to the property owners with the ability to dial up the exact flow rate required. Corrosion was minimized on these pumps through the use of totally enclosed and fan cooled motors.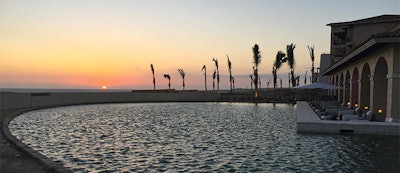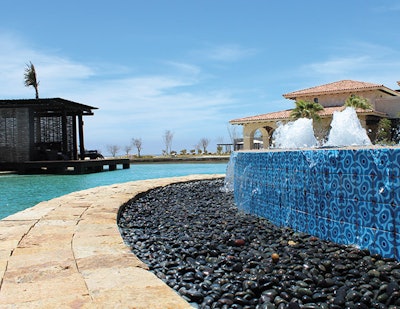 BECOMING LAGOON EXPERTS
The lagoon at Grand Solmar has now been operating for 2 years. Last year MAXA Watershapes turned everything over to the resort's maintenance department and began to offer supervision as needed. The successful results have led the owners to begin an extension project, "Lagoon Part 2" within the resort. Alvarez looks back with a smile. "Two years on, the project has done well and remains sound — the buildings, the pools, the lagoon — even though we've been through hurricanes and the constant movement of sand — you know, sand dunes actually move.
"This was the first time we had done a project like this. I don't want to say that we have become experts on this kind of construction, but we do know a lot more about building on sand dunes in remote areas in harsh weather than we did.
"We had to learn a lot from many sources, especially the water consultants and engineers from HKS — we learned a lot from them. And just the experience of constructing a resort on these dunes taught us a lot of lessons. And some of those lessons were costly. That's what we found out in this project — that learning is costly."
"I think we broke even financially with this project. And I added a little gray hair."
WHAT WAS THE TOUGHEST DAY IN A TOUGH PROJECT?
"Well, at one point the weather station reported a very large storm heading our way. We knew it was coming and we were working fast to get ready. When it hit, it almost destroyed everything that we did." (Digging in sand on the beach is the same whether you're building a sand castle with a plastic shovel or a resort using a Caterpillar backhoe: wind and rain cause the walls to fall in.)
"The layers of engineered soil we had already put down remained, but there was sand all around. When you have rain like that, everything just floods — into the lagoon area and all around. So we had to excavate everything again, remove all that flooded sand. The ditches for our plumbing were destroyed and we had to completely redo them. There was also a very deep excavation for the plumbing equipment room, which was lower than the other structures and the lagoon, maybe 12-15 feet below. When we came back after the storm, that was gone.
"But when the rain goes away, you get all this humidity and it's very hard to work in that level of heat and humidity. Still, our people were very motivated and they finished the job on schedule despite the setbacks. We had to, the hotel was already sold! Guests had already paid for rooms and were due to arrive, so we were working at night, double shifts. It was something."