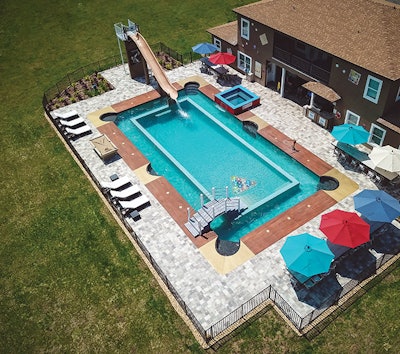 It's a swimming pool that looks like a giant pool table and it's all part of an extraordinary vacation property that is pushing the concept of "theme" to a new level.
The property is called Great Escape Parkside. Located near Orlando in Groveland, Fla., on 10 highly developed acres, it features 15 themed bedrooms, each with décor based on games such as Monopoly, Twister and Pac-Man, but that's just the start.
The game theme is carried throughout the property with a dizzying array of wildly creative game-inspired features. There is an interactive TV game show studio with hand buzzers, a karaoke nightclub, a Jumanji-themed movie theater and a room dedicated to full-size arcade games. The property also features a gigantic word search with more than 60,000 letters (once featured in the Guinness Book of World Records), human foosball, human bowling, giant chess and snookball, among many others.
And then there's the most dramatic and sensational feature of them all: the swimming pool with a lazy river and water slide, designed as a massive billiard table.
RACK 'EM UP!
The property is the newest of four vacation homes created by world traveler and developer Andrew Greenstein. All of his properties feature different takes on the game theme and all are deliberately outrageous in the variety of design concepts and details.
Greenstein's vacation rentals have drawn widespread coverage in local media and the properties have wait lists as long as two years. The sites can sleep as many as 60 people and often accommodate occasions such as family reunions and other large-scale gatherings, especially those with lots of kids and the young at heart.
When developing the property, Greenstein reached out to designer/ builder Wes Holland, owner of Paradise Pools by Design in nearby Altamonte Springs, a builder known for high-end, custom designs. From the start, Holland knew the project would be something very special.
"He has a vision," Holland says of Greenstein. "I've been in this business a very long time and have seen some of the most amazing homes central Florida has to offer, and this is one of the most insane things I've ever seen."
RELATED: Game On: Top 10 Pool Games
The project is fitted with a range of ambitious details. It begins with scaled-up dimensions in the same ratio as an actual billiard table: 59 feet, 6 inches by 30 feet, to be precise. "Believe it or not there are many different ideas about pool table dimensions," Holland says. "We went with a relatively standard pool table. There's an outdoor pool table on the back deck that has the same scale."
A 5-foot-wide lazy river flows around the perimeter, using two Riverflow pumps by Current Systems that generate a 2,600-gpm flow rate. An interior wall that sits right at the water line separates the river from the main part of the pool. The pumps are located on opposite corners, creating a nearly uniform current that can be adjusted from a gentle river to raging rapids.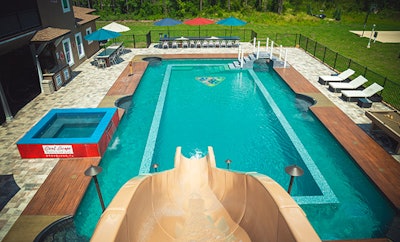 ACROSS THE FELT
The pool table's side and corner pockets are actually steps, benches and sun shelves, providing entry and egress, lounging and tanning for multiple bathers at the same time. The "rail" is made of poured concrete painted to look like wood. "The client brought in some of the artists he used to hand-paint the perimeter. It turned out great," Holland says.
The interior color is the same color as pool table felt, rendered in a pebble finish called Emerald Isle from surface supplier CL Industries.
The slide is meant to represent a pool cue; at 28 feet long and 13 feet high, it gives users a brisk ride over the lazy river and into the deep end.
"We started with a much faster, more aggressive slide, because the owner wanted it to be the fastest slide on any of his properties," Holland recalls. "But because it's a rental we thought it made sense to slow it down for safety. We also put cross bars at the top of the slide so you cannot stand up, or sit up, you have to lay down on your back or stomach, just to make it as safe as possible."
To sell the slide-as-cue effect, there's a tile mosaic of a cue ball on the bottom of the pool in front of the end of the slide. On the other end of the pool there's an 8-foot mosaic of the balls racked and ready to break. The mosaics were custom made by Artistry in Mosaics in Fort Pierce, Fla. "It's a neat feature. Kids love to swim down and touch the mosaics," Holland says.
Perched on the edge of the pool on the house side is an 8-by-8-foot spa that is intended to resemble pool chalk. Although obviously oversized in terms of scale, Holland explains that he and the client wanted it to be small enough to give a realistic impression of chalk, which of course is tiny. "We had to find a balance on the scale," Holland says. "It turned out to be one of the coolest features in the whole thing."
Holland reports that Greenstein has been thrilled with the results and so have the guests, who make use of the pool and spa in large numbers every day. "It's all about paying games and having fun," Holland says.