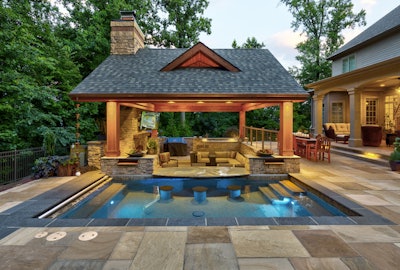 The following content is supported by one of our advertising partners. To learn more about sponsored content, click here.
Mechanicsburg is a town in Pennsylvania midway between Philadelphia and Pittsburgh. It's a bit closer to Philly geographically, but culturally it has more in common with the Steel City to the west. The small borough is home to a pool company called Aquavisions, Incorporated, which is owned by twin brothers Matt and Andy Lusk.
The brothers design and build pools in the state's lush and historic Cumberland Valley, including an elaborate one in Harrisburg, on the other side of the Susquehanna River just a few miles to the east. The project, which graced the cover of AQUA's January issue, features an extensive and inviting outdoor living area highlighted by either a small pool or a large hot tub, depending on how you want to think about it. Matt doesn't take a side, but points out that a UltraTemp® High Performance Heat Pump and a Max-E-Therm® Heater from Pentair can take it from the former to the latter in about 30 minutes most times of the year. In essence, it's designed to be both.
"The customer was an empty nester, and he was going back and forth between wanting a small pool or a large spa," Matt explains. "He also wanted some kind of structure for entertaining. So the initial design was kind of a detached outdoor living area and a small pool-and-spa combo outside of that. He looked at it and said, 'I'm not sure if I even need that much.'
"Then I got the idea to kind of combine the pool and spa into a single body and pair it with the structure and swim-up bar so they could all kind of function together. It has bar stools in the water and standard bar stools on the dry side, fireplaces, pizza ovens, an outdoor grill, some couches. I mean, it truly is an outdoor room."
Matt says he knew it had a chance to be something special the moment he put pencil to paper and the ideas started to flow. The end result is an example of how compromise can inspire creativity, and it thrilled both the customer and the builders, becoming one of their favorite projects in 15 years of owning Aquavisions.
The Lusk brothers have designed and built many other pools in that decade and a half — some simple ones with fewer features, other like this that were complicated and abounding with add-ons, all packed with equipment from Pentair. But none of these pools would have been built were it not for an unlikely string of events that started with a cross-continental relocation, a long-distance phone call and a bold proposition from one brother to another.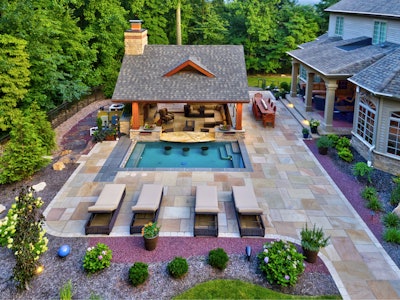 All photos courtesy of Aquavisions
The Origin Story
The year was 1997, and Matt was living in California, where he'd moved to follow his fiancée, who was starting graduate school at The University of California, Davis. Her job was going to classes; Matt needed a job that would pay some bills. He had a bit of construction experience and an art degree from Penn State, so he hooked on with Aquarius Pools in Sacramento and went to work for Gene Wells, a local pool-building legend who became something of a mentor.
"To be honest, I just sort of fell into the pool business, but I really liked it," he explains. "Then I called up my brother and got him to join me out here."
Matt and Andy worked together at Aquarius under the guidance of Wells for a couple of years with Matt concentrating on design and sales while his brother focused more on field work. Wells was a dedicated Pentair customer, so during their spell working for him they learned all about the manufacturer's pumps, heaters, filters, lighting and control products. Once Matt's fiancée finished school, they all moved back east and Matt and Andy went to work for a builder in Maryland. This pool-building thing that they'd fallen into suited them. They were good at it and they liked it. In 2003, after three more years of experience at that second company, they opened one of their own.
Among the first things they did after naming Aquavisions, Matt recalls, is to seek out an equipment supplier.
"I knew we wanted to roll with Pentair because of that familiarity we had from our previous jobs, so I went and looked for a local distributor," Matt says. "We found our local rep, and he has been fantastic. He gives great support, and that's one of the things I really like about them. They don't nitpick and question if you need to send something back, or if you have a warranty issue. They just take care of it."
With countless hours of hard work and help from Pentair, the brothers have gone from building four pools in each of the first two years (with one employee and some teachers looking to make some extra money in the summer) to about 20 per year today with a steady and loyal crew, most of whom have been there more than a decade.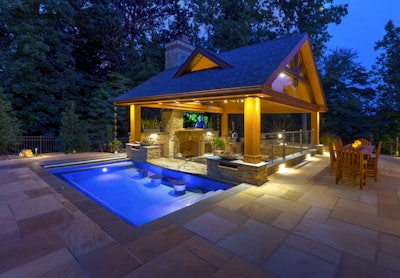 All photos courtesy of Aquavisions
Fast Forward
The Harrisburg pool/spa and adjacent structure can be looked at as the culmination of what the two learned as hired hands and then in their 15-plus years on their own running Aquavisions. It's a sophisticated and showy project highlighted by a relatively simple vessel that measures 10 by 18 feet at the waterline, averages a shallow 3 ½ feet deep and includes two raised water features with Bobé scuppers. An automatic cover, which the stone-clad features and raised bar made tricky to install, conserves heat generated by the UltraTemp® and Max-E-Therm® and allows the homeowners to entertain year round. Of course, it's packed with other top-of-the-line Pentair pieces, too, including two IntelliFlo Variable-Speed Pumps, a Sta-Rite cartridge filter and a pair of IntelliBrite® spa lights on the near and far ends of the pool/spa. When you add what's in the pool to what's outside it (pizza ovens, grills, television, mood lighting, lounging areas, et al) it's clear the brothers packed the project with all the bells and whistles. Hearing Matt's description, I couldn't help but envision the homeowners orchestrating the whole thing automatically with their iPhones. I asked him about it, and he had to confess the backyard is actually missing one very popular bell/whistle.
"He has the standard Pentair IntelliTouch® Systems, but not the ScreenLogic interface," Matt explains. "It's one of their higher-end systems, and it does control some other things around there like the copper scuppers, the lighting packages and things in and around the structure. We tried to sell him on the ScreenLogic® Interface, which gives you control of the system with your phone."
Although the homeowner chose just the IntelliTouch control system, when it comes to pool automation, Aquavisions typically recommends a combination of the two Pentair systems.
"IntelliTouch with ScreenLogic is something we do on almost every pool as a standard these days," Matt says. "Of course, there are the things customers can do with lighting effects and colors, turning on the heater. But it also really helps us because we can access those customers' equipment on our desktops here at the office. They'll say, 'My pump isn't working,' and we can do some diagnostics before we send a guy out to the site. Sometimes it's like, 'Well, your pump isn't running because it isn't on.' That saves a trip."
Thankfully, Matt found the Pentair IntelliChlor® to be easier to sell to his tech-averse client. Like most customers, he had already heard about the wonders of "chlorine-free" pool sanitizing and wanted in on the action himself. That's where Matt always steps in to manage expectations and set the record straight about chlorine generators.
"People say they either want a 'non-chlorine pool' or a 'no-maintenance pool.' I shoot those ideas down pretty quick," he says. "You can get low-maintenance and low-chlorine, but that's about the best you can do."
The customer was satisfied with that explanation. And he and his wife are more than satisfied with their new outdoor room, a fact they're happy to herald to anyone who'll listen.
"They love it and they use it hard," Matt says. "We also have a service business so he's an ongoing service client. They're a great family, and great loyal customers."