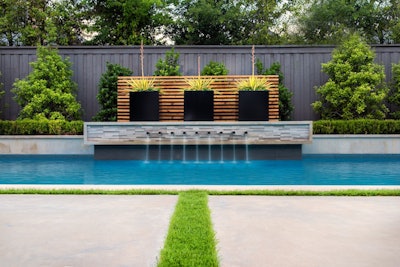 The following content is supported by one of our advertising partners. To learn more about sponsored content, click here.
They say everything is bigger in Texas, and that goes double for Dallas. The Big D is the largest city in a state synonymous with size. It's also home to Pool Environments, an award-winning builder that operates out of an office 20 miles north of downtown. In defiance of geographical stereotypes, Pool Environments is not a big builder. Its ambitions, however, are as big as the Lone Star State itself. This year, in fact, the company took home several Awards of Excellence prizes, including one for a simple-but-elegant pool and spa in suburban Dallas.
According to his business card, Dale Sprigg is the sales manager at Pool Environments, but the company is small enough that he wears a couple of different cowboy hats. He's a Certified Pool Builder with more than 100 hours of Genesis training, and he puts all that training to good use by spending most of his days designing pools.
We recently spoke with Dale about this bronze-winning pool in Plano. It was one of about 45 the company did last year, and like most of them, it runs on Pentair products. The project was a collaborative effort between Pool Environments and fellow Dallas-area designer Randy Angell.
"Randy basically did the initial design work on it and then brought us in as the consultant and builder," Sprigg explains. "His expertise is bringing in the aesthetics and the color palette but not the finer points about getting the pool built. That's where we came in."
Tip to tip the pool measures 41 feet, and it's only 15-feet wide, owing to the narrow lot the companies had to accommodate. It includes a spa that sits a half inch higher and empties into the main body of water beneath three floating step pads, along with three raised and cantilevered planters. Behind those there's a wall made of ipe (sometimes known as Brazilian walnut) that, along with the custom stainless spouts that add interest, serves as a focal point. The overall effect is one of simplicity and understatement that allows the builder's precision to shine, according to Sprigg.
"I think it's just a classic example of how standard design elements and expertise can come together and make something special," he says. "It's not like an over-the-top showstopper with all the bells and whistles on it. There are no slides, no lazy rivers. It's just a backyard pool that shows what good design and workmanship can bring. I think it perfectly showcases our design strength. There's enough detail in there and uniqueness in the materials where our skills and artistry come out, too."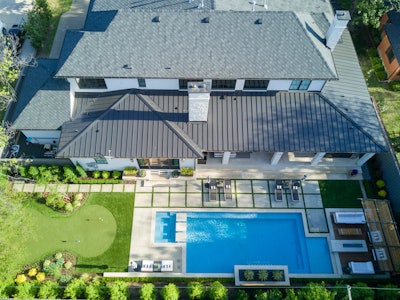 All photos courtesy of Pool Environments
WELL EQUIPPED
Sprigg chose Pentair equipment to circulate, filter and heat the water in the pool and attached hot tub, including three IntelliFlo variable-speed pumps, a 100-square-foot Quad DE filter, and 400,000-Btu MasterTemp heater. The equipment is kept behind a fence that encircles the property, allowing the homeowners to enjoy their backyard without the eyesore of an equipment pad in sight. The quiet and versatile pumps certainly don't attract unwanted attention, despite their being placed in a spot that once would have been unthinkable.
"It used to be a concern putting equipment near bedroom windows. Nobody wanted that noise," Sprigg explains. "But the IntelliFlo pumps are so quiet we were able to put three of them there by the master suite. That's something we wouldn't have been able to do in the past, but now we've got a lot more flexibility in the equipment layout than we ever did before."
Sprigg says he went with a D.E. filter for its superior filtering ability, and because they're much easier to maintain than they used to be.
"The Quad style is simple to take apart and clean," he explains, "and we like the 'sparkle' or 'polish' they give the water, especially under the lights."
The lights — five Pentair Globrite LEDs — cast a nighttime glow not only on the crystal-clear water, but also on the high-end materials that characterize the project's focus on fit-and-finish. The coping is made of Lueder's limestone quarried in the northern part of the state, a Wet Edge Primera Stone finish on the inside delivers the natural look of pebble with the smooth surface of well-applied plaster, and tasteful Oceanside glass tile adorns the waterline.
At one time, the subtlety of these fine details would have been blasted away at night by a big, bright incandescent light slapped in the middle of the wall on the deep end of the pool. That was more common when Sprigg got into the business 15 years ago, and thankfully it's no longer necessary.
"Improvements in lighting have been one of the biggest changes in the industry since I've been doing this," he says. "Just the longevity of them alone has been a huge improvement. But being able to use smaller lights, and more of them, has helped builders a lot.
"We can get them into different areas now — say on top of the wet deck or tanning ledge. The places we can consider putting them now are endless, and it's really helped make pools like this one come alive at night. The ability to change colors, too, has been incredible."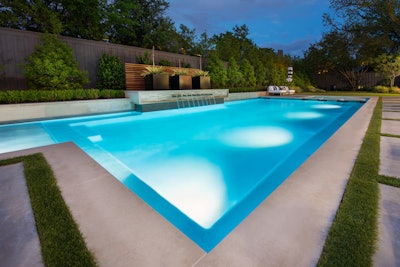 All photos courtesy of Pool Environments

COMPLETE CONTROL
All the equipment and features can be controlled by the homeowners, who spend a good part of the year in the Big Sky Country of Montana, using Pentair's top-of-the-line IntelliTouch control center.
"It's all set up with ScreenLogic wireless interface so the customers can just pick up their phone or iPad and operate everything," Sprigg says. "It used to be you'd have a big, ugly box and you'd have to walk out to the equipment to turn the hot tub on. So for these clients to be able to look at their pool and see what the temperature is while they're in Montana, or to turn on the hot tub as they are on their way home, or to turn on the lights with a preset color show, that kind of thing is very appealing."
SHOOTING STRAIGHT
Sprigg is proud of the fact that there are no fussy details to direct attention from deficiencies in this pool. You won't find anything frivolous or functionless here. In Western movies they'd call that kind of thing "all hat and no cattle" — and that is not the way Pool Environments builds.
"The more simple and clean the design is, it exposes any flaws with the craftsmanship and the materials," Sprigg says. "We don't do many of them anymore, but the lagoon-style pools with rocks and rough edges and all that, your craftsmanship could be good, but it doesn't really show the way it does when you're working with really clean and simple lines.
"It's true that there's no real special detail in this project. But it really encompasses what we do, and what we do really well."