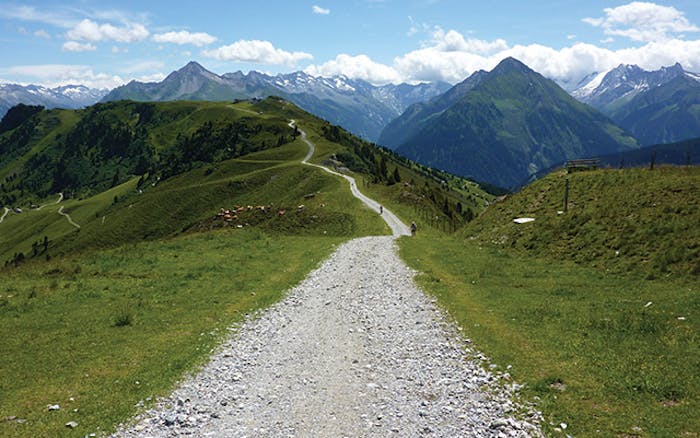 Aquatic design and construction is a highly specialized profession that requires deliberate effort in attracting and nurturing the next generation of professionals. According to one millennial designer working in Texas, it doesn't happen overnight.
Reid Schindler loves his job. As a designer for Claffey Pools in Southlake, Texas, the 30-year-old Schindler has been experiencing remarkable success. Since 2011, he has designed and sold more than 125 projects with an aggregate sales value of approximately $18 million. While the financial success has been gratifying, he's quick to add, "For me, this is the best job in the world. I love working outside and developing environments for our clients."
Schindler is so enthusiastic about his chosen profession that he has become an outspoken advocate for what he views to be the best path forward for the industry — one that will draw new talent to a job market that desperately needs it. He's a board member of APSP's WAVE Network, a group of young professionals working to promote the industry to the next generation. And in January, Schindler presented a seminar at the Southwest Pool & Spa Show about how to attract young people to the industry.
In that session, he used himself as a personal example of how taking a long view of hiring — and essentially molding employees from the ground up — can be a successful model for our industry.
It starts by reaching prospective candidates early in their careers. For Schindler, that process began in high school.
RELATED: Does A College Education Matter In the Pool and Spa Industry?
"I've always been interested in design and building things," he says. "In high school in Denton, Texas, my advisor asked me if I was interested in architecture and engineering. They had a great program for drafting, computer drafting and hand drawing. I learned AutoCAD my sophomore year. That's really where it all started."
DELIBERATE OUTREACH
As part of that program, designer/builder Mike Farley made a presentation to Schindler's class urging students to consider a career in aquatic design and construction. "It really sounded like the coolest job ever and something I had never even thought of before," Schindler recalls.
"At the time, Mike was looking for an intern computer draftsman. I applied but didn't get the job because the person they first hired had a family connection. A few months later, Mike came back. I was the second choice, but when he made me the offer, I jumped at the chance. For two years after that, I interned for Gohlke Pools in Denton, all while I was still in high school. That set the foundation for my work in the industry."
The lesson in his story, Schindler says, was that Farley first took the time to reach out to high school students, then followed up later and eventually presented Schindler with a clear-cut opportunity, all of which led the aspiring designer to his major course of study in college: landscape architecture.
"When Mike first came to our class, I honestly didn't even know that landscape architecture was a profession," Schindler says. "I obviously knew about architecture, which people talk about all the time and is so much more well-known. But designing outdoor spaces, I had never even thought about it. Had no idea. Once I did know a little bit about it, landscape architecture had many aspects that seemed perfect for me."
When he moved on to college at Oklahoma State University, Farley stepped in yet again to offer Schindler a new opportunity to continue his internship, this time at Claffey Pools in Southlake, Texas, where Farley had started designing highly custom and often expensive outdoor spaces.
RELATED: Pool Builder Creates Industry Apprenticeship Program
"During college, I'd intern every summer. They pushed me along through different parts of the company," Schindler explains. "It was very structured. One summer I did drafting, another I worked directly with Mike, another I worked on Pool Studio. They made sure I had a well-rounded understanding of the entire company and how they did things. And I was learning how to design and build beautiful swimming pools and the surrounding environment."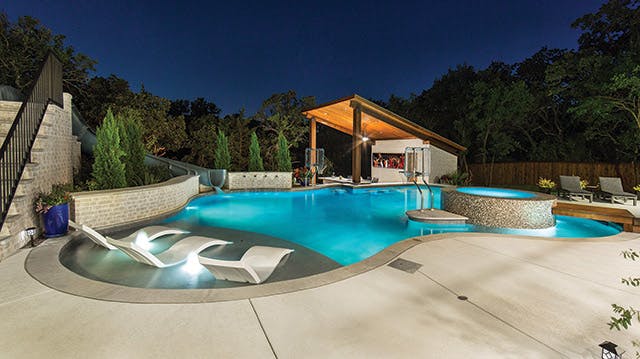 From modern spaces to naturalistic backyard havens, Reid Schindler has mastered a range of architectural styles in his work.
TIME IN DEVELOPMENT
By the time he graduated with his landscape architecture degree in 2011, Schindler had six summer internships under his belt and a passion for the industry. In short, he was ready to hit the ground running in his first full-time position.
"One of the things I wanted to stress in my seminar was that people often look for immediate results when hiring, but in truth, it takes time," Schindler says. "One of the reasons I'm loyal to Claffey and the situation I'm in now is because I feel like that they made an investment in me as a professional.
"The trick is to think in terms of your success rate. If every year you take on an intern and 25 percent work out, then every four years you gain a dedicated employee. In other words, it takes time and patience. Between Farley and Claffey, we've taken on five interns, including me, and three of them are now are full-time professionals with the company."
A significant part of investing in the future is establishing clear career paths with goals, professional milestones and financial rewards that budding professionals can work toward. Otherwise, "they'll leave for greener pastures," Schindler says.
It also means thinking differently about the way the industry goes about prospecting talent in the first place.
"I truly believe one of the things that holds the industry back is that it basically feeds on itself. Many companies think mostly in terms of bringing family in to take over the business and promoting strictly from within the industry. While there's nothing wrong with that when it makes sense, if that's all you do to recruit employees, it's too limiting. After 25 years of doing it that, or longer, look at what's happened. The industry has a serious shortage of people coming into the business."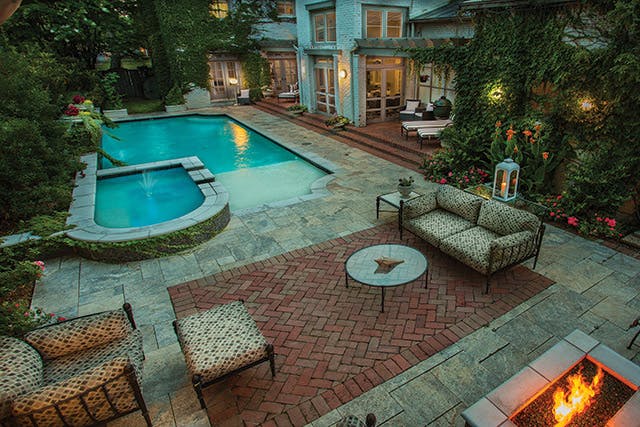 Inventive problem-solving is one of the exciting parts of aquatic design that can attract young people with creative aspirations.
ON THE RADAR
The first part of addressing that shortage, Schindler says, is to raise awareness of the advantages that can be found in a career in the pool and spa industry.
RELATED: The Youth Factor
"The problem is that it's not something most people in my generation ever think about in the first place. It's almost like no one knows about it," he says. "As an industry, we have to make sure we're getting that message out there to the generations entering the workforce. With our work on the WAVE board, we're mainly trying to spread the word that we even exist as an industry. Fortunately in my case, because of my experience as an intern, I knew better. I understood something about what the industry does and how exciting and satisfying it can be for a designer and builder."
Not only is there a lack of awareness of the industry among millennials, those that do know about it all too often have a negative impression of working in pools and spas. Schindler recalls how one of his university instructors tried to discourage him from entering the industry in favor of doing "real work" elsewhere.
"In my landscape architecture program, pools and spas weren't viewed as so-called 'natural elements,' so they didn't get much attention," he says. "That never made any sense to me because both architects and landscape architects are designing and building manmade structures all the time. So why is a pool any different?
"So, there are some challenges when it comes to the perception of the industry. For whatever reason, our industry has a negative reputation."
Overcoming those hurdles means taking the exact kind of approach Farley and Claffey Pools used in their recruiting efforts. "I feel we need a much more structured approach to internships, and we need to reach out to potential talent at job fairs and classroom settings," he says, "and realize that it's not something that happens overnight." 
Comments or thoughts on this article? Please email eric@aquamagazine.com