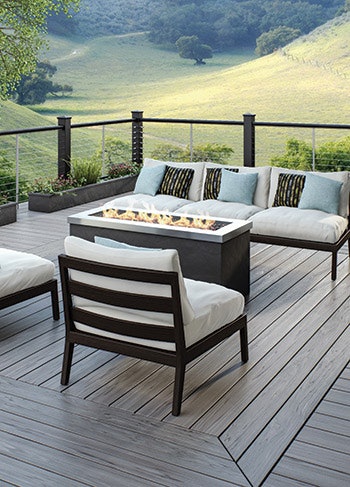 Wooden decks and swimming pools and spas have been natural companions for decades. While wood decks remain an enduring part of the outdoor living scene, traditional wood products today have company in the form of composites designed to look like wood — with a host of significant benefits.
In this context, the term "composite" simply refers to a broad category of products that are manufactured with a combination of materials. Naturally, manufacturers of composite material tout different benefits for their products to gain competitive edges in the market, but there are generally accepted advantages most composite products have in common.
"The primary advantage we hear about is the reduced maintenance," says Chris Camfferman, director of category marketing for Deckorators, a subsidiary of Universal Forest Products (Grand Rapids, Mich.). "Wood decks require regular maintenance in the form of cleaning, staining and sealing. If you keep up on the maintenance, wood decks will perform well over time. However, there are people who choose not to do those maintenance aspects, and when that happens, the look of that wood deck will deteriorate over time and not necessarily remain an asset for that home. With composite decks, you just need to clean them periodically with soap and water. That's all it really takes to keep composites looking good."
He further explains that because wood is a natural product, there can be issues with splinters, warping, cupping and splitting — all things that can happen over time. "Either people have to live with it or replace it. Composites are designed to relieve those issues."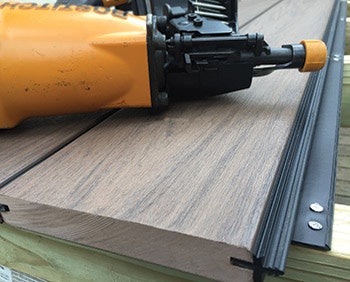 ENDURING VALUE
One of the primary selling points for all types of decks, and especially composites, is that they add lasting value to the home. "I equate it to owning granite countertops in your kitchen. If you own a beautiful home at a premium price, you're going to have expectations," Camfferman says. "Composite decks are now part of that category."
RELATED: New Survey Reveals How Americans Invest in Their Backyards
Although composite decks are an alternative to wood, they do still utilize natural materials. "Nearly all composite decks still use wood for the understructure and it performs beautifully," Camfferman explains. "In that application you don't have to worry about aesthetic issues. And it's common for decks to include focal points that feature natural stone, fireplaces or kitchens. So there's a nice blending of materials that we're seeing."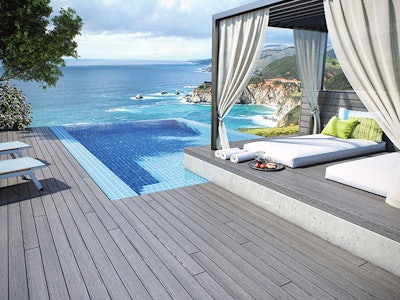 Because composites are made with a cap stock that is extremely resistant to wear and tear, Camfferman reports they have gained widespread acceptance in applications adjacent to pools and spas, where the effects of chemically treated water can be an issue for natural wood decks, especially those where homeowners don't perform routine maintenance.
"From a structural respect, we've had no issue with the product being around chemically treated bodies of water," he says. "From an appearance standpoint, most composites are typically capped with a very chemically resistant outer shell. It has no exposed wood fiber. It's resistant to staining and is completely resistant to chemically treated water. Since our company switched to a capped composite, we've had very little or no issues with respect to the way the product performs in different environments."
That's why Deckorators offers a 25-year warranty on its composite materials, which includes a removal-and-replacement warranty.
INVESTING IN THE EXPERIENCE
Although they are more expensive, homeowners who turn to composites do realize a return on investment over time. "Composites also add more value when you go to sell your home," Camfferman says. "Studies have shown that decks are one of the home projects that maintain value."
Part of the enduring value of decks in general is that they aren't as subject to trends the way some other types of home improvements are. "Over time, it's not going to look as dated as other aspects of the home," Camfferman says. "Kitchen and bathroom remodels, for example, are more subject to trends and oftentimes wind up being replaced far more frequently than decks."
Unsurprisingly, decks have benefitted from the outdoor room boom. Customers looking to embrace an outdoor lifestyle have typically done their homework and want decks that can accommodate popular items like fire features and outdoor kitchens.
RELATED: 2016 SOI Outdoor Living Report
"We've definitely seen an expansion in design and customers who are looking at a greater variety of ideas," Camfferman explains. "I think it's good for the industry because it challenges the contractors and it challenges the manufacturers to stay on track with those trends.
"We've seen designers and contractors that are using curvilinear designs, or maybe automation where a chair or a bench is concealed but can rise up and become part of the deck," Camfferman adds. "Fire elements have become far more popular. Lighting is another area where we've seen a great deal of expansion. Many of those more creative contractors are often active in social media in an effort to bring those ideas to their customers and potential customers. The main thing, however, is it's the homeowners who are putting the same time and effort into planning they would in any room in their house."
CREATIVE INNOVATION
In responding to the increasing level of design creativity, Camfferman reports that the company has continued to push the envelope in terms of product innovations. Some of those are simple, such as drink rails for entertaining or rail-mounted tables that can be easily installed when needed and then removed. Some of the most popular, and useful, innovations are the Deckorators Fastendry and Dexerdry weatherproofing solutions, which divert water from the surface of the deck to create "dry zones" underneath.
"You can use those areas for storage, or if you have a patio or deck below a deck it creates a shelter space that's perfect for things like outdoor kitchens," Camfferman says. "There's a gasket that manages the water on top of the deck rather than having it go through the deck. It's proved very valuable to people who are looking to take advantage of every square foot of their outdoor space. Maybe you can install a TV or a fan in a living area below. Or you can use that dry area for storage for kayaks or pool toys."
RELATED: 6 Popular Ideas for New Decks and Terraces
For all of the innovation associated with composite materials, a process that Camfferman reports is ongoing, traditional wood decks will likely continue to encompass the majority of decking market. For homeowners and business owners interested in less maintenance and greater durability, turning to this class of engineered materials offers an exciting alternative. 
---
Questions or comments on this article? Please email Eric Herman at [email protected]