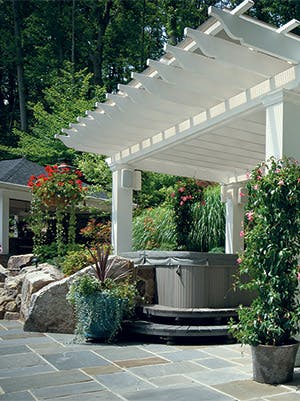 Another reason customers are excited about pergolas: they're a great way to show off a hot tub.
Demand for outdoor living is booming. The backyard has always been recognized as a spot to relax, entertain, eat and play. But now more than ever, homeowners want to upgrade the look and feel of the traditional backyard. Recent surveys conducted by Kleeber Associates and the American Institute of Architects, and design portfolios offered by HGTV and others, confirm the separation between indoor and outdoor living is blurring. More and more, consumers want their backyards to be an open template to extend their indoor living space.
Millennials, interestingly enough, are leading the charge, according to a white paper on outdoor living published April 2015 by Kleeber & Associates. The group, roughly defined as those born between 1980 and 2000, are emerging as a driver of the outdoor living movement:
"[Millennials] are now coming of homebuyer age and seeking homes with outdoor living areas that are already complete or containing areas that can be improved or remodeled," the study concluded.
This perspective is supported by a 2015 outdoor living trends survey conducted by Industry Edge. In this study, quoted by Kleeber, the millennial generation was found to have more interest in outdoor living than baby boomers. Key generational differences the researchers found are described in the chart on the folowing page.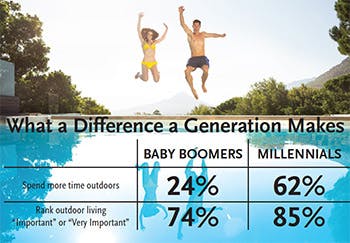 Click to enlarge
The outdoor living space starts with a deck
According to the 2014 US Census, decks, patios and porches have a solid presence in U.S. homes.
Statistics for new single-family houses constructed and sold indicate 90 percent of US houses built or sold in 2014 had a deck, patio, porch or other outdoor structure associated with it.
Interestingly, homeowners find that a deck or patio is critical to support outdoor living — but it doesn't end there. Outdoor living requires a defined space and shade.
"It's no longer just a huge patio or a huge deck," says Mike Beaudry, president of North American Decking and Railing Association. "There's much more thinking involved in terms of how we create the ultimate outdoor living space. If we want to create the outdoor living space, then we want to expand how we are using it."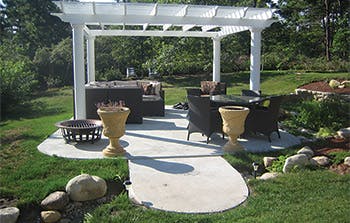 Millennials enjoy using the backyard for entertaining. Pergolas, along with outdoor furniture, turn a basic patio party into a memorable event.
Pergolas, open structures without walls or a solid roof, can address the need for shade in a defined space. Running the gamut in size and complexity, from "just big enough to cover a table and chairs" to elaborate custom structures, pergolas shade an open space without constraining it.
"People embrace the idea of an outdoor room as an extension of their home," says Lance Servais, CEO of HB&G Building Products. "Whether it is to formalize an outdoor living area or to create a backyard retreat, a pergola defines the outdoor living experience."
There is survey evidence to back that up. In a 2015 survey by the American Society of Landscape Architects, 51 percent of the 581 landscape architect respondents indicated that pergolas were the most likely outdoor structures to be demanded.
An important factor in the recent resurgence of this backyard structure is a materials revolution that has made it a more durable value. As few as five years ago, the typical pergola was a beamed wooden structure that involved complex installation and huge outlays of time and money to maintain.
"Wood was big in 2007, 2008. At that time, the average homeowner had a choice: pressure-treated stained or cedar. Now people want maintenance-free," says Max Baldwin, president, Baldwin Pergolas.
Dissatisfactions did not go unnoticed, and pergola manufacturers have responded with new designs that de-emphasize maintenance-heavy wood structures.
Manufacturers now offer pergolas featuring composites (aluminum, fiberglass, PVC and vinyl) and wood/composite hybrids to achieve different looks that satisfy different wallets. Composite structures also allow a wider range of color options, with some manufacturers even producing pergolas in custom colors.
Shade options have increased dramatically too, with options now including louvers, more purlins and canopies made from canvas and polycarbonate materials. In particular, canvas canopies and mechanical or electric louvers are a popular upgrade for pergolas.
"What's blowing us away: sales of patented pergolas with retractable canopy," says Greg Bailey, president of Outdoor Living Today.
While pergolas of the past were time-consuming to install, today's in-field installation has been simplified with engineered component kits instead of pallets of parts. These kits include detailed instructions, sometimes supported by step-by-step installation training videos on YouTube. Walpole Outdoors even includes CAD drawings to supplement detailed instructions.
In addition, custom designing has reached new heights and invites countless design possibilities. NADRA partners with VisionScape to provide members with interactive 3-D designs so pros can create complete, life-like outdoor projects that include pergolas. The design can be shared online via videos, screenshots and images for communication and collaboration between the contractor and his customer.
Adding style or function to outdoor structures is increasingly common. Outdoor living manufacturers say infrared heating, lighting, fireplaces, outdoor flat-screen TVs and fans are popular add-ons to living space, all of which are better paired with composite structures.
"Composite materials vs. wood, and particularly fiberglass composites, are more amenable to add-on lifestyle accessories," says Kelly Hendrix, vice president and GM of Arbors Direct. "The beams, columns, and rafters of fiberglass pergolas are hollow. That makes it easy to string electric or speaker wiring through them to build out an outdoor kitchen or entertainment room."
When homeowners look to add a pergola to their outdoor space, they tend to steer clear of the structures of the past and opt for ones that fit their house and/or surrounding landscape and function every bit like an interior space. Pergola manufacturers have responded and evolved the product to emphasize maintenance-free composites, simplified assembly and add-on accessories. These innovations have turned pergolas into a high-margin add-on to outdoor living projects.
Comments or thoughts on this article? Please e-mail editors@aquamagazine.com.