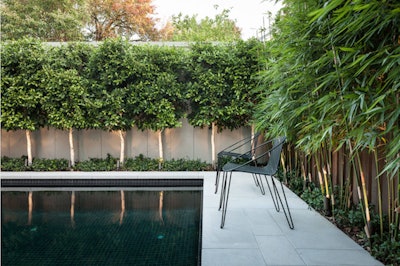 To be successful amid the outdoor living boom, it's critical for retailers and builders to stay abreast of rapidly changing consumer tastes in backyard products. To help keep your product lines up to date, AQUA has partnered with design megasite Houzz to bring you more content about outdoor living, from pools and spas to outdoor kitchens and patio furniture. Here, a Houzz expert talks poolside plants that accentuate the pool's design.
The right foliage and flowers can transform a pool area into a lush, secluded backyard oasis. But choose your plants carefully — poolside gardens can also create messy leaf drop and clogged filters and often, once planted, are tricky to dig up and change. Swimming pools can also create a microclimate in the backyard, raising humidity levels in warm climates and intensifying the sun's rays to bake the garden. You also may find that plants nearby get splashed with chlorine.
All things considered, poolside planting beds are challenging ones to fill. Here are a handful of options for tough, largely mess-free and low-maintenance plants (plus a few worth the extra trouble) that not only can thrive in poolside situations but look beautiful.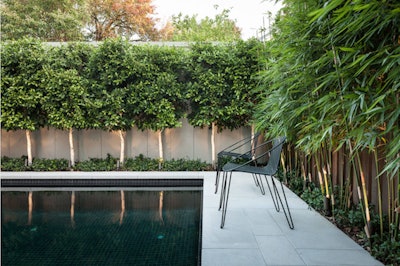 Photo by DDB Design Development & Building
Clean and green. In this tranquil Melbourne, Australia backyard, a combination of fig trees (Ficus microcarpa var. hillii, USDA zones 9 to 11), clumping slender weaver's bamboo (Bambusa textilis var. gracilis, zones 8 to 11) and a low-growing ground cover looks effortlessly chic. To get a similar look, choose poolside plantings with interesting forms and foliage, saving colorful flowers for other areas of the garden.
RELATED: Choose Creeping Juniper for Great Ground Cover
Ficus offers the advantage of having little leaf-drop and filling in quickly to provide dense coverage — useful for creating privacy around a pool or covering a fence with green. While frost-tender ficus works well in semitropical and tropical climates, consider substituting for cherry laurel (Prunus laurocerasus, zones 6 to 10) or Carolina laurelcherry (Prunus caroliniana, zones 8 to 10) in cooler climates. Like all bamboos, slender weaver's does exhibit some leaf-drop, but the designer has cleverly set it back from the pool for easy sweep up.
In the evening, subtle uplighting highlights the trunks of the ficus trees and ribbed stems of the 'Slender Weaver' bamboo. All plants shown in this garden thrive in full sun and with moderate water.
Sculptural accents. Cactuses and succulents, like agave, yucca and echeveria, make excellent poolside plants. They look good year-round with hardly any care, produce practically no mess, thrive in sunny conditions and are generally pretty tough when it comes to getting splashed by a bit of chlorinated water. For the best effect, choose cactuses and succulents with interesting, sculptural forms like strappy, upright Nelson's blue bear grass (Nolina nelsonii, zones 8 to 10) and finger-like blue chalk sticks (Senecio serpens, zones 9 to 12). Planting them against a wall or near enough to the pool so that their forms are reflected in the water will enhance the design's graphic quality.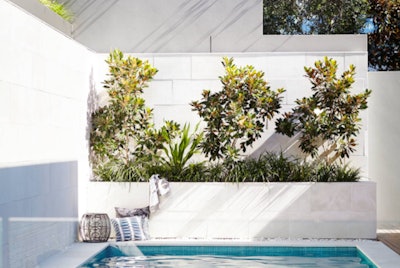 Photo by Harrison's Landscaping
Beach club style. For a chic, whitewashed resort look, the designer of this pool and planting in Sydney combined white sandstone with a built-in planter filled with dark foliage plants. The contrast of the bronze foliage of the trio of magnolia trees and underplanting of giant lilyturf (Ophiopogon jaburan, zones 7 to 10) against the white walls forms a stunning combination.
The magnolia thrives in full sun while the giant lilyturf appreciates some shade cast by the trees above. Both plants require little maintenance and are low-mess.
Photo by Built Work
Tropical color punch. This bright orange accent wall and cascade of hot pink bougainvillea (Bougainvillea sp., zones 9 to 11) makes a colorful statement in a Miami backyard. While bougainvillea doesn't quite hit our low-mess criteria for an ideal poolside plant, it's worth picking fallen blossoms out of the pool for such a spectacular display of flowers. Try to site it just back enough from the pool to cut down on the mess. Bougainvillea thrive in baking sun and radiant heat placements — like walls next to pools — that would make many other plants shrivel.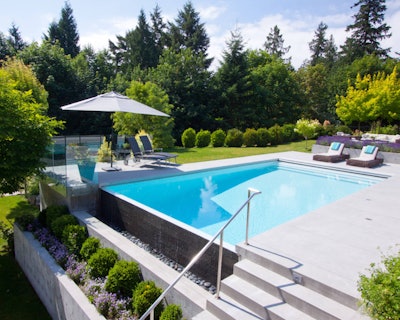 Photo by Alka Pool Construction Ltd
Tiered planting. If your pool is sited on a hillside, use the slope to inform the design of the pool and planting beds. In this Vancouver backyard, the pool design incorporates an infinity edge to take advantage of the level change, and the planting beds of boxwoods (Buxus sp., zones 5 to 9), a purple ground cover and lavender (behind the lounges) are arranged in tiers. The overall effect is one of many layers of cooling blues, greens and purples. The plants all thrive in full sun and with moderate water.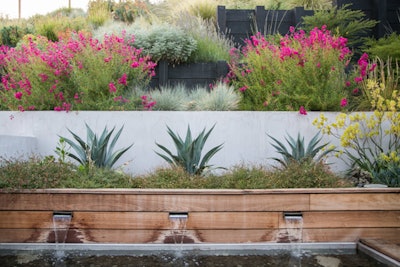 Photo by Envision Landscape Studio
Low-water, pollinator-friendly. This colorful sloped planting in a Northern California garden not only makes a dramatic backdrop for the pool but also supports native birds and insects. Immediately behind the water feature pouring into the pool, a row of blue-green Weber's agave (Agave weberi, zone 8) makes a structural statement against the first retaining wall for the slope.
Behind the agave, magenta-colored 'Garnet' penstemon (Penstemon 'Garnet', zones 7 to 9) and the yellow-flowering kangaroo paws (Anigozanthos sp., zones 9 to 11) to the right would both be magnets for bees, butterflies and other insects and pollinating birds. All plants mentioned in this section grow best in full sun and with low water.
RELATED: Support Native Wildlife With a New Bird Bath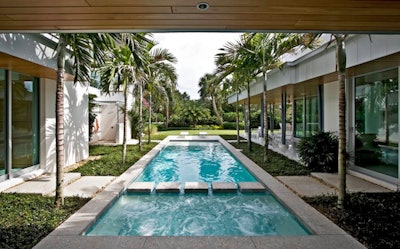 Photo by Balfoort Architecture Inc
Resort chic. This easy pairing of Alexander palms (Ptychosperma elegans, zone 11) and confederate jasmine (Trachelospermum jasminoides, zone 8) in a garden in Miami looks lush and tropical but doesn't require much maintenance. Palms are a classic poolside plant — instantly making a mild-climate garden feel tropical.
The jasmine is a particularly useful poolside ground cover. It thrives in bright sunlight, benefits from the increased poolside humidity and can fill in as a dense ground cover in just two years. In spring, the plant is studded with white blossoms that will perfume the pool with a sweet fragrance.
Graphic grasses. Another opportunity to consider for a poolside planting is how you can use the surface of the water to create a reflection of the plantings. Some plants, like those with structural forms, like agaves and upright ornamental grasses, look particularly dramatic reflected in water.