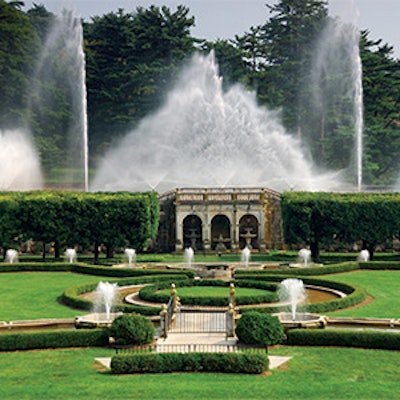 Ever since Pierre du Pont established Longwood Gardens in the early 20th century, the property, now one of the world's largest public gardens at 1,077 acres, has been a reflection of du Pont's outsized ambitions. He began developing the property in Kennett Square, Penn., immediately after he purchased it in 1906. The facility soon became a major cultural center for the arts as well as horticulture and garden design.
Over the years, the sprawling site came to encompass numerous outdoor gardens, 20 indoor gardens, 4,600 species of plants, a horticulture school, multiple performing arts venues and a collection of fountains across a range of styles and sizes.
The largest and most elaborate feature is the Main Fountain Garden, which opened in 1931, its design inspired by European fountain design and the 1893 World's Fair in Chicago. For decades, the fountain served as the centerpiece for the property dazzling millions of annual visitors. It featured hundreds of jets and effects, elaborate lighting and control systems that were far ahead of its time.
The original fountain design and equipment proved remarkably durable over the years, but eventually the effects of time rendered the system unmanageable. The Main Fountain Garden was closed in 2014 for what would be one of the most expensive historic fountain renovation projects ever in the U.S. — in the end, the cost was more than $90 million.
Now, after extensive repairs, upgrades and additions, the fountain just reopened on May 27.
The renovation includes a new 1,400-foot network of tunnels and equipment rooms to house new plumbing, wiring and state-of-the-art pumping, filtration, control and water-treatment systems. The new mechanical and electrical infrastructure enables 141 individual programmable effects with 1,340 new jets and stream fixtures, including the tallest jet that reaches a maximum height of 175 feet, and fire effects that erupt from the top of a 10-foot water wall. There are three underground tanks that contain 338,570 gallons of water. At night, 1,389 new LED light fixtures create an endless spectrum of colors and programmable effects.