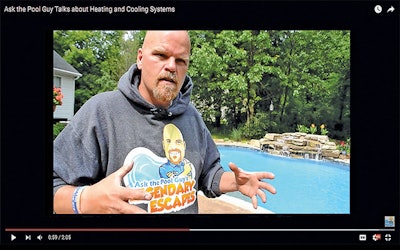 YouTube: It's the third-most visited website on the planet with more than a billion people using it. Those people spend an average of 40 minutes during each viewing session, consuming vast amounts of content on a wild range of topics. In 2014 it was officially declared the world's second largest search engine, and data shows that you could miss up to 70 percent of your potential mobile traffic by ignoring video.
Given the massive scope and reach of this marketing channel, it still astonishes me that only 9 percent of small businesses are using YouTube in their marketing.
We began using YouTube to showcase our Legendary Escapes projects six years ago. Those early videos were awkward at best, but we kept filming and putting them out. We added to our video mix in earnest four years ago when we launched the "Ask the Pool Guy" persona, adding short "how to" videos on pool maintenance questions along with general industry advice. Today, our channels contain videos of our team in action, the projects we're building and even philosophical discussions about business, marketing and life in general. (Below, check out one of our recent videos.)
What's happened over the last six years is really fascinating. Like any new channel, we started small, wondering who would find us and how they would interact. Over 1,500 videos and close to 1,000 subscribers later, YouTube has become a marketing machine for our company and our brand, working 24/7 to help us connect.
Why Video is So Powerful
Why is YouTube so incredibly popular? And why is it such a powerful way to build your brand?
I think it has a lot to do with seeing people as they truly are. Traditional marketing material is slick and polished, every word and image crafted with extreme care. That kind of marketing may be the old standard, but we knew from our start with online marketing, we had a different story to tell.
Our company is made up of real people, just as our customers are real people. In order to connect with the right kinds of customers, we have to be our authentic selves: friendly, engaging, sometimes silly, sometimes profound, never polished and far from perfect.
What we love about YouTube is it lets us be real. One of our customers put it this way:
"Your website sets the bar very high for your customer's expectations. Just seeing the videos that were on there, seeing the quality of work, it helped us know what to expect. My husband, a 3 a.m. internet searcher, found you through the videos one night; in the morning we spent hours as a family watching just about every video on there," our customer continued. "By that time we knew — we have to make this happen. We have to work with the pool guy."
This kind of introduction makes the initial face-to-face meeting so dynamic, with people feeling like they know us before we ever walk into their homes. They've usually got big smiles on their faces and a warm welcome, making our initial meeting fantastic.
When we do take on a project, we know we are going to be in our customers' lives in a very real way, tearing up their lawn, making lots of noise, making our beautiful art in their backyards. If they've seen our videos and then called us, we know they will accept us as we are, and welcome what can often be viewed as an intrusion. One customer, wondering what he had gotten himself into, watched all of our new construction videos the night before we were scheduled to dig his pool. By the time we arrived, he was happy to see us get started, and any of his fears had disappeared now that he knew what to expect.
Conversely, our videos help people self-select out if they don't like our style. That's just as important from a business standpoint. They know what we're all about and what kind of work we do before we ever meet. If it's not a fit on their end, they move on, no harm done. If it is, then our work of "selling" the customer is replaced by simply meeting in person to talk details. It's a really wonderful way to close a deal and start a business relationship that, more often than not, grows into a true and lasting friendship.
That Moment of Fame
As our YouTube popularity has grown, we've noticed an interesting phenomenon. Whether we are out in public or at an industry event, people often come up to us and say something like "Hey! I know you!" or, "I follow you online, just to see what you are working on!"
Often the way they "know" us is through our videos and other online marketing, not from any direct personal connection. But to that person in that moment, it is just as real as if we lived around the corner from them. They feel connected to us in a personal way and aren't afraid to say hello.
It's great — and it's sometimes a little unnerving. It can leave us feeling a little bit at a disadvantage to be recognized without knowing a thing about the other person.
Of course, it would be pretty rude to answer this kind of greeting with, "Uh, who are you again?" So we've developed a strategy for this that makes it easier to continue the conversation. The simplest acknowledgement is just be present, be warm, say hello and maintain some eye contact that makes them feel seen.
Then, if they don't say, "I watch your videos" or, "We're friends on Facebook," we steer the conversation away from names and ask how they are doing or what's new. This usually gets us out of the danger zone of that awkward "you know me but I don't know you" place and brings the conversation back to one of simple human interaction.
It takes practice to do this gracefully; just smile, look them in the eye and be warm and welcoming. You'll get used to it, and it comes back to your energy signature. What matters is how people feel in your presence, and this is true in person and online.
Try video yourself. It's easy to get started with a free YouTube account, and your first videos don't have to be perfect (just see some of the Pool Guy's early video selfies, they were definitely a work in progress). You'll get more comfortable in time, and get better at all the details like lighting, set up, sound and editing.
The important thing is that you get started. Start today. You'll be amazed how quickly you'll hear things like this from your own customers:
"We feel like we know you, and can't wait to work together."
That makes it worth it, and that's the best marketing you can hope for.
Al Curtis is the designer and builder for Legendary Escapes Pools. He has pioneered the hybrid vinyl liner/gunite swimming pool, and is known for his unique and innovative custom designs. Also known online as @askthepoolguy, he blogs, does video, training, and events for the pool loving public and fellow industry professionals. He can be found online at www.AskthePoolGuy.com.
Comments or thoughts on this article? Please e-mail editors@aquamagazine.com.