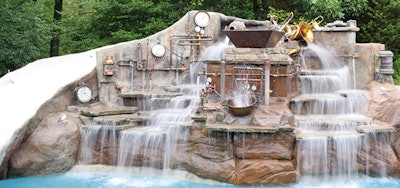 Slogging through some prep work at a new build one day in March, I had one of those crystal clear moments. It was pouring rain — the kind of icy cold rain that felt like frozen needles on this "spring" day in Michigan — and I was aching and sore, standing up to my ankles in liquefied mud.
My body was screaming for mercy, having basically atrophied over the winter in this seasonal business I'm in, and I was soaked to the bone. The moment of clarity came when I realized — in spite of being wet, cold, hungry, sore and tired — I was whistling.
What I realized in that moment is that I was truly happy to be in this miserable pit of mud, because the vision in my head of what I was creating was far stronger than the physical discomfort I had to deal with in the moment.
That, my friends, is why happiness matters.
If you work for the money alone, you might be happy on one level because yes, you can enhance your life with the money and fund a lifestyle that makes you feel content. But can you really have true joy, true happiness if you don't flat out love the work? Could I have made it in to work the next day with a smile on my face if I didn't truly get joy out of what I do?
I doubt it.
To me, that is what happiness is all about: finding the love in the thing you are doing, because you are doing it. Whether it hurts, whether it's painful or whether it's exhausting, it doesn't matter. What matters is finding the joy in this thing — that's what allows it to be ok, no matter if I am tired, if I am sore or feeling lazy.
Forget About Happy Customers
The other day, I was having a chat with a customer and another contractor on a job site. The contractor was saying, "Oh, for us, it's really important that the customer is always happy."
In front of the customer, I stopped him and said, "I disagree."
I explained that I believe if I can find a way to be happy in what I do, then the customer is guaranteed to be happy.
"If I focus on the customer's happiness and try to do everything according to them, and I am not enjoying or loving the process, then we all miss because the customer won't be happy either," I said.
Some customers won't agree to this approach; we learned the hard way a few years ago that we shouldn't be working for those people. Saying no is sometimes the most powerful way to find your own happiness and your own joy. But when you meet a customer who gets it, you'll find these projects are truly a joyful collaboration.
The Remarkable Energy of Happy
Interacting with customers and other contractors is great, but the core of the job for me is creating an environment where people can find happiness.
I grant you, if I just put in a pool, there will be some happiness created. Pools are a blast no matter who builds them. My goal goes beyond that: I want to create a space that honors the land and honors the people who will use it. And that all has to do with water, which is mostly what we're made of. I truly believe in the law of attraction — like attracts like. Our bodies are made up primarily of water and are therefore attracted to water. If I can put the right energy into the water and do my very best to create a joyful space, then I am happy, the customers are happy — and I suspect that if we could look at the molecular level, that the water is happy too!
Work Hard, Play Often
A key member of our crew is Penny, my adorable golden retriever. No matter what's going on, that silly dog makes me happy. She serves as a constant reminder of the simple things in life and what's important — loyalty, friendship and taking time to play.
Here's a great example: I was digging up a pool last month when she came up to the excavator. I stopped for a moment, and she jumped up and dropped her ball right in front of me. She was saying, "Play with me. I don't care what you are doing, it doesn't matter what you are doing and it's time to play."
I threw the ball, she ran and got it, came back. After a few throws, she's good for a while. Penny constantly reminds me of the importance of letting go of what we think is so important and showing me that there's always time for joy.
It's moments like these that I'm left wondering why me? Why do I lead such a blessed life to be able to surround myself with such awesomeness?
I believe it comes down to a couple of key things. First is an awareness of how awesome life is, and how grateful I am to share it with terrific people – customers, crews, partners, and folks like you in this industry. And secondly, and most importantly, letting that gratitude bubble up and fill me with joy.
Al Curtis is the designer and builder for Legendary Escapes Pools. He has pioneered the hybrid vinyl liner/gunite swimming pool, and is known for his unique and innovative custom designs. Also known online as @askthepoolguy, he blogs, does video, training, and events for the pool loving public and fellow industry professionals. He can be found online at www.AskthePoolGuy.com.
Comments or thoughts on this article? Please e-mail editors@aquamagazine.com.