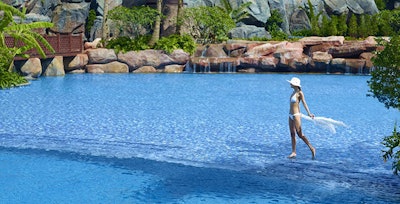 From the "bigger is better" files, according to Guinness World Records, China's Mission Hills Resort, Haiku, is the world's largest mineral spa resort – and it's all about the water.
The property includes an indoor swimming pool, an outdoor swimming pool with numerous waterpark features and a man-made beach. Among the key stats resulting in the world record are property's 168 hot and cold mineral spring pools.
"After a detailed audit of the data as well as a full range of on-site research, I am pleased to declare that Mission Hills Haikou has fulfilled the requirements for the Guinness World Records as the World's Largest Spa Resort," said Cheng Dong, Guinness Keeper of Records.
The resort comprises 539 spacious guest rooms and suites housed in an 18-storey luxurious hotel and annex, all with breathtaking panoramic views. The site features numerous world-class sports, leisure, entertainment and dining facilities.
The sprawling site is perched on centuries-old lava rock and is imbued with a spectrum of natural resources, chief among them spa water that is drawn from wells 800 meters below ground. The healing waters are rich in minerals and trace elements that are recognized for their health-boosting and therapeutic benefits.
Aquatic activities include both communal and solitary bathing experiences to bring guests total restoration and rejuvenation, including ancient bathing rituals and healing journeys originating from five continents – Asia, Oceania, America, Europe, and Africa.
Visitors are treated to a variety of therapeutic activities ranging from nourishing, authentic spa experiences, therapeutic bathing rituals that draw on the power of the natural volcanic mineral spring water – all designed to offer a holistic wellness experience to all guests.
The spectacular spa house boasts a magnificent bamboo arch that brings together both Western and Oriental design, while paying tribute to the long-standing Chinese philosophy of balance and harmony. In all, the facility comprises 61 well-appointed treatment suites, a wellness pavilion that includes a nail salon and a hair spa. For more affluent visitors, the development offers 28 one-bedroom spa villas and one four-bedroom spa mansion, complete with butler service.