Photos are essential to selling swimming pools. As a pool builder, you should make it your goal to photograph every single pool you build to maintain a portfolio for yourself and your clients. But don't worry — despite what you may think, you don't need some fancy-schmancy camera to take really amazing photos. In fact, I've taken really high-quality photos for my blog using my iPhone. And luckily, the technology and photo quality on mobile phones are only getting better.
Want to snap great shots from your phone? Here's five tips:
1. Use the right settings. If you have an iPhone like I do, you should always use the HDR setting when taking a photo. This will take really awesome photos, even in low light.
2. There's an app for that. There are a bunch of mobile apps you can download to enhance the photos you've taken. My favorite so far is Snapseed. It allows you to add filters, correct color, adjust brightness, crop and more — you can check out the video on their website to see how it's used, but let me tell you, for that price, it can't be beat. There are some free apps you can choose too, like Instagram or Adobe Photoshop Express. I love Instagram for adding really cool filters to photos, but it will drastically reduce the size and quality.
And speaking of Instagram, every single pool builder should focus on building up an Instagram following by posting pictures of their pool builds. People love pool pictures — just ask the guys at PoolSupplyWorld.com. If you check out their Facebook page, they post a new picture every day of a stunning pool or hot tub. They have built a following of more than 70,000 Facebook fans by doing so.
3. Cross-promote! Instagram is only one place you should post. When you take photos, don't be afraid to plaster the good ones everywhere you can with a link back to your website or a phone number to reach you at. Post to your Facebook, Twitter and Pinterest accounts, just to name a few.
4. Get it in print. Once you've amassed a large catalog of photos, pick the best ones to compile into a coffee table book. I recommend SnapFish — it's by far the easiest and coolest way to show off your work to potential clients.
5. Don't be afraid to go pro. While you don't need a $1,000 camera or crazy lighting gear to take amazing photos, it's not a terrible idea to pick a few of your best projects and hire a professional to take high-caliber photographs. The uses for these images are endless: include them in coffee table books, hang them in your stores and sales offices and even create slideshows to loop on flat screen TVs in your store. And don't forget to store them on tablets so you can show slideshows to prospective customers. No matter what, hiring a professional once or twice a year is worth the investment.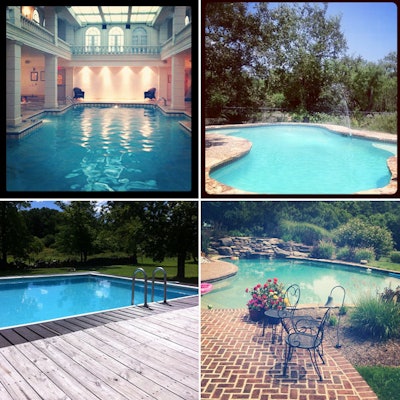 What are you waiting for?
Get out there with your mobile devices and start snapping some photos of your work. You'll thank me and your customers will thank you, and then you'll thank me again for that.