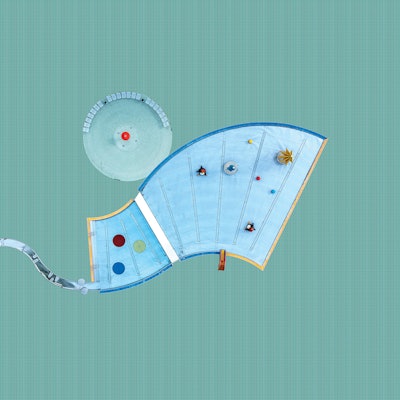 Photo courtesy Stephan Zirwes
On a mission to raise awareness for public water access, a German photographer captures pools from new perspectives.
Stephan Zirwes' "Pools" series is a collection of aerial shots that set swimming spaces against custom backdrops. He uses a drone to photograph pools across Germany, Italy and Iceland.
"The pools remind me of my childhood, when I spent a lot of time in public pools," he says. "Public pools can be a symbol of the importance of water [that] should be freely accessible to everyone."
Zirwes is a strong supporter of Germany's remunicipalization program, which restores ownership of some services from private entities back to local authorities. He hopes it will help restore the country's public pools.
"I denounce the waste and privatisation of water," Zirwes says. He's also an opponent of using drinking water for private pools and introducing fees for public pool access.
Before the dawn of drones, Zirwes had to charter helicopters to get the shots he wanted. "There weren't that many birds-eye view shots in those days," he says. "It was my way to show the world in a new way."
Over the years, drone technology has become much more accessible. Today, Zirwes shoots using a multicopter with gimbal and camera attachments.
But his process doesn't end there. Zirwes puts a twist on his images by using each pool's edge tiling to create a tessellating pattern, intensifying the focus on the water.
"In this clean and formal language, the pictures focus our interest," he says. Zirwes hopes the "formal chic" feel will offer contrast to amplify his underlying message.
To see more of Zirwes' work, check out stephanzirwes.com or follow @stephanzirwes on Instagram.
---
This article first appeared in the February 2022 issue of AQUA Magazine — the top resource for retailers, builders and service pros in the pool and spa industry. Subscriptions to the print magazine are free to all industry professionals. Click here to subscribe.