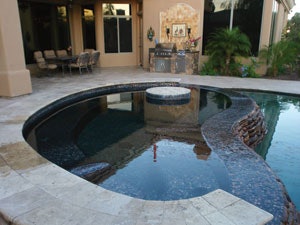 The connection is no coincidence, says Rick Chafey, co-owner, Red Rock Pools & Spas, Gilbert, Ariz. "When the client approached us about building their pool, they already had plans and conceptual drawings of the project they had envisioned: a private, personalized, backyard oasis that resembled the Mirage in Las Vegas."
After meeting with the chief designer, Moore/Swick Partnership, Chafey says, the finished product ended up being quite different from the original plans. The waterfalls were elongated and elevated, the decking was expanded, and boulder sets were moved while still maintaining the original shape of the pool itself.
The soul of the waterscape is the interplay of the four elements of ancient physics and how they are arranged to form a coherent design.
"The contrasting elements of fire and water were a big inspiration, not only for the homeowner, but for us as general contractors," says Chafey. "Gas fire features combine with misting and fog systems on all five waterfalls to create a well-balanced look, and the surface-select boulders used to create the waterfalls give the space a Sonoran Desert feel. Natural travertine decking provides a beautiful contrast to the darker boulders.
"The sheer size and scope of this project, at 3,600 square feet, created unique opportunities for personal touches that would otherwise be difficult to incorporate. The bronze water sculpture, inset tile mosaic, tornado palms and bent slide give the project a unique, one-of-a-kind, personal feel."
Red Rock Pools & Spas
Gilbert, Ariz.
Category: Concrete pool or pool/spa combo