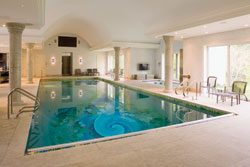 John Bently, owner of Carefree Pools in Highland Park, Ill., has been building high-end pools for well-heeled clients on Chicago's North Shore since he and his wife bought the company back in 1973. One of the company's specialties is indoor pools, and it does a lot of them.
"I suspect that in the last 25 or 30 years we've done more than anybody else," Bently says. "In fact, it's possible that we've done more than all of our competitors combined."
Some years, he says, Carefree will build a couple of outdoor pools and four or five times that many indoor pools, or natatoria, most running into seven figures.
"Because most pools in our area are built by union personnel, building an indoor natatorium for a residence usually costs a million or more," he says. "That includes the building and the pool itself."
Needless to say, clients paying upwards of 30 times the cost of an average backyard pool have high expectations.
Bently goes by a few simple guidelines, steadfastly applied, to ensure those clients get what they pay for. Among these are a robust dehumidification system, carefully placed air ducts and an impenetrable vapor barrier between the inside and outside walls of the structure. These things work best when housed in a well-designed building. For that to happen, he's got to be involved from the very beginning.
Fail To Plan, Plan To Fail
"When a client approaches us about an indoor pool," Bently says, "very often, before they've considered doing anything else, they'll ask, 'Can we even build an indoor pool? We can? How do we go about doing that?'
"So we tell them, first you've got to get an architect to design the house, and if he's never done a natatorium before, it's an extremely good idea to get us on board right away. We will work with him and tell him the dos and don'ts; the wise way to handle the construction and the things that go into it that are different than a general residence."
The biggest difference between a natatorium and a general residence is obviously the thousands of gallons of water usually situated smack dab in the middle of the room. Fail to account for the humidity that generates and the temperature differential between the inside and outside of the walls, and you've got big trouble.
"The exterior walls and roof have to be somewhat moisture resistant," he says. "And there has to be a very effective vapor barrier in the walls so that the outer wythe, or wall, if it's masonry, doesn't get hit with any moisture. If the temperature falls below zero, that outer wythe will be below freezing and any moisture that hits it will very quickly develop into ice inside the wall, and the wall will fall apart."
In a room with cement plaster walls, he recommends a moisture barrier such as Tyvek to prevent any water from escaping to the exterior wythe. That way, any moisture that builds up behind that interior wall simply drips to the bottom, harmlessly.
"The other very important thing is that the building needs to have a very good dehumidification system," he says, "because you've got to be able to keep the relative humidity down somewhere around 50 percent on the inside of the building on those cold days so that you're not dealing with water all over the place."
Carefree leaves specifying the dehumidification system to the general contractor and HVAC company, but Bently says he's had good luck with Dectron, and often goes directly to the homeowner to pitch it.
<"I tell them right off the top, 'If you're not willing to spend what this is going to cost, your building is going to start self-destructing,'" he says. "'But if you spend the money initially, you won't have that.'/p>
"They take our word for it."
Skimping on the dehumidification system, then, is out of the question, lest the beautiful pool Carefree builds ends up damaging the building created to surround it by rotting it from the inside out.
But we're getting ahead of ourselves here. Let's look back to the earlier stages of construction - before the general has called in the HVAC troops and finish carpenters.
Digging In
The easiest way to get a pool inside a building is obviously to build the building around the pool. First, though, the pool builder needs the homebuilder to lay the groundwork.
"I like to have the general contractor put in the footings for the house, then backfill up to grade," Bently explains. "Then we'll come in with a backhoe and do our job. We like to do it that way because then we have accurate reference points around which to work, so there's no problem later on having the thing out of square or not where it's supposed to be.
"Otherwise there's always the possibility that if they just direct you on where the pool is supposed to be, then when you put it in you find out the darn thing is off by a few inches at one end or the other. Or, if it's not a rectangular job, that it's simply in the wrong place."
A fine example of Bently's principles being put into practice is a pool Carefree completed more than 30 years ago for a client in Highland Park.
"The footing and foundation went in first, then we cast the pool inside the building, then built all the masonry," Bently explains.
The pool's most notable feature is the natural-stone waterfall, made up of a piece of weathered dolomite measuring 8 feet across and 7 feet deep held in place by approximately 50 tons of stones piled on top of each other.
"We went up to Sussex, Wis., and picked all the stones out individually and had them trucked down here," he says. "The largest stone is cantilevered out of the wall, and you can sit underneath it and not worry about it falling down because of the tremendous weight that's holding it in place.
"We won our first NSPI international design award with this project back in 1978, and it set the tone for what could be done with waterfalls and so forth.
"We submitted this project, and when the people saw the photographs, three or four representatives came out to Highland Park from Washington to see this thing and photograph it themselves. They couldn't believe what they were looking at."
Though he doesn't do a lot of indoor pools with waterfalls, he says it's not all that problematic, humidity-wise, given a good dehumidification system. In this case, that system has been keeping humidity within range for over 30 years without incident.
A more recent project, also in Highland Park, was built in a similar fashion, with the foundation and footing going in first and the pool placed carefully within that framework.
It lacks the older project's waterfall, but shares its wall of windows on one side of the room.
"If there are a lot of windows, it's extremely important that the registers or outlets [from the dehumidifier] are pointed directly onto those windows so that you don't have a bunch of stagnant air standing there," Bently explains. "That way, when it's very cold outside, you won't have a large moisture buildup on the windows."
Unlike the older project, this one features a cover, which was included for safety rather than humidity control purposes, according to Bently.
When the cover was specified, the architects realized the pool's most prominent feature - imported glass tile - would be hidden from view much of this time.
"The pool features tile designed by a glass tile company in England. The individual tiles were cast, put together in 4-foot square sheets and shipped to Carefree," Bently says. "After the concrete in the pool was completed, the company sent its own people from the UK to hand lay the tile on the floor of the pool."
To ensure the design was visible even when the pool was being covered, the poject's architects came up with the idea of mimicking the design on the pool cover itself.
"So the architects had the graphics for it, and we sent it over to Pool Cover Specialists in Salt Lake City," Bently says. "Up to that point they'd never done anything like it, but they told us they could do it. And they're doing more of it now."
Bently describes the pool as, "not that special," though its details suggest he's merely being modest.
Among the notable features is the vaulted ceiling, adequately dehumidified and free of condensation year-round. Four Doric columns support valences that house indirect lighting in the corners of the room.
Bently likens the light show, which can be controlled by the homeowner via a lighting console to Helmut Jahn's famous United terminal at Chicago's O'Hare airport.
"When you walk through this room, it's got that same kind of effect," he says. "It's just mind-boggling.
Of course, most builders don't have clients with limitless budgets to build natural-stone waterfalls, install custom-tiled pool bottoms with matching liners and hire lighting designers to mimic international airport terminals, but the basics of building indoor pools are universal, and each comes with a unique set of challenges.
"No pool is really routine because every client is different," he says. "When you meet with a client you find out what their likes and dislikes are, how big the family is, whether they have children or grandchildren, how they like to entertain.
"You have got to take all these things into consideration, because with an indoor pool, they're going to be using this thing year-round. It's not just something for the summertime. You've got to give it a lot more thought."
Comments or thoughts on this article?Please e-mail barrett@aquamagazine.com.