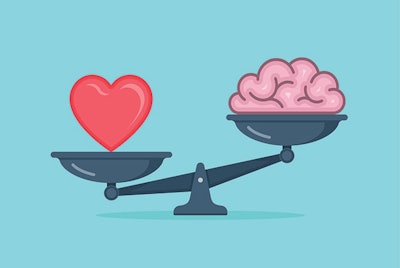 I don't know why it took me so many years to figure this out, but I am now 100% convinced of this bizarre truth of the swimming pool
construction industry. And I'm not afraid to say it right out loud:
Buying an inground swimming pool is an illogical decision.
Now don't panic; I'm not going to suggest you stop designing and selling beautiful, expensive inground swimming pools. I just want us all to face the fact that homeowners don't spend $50,000 to $500,000 or more on a private inground swimming pool because it's logical. It's not logical at all.
If a homeowner wants to "get more exercise" or "spend more time with the family," or "spend less time on cell phones, and spend more time outdoors," then a backyard swimming pool is a great idea.
But an inground swimming pool is not the logical choice. You know what's logical? An aboveground pool. Spend $500 to $2,000 and get a nice blow-up or rigid-sided aboveground pool, and you can get outside more, get more exercise and get children off of their cell phones.
That's a logical decision.
And yet every day, homeowners spend 10 to 100 times as much money to get the vastly more expensive inground pool, when they could accomplish the exact same thing with an aboveground. Does that sound like a logical decision or an emotional one?
RELATED: A Better Way to Sell More Inground Pools
Here's a better example: For $50, you can get a good-looking Timex watch. It's waterproof; it's loaded with features, and it keeps excellent time. Yet for some reason, people will stand in line every day to pay $5,000 to $15,000 for a new or used Rolex that has no more features or time-keeping capabilities than the Timex. Logical decision or emotional one?
If you'll agree with me that Rolex buyers and inground swimming pool buyers are basing their decisions more on emotion than logic, then there's a way you can leverage that to your advantage.
First, let's recognize that people who are making emotional decisions will almost always try to justify the decision with logic. The watch buyer says, "Yes, the Rolex is expensive, but I really need it to fit in at work and with the upscale social circles that we're going to be spending more time with. Oh, and it's also a good investment."
But what's the real reason someone buys a Rolex? Because they like the way it makes them feel when they wear it.
That sounds like an emotional decision to me.
Meanwhile, the new inground pool buyer says they want more exercise, family time and more entertaining space, etc. These things are probably all true, but what is the real reason they want to buy an inground pool? Because they know how great they're going to feel when they walk out their backdoor — beaming with pride, they'll feel like they've "made it!"
Now, here's the tricky part. We can't ignore the logic, because they're going to need that logic to help justify No. 1, getting an inground pool in the first place, and No. 2, choosing you in particular. So we still need a good marketing story that explains and justifies why they're better off choosing you rather than anyone else.
But let's not forget that deep inside, there is a red-hot emotional desire that needs to be met.
So I strongly suggest you start your conversation on the emotional side of things. Don't talk about you or your company — or the type of steel or gunite or vinyl-liner package you use.
Talk about them. Ask them why they want the pool in the first place. But don't stop at the initial, superficial logical answers (more exercise, more family time, etc). Go deeper into the conversation.
RELATED: The Secret Behind Emotionally Compelling Landscape Design
How exactly do they see themselves using this pool? Are they going to be swimming laps or just cooling off ? What about kids playing? Or grandkids coming over? Or happy hour with the neighbors? Or letting the husband cook with his outdoor grill? Is anyone graduating high school in a few years? Have you thought about having a graduation party here? What about a wedding or wedding reception? Birthday parties? Anniversary celebrations? Sports watching parties?
Let's talk about how much fun they're going to have using and showing off this amazing new backyard. Let's talk about how they're going to feel when all the neighbors and relatives are green with envy. We might even talk about how this new backyard might change things for mom and dad, giving them some nice "decompress" time in the backyard after work.
Use your conversation to emotionally connect on a shared vision of what life will look like when they go ahead with this project.
Honestly, it doesn't matter what their ideas and visions are. The important thing is that you get deep into the emotional side of things, so that — without coming right out and saying it — you are both confident their emotional needs are going to be met when they hire you for this project.
Because here's the bottom line: When the homeowners see that you care as much about their emotional needs and desires as they do, you'll win their heart and their wallet.
Brett Lloyd Abbott is the founder and CEO of Pool Builder Marketing LLC (www.PoolBuilderMarketing.com), a marketing consulting agency that works exclusively with swimming pool builders, pool service companies, and high-end landscape professionals throughout the world. He is a frequent keynote speaker and leader of workshops and seminars.
---
This article first appeared in the September 2021 issue of AQUA Magazine — the top resource for retailers, builders and service pros in the pool and spa industry. Subscriptions to the print magazine are free to all industry professionals. Click here to subscribe.
---