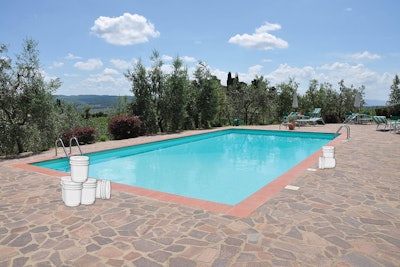 "You have got to get rid of all those empty pool tab buckets!" said my precious.
"But honey, I will use them all sooner or later. You don't expect me to just throw them away, do you?" And then I offered, "Wouldn't you like another kitchen recycle bin, so you can separate the paper recyclables from plastic? Or a second waste basket in each room?"
My beloved answered, "NO, THANK YOU! One 5-gallon waste bucket in each room is plenty. In fact, the one in the bathroom is definitely too big. Honestly, you have got to do something about all those buckets. There are way too many of them in the front and backyard, and they're a mess. The neighbors have complained, and now the city says they intend to give us a citation for having a 'bucket hoard eyesore.' Everybody must think we're crazy!"
"Oh my darling, they're just jealous," I explained. "They all wish they had more buckets themselves.
"My buckets are clean, handy and downright valuable. Didn't I give at least four dozen buckets for the city maintenance crews to use for tree planters last year? Don't all the neighborhood kids come over and play with our kids in the 'world's largest bucket castle?'"
My sweetheart answered a little aggravated, "That three story castle disaster you built collapsed and almost crushed our little Wally Bob. And I am certain the city workers just threw your so-called 'planter buckets' in the dumpster. So here's the deal, buckaroo, the buckets go or I go!"
I guess dearest really means it this time. I didn't know she was going to be such a tough sell, so I pulled out all the stops and went for the Ben Franklin Sales Close. "My love, did you know the big hardware stores sell buckets for five dollars, apiece. And that's without a lid. Why, according to my calculations, baby doll, we have a white gold mine worth about 20 grand in the backyard — and that's not even including all the smaller buckets. Just give me one good yard sale, and we will be able to take that long-awaited family summer vacation to see your folks in the Mojave Desert."
After a moment my love said, "Here's your dinner, Mr. Big Bucks." She served my spaghetti in a 10-pound, 3-inch tablet bucket, my salad in a 5-pound plaster patch pail, my dessert pie on a bucket lid and my drink in a DE scoop. Okay, I can take a hint, but she better not say anything about my boxes of empty test reagent bottles.
Robert (Pool Bob) Blade operates Aloha Pool and Spa and is a 20-plus year member of the Monterey Coast IPSSA chapter, past president, Region 10 secretary and PIE Show museum curator.
---
This article first appeared in the July 2022 issue of AQUA Magazine — the top resource for retailers, builders and service pros in the pool and spa industry. Subscriptions to the print magazine are free to all industry professionals. Click here to subscribe.