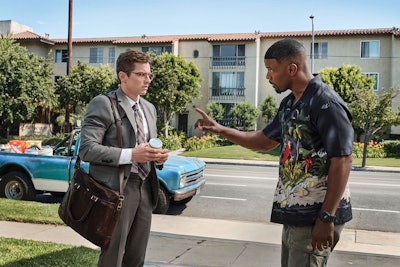 Photos courtesy Netflix
This summer, HASA pool products got their big break with a cameo in a new Netflix movie.
Day Shift, released on August 12, is a horror/comedy flick starring Jamie Foxx as "a hardworking, blue-collar dad who just wants to provide a good life for his quick-witted, 10-year-old daughter." The twist? His San Fernando Valley pool cleaning job is a front for his real source of income: hunting and killing vampires.
Throughout the film, viewers can glimpse HASA products tucked in the bed of Foxx's service truck as he does his rounds — and battles a few blood-suckers. Specifically, deposit sani-clor liquid pool chlorine (sold as four white bottles in a yellow case) and muriatic acid (sold as four red bottles in an orange case).
"These are our mainstream products that HASA has been selling to the pool service trade since 1964," says Terry Arko, product training and content manager.
It all began when Arko's phone rang a few years back. "I received a call from someone requesting some empty chlorine and acid cases with empty bottles," he explains. "When I called back, it turns out it was the prop manager from the Netflix props department."
"Initially, he didn't identify himself with Netflix, so I was rather curious as to why someone would want some chlorine and acid cases for a background. At first, he wasn't real forthcoming…I pressed him for more details," Arko continues. "It was then that he told me that it was a Netflix film, and very briefly told me that the plot was a pool guy who is secretly a vampire hunter. After I heard that, I said, 'Where do you want the products sent?'"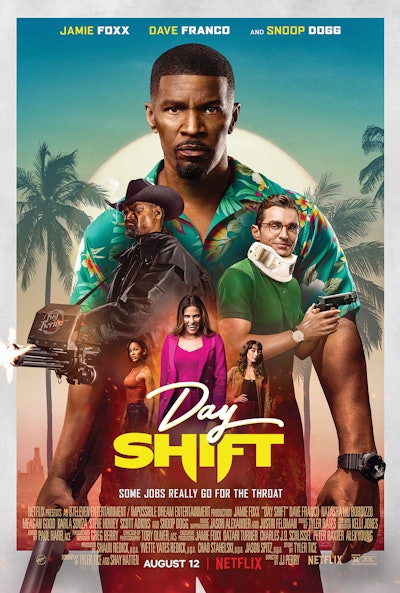 Apparently, prior to that fateful call, the film crew had prepared a pool truck with the usual hallmarks: vacuum hoses, brushes, a pool pole, et cetera. But when the director laid eyes on it, he thought something was missing.
"The director asked, 'Where are those orange and yellow cases that I see in pool trucks?'" Arko says. "He had seen the cases in pool service trucks, and felt that the truck wouldn't look authentic if it didn't have the HASA cases in the back."
Unfortunately, Arko wasn't able to work directly with production or even sneak a preview, though he offered up his pool guy expertise. "Quite frankly, I had forgotten about it. Then my son said, 'Dad, they dropped the trailer for that Netflix movie that has your product in it.' I just about jumped out of my chair."
"Who knows — maybe Jamie Foxx will show up in our trade show booth," Arko jokes. "Yeah, maybe not. But it's a very cool plot. We at HASA were thrilled that the director specifically singled out our deposit cases as such iconic items in a pool service truck."
---
This article first appeared in the October 2022 issue of AQUA Magazine — the top resource for retailers, builders and service pros in the pool and spa industry. Subscriptions to the print magazine are free to all industry professionals. Click here to subscribe.