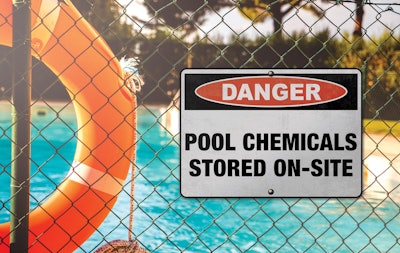 The news reports have been far too frequent this season — an uptick in pool-related chemical incidents across the country. Two large-scale public pool mishaps include:
In June, 14 people were hospitalized due to chemical exposure at a popular public pool in Boise, Idaho, after an accidental chemical spill while a commercial truck was filling tanks at the site. Neighbors were advised to shelter in place due to the risk of respiratory injuries as hazardous materials crews investigated.
More than 60 people were treated after a chemical leak at a Six Flags water park in Houston, Texas, in July, in an outdoor kiddie pool area. Upon inspection, officials detected 10 to 13% sodium hypochlorite (bleach) and 35% sulfuric acid solution — the result was a vapor release discharged from the bottom of the pool caused by "improper installation" of a water filtration and disinfection system. The leak did not cause any chemical burns, but waterpark visitors experienced minor skin irritation, headaches, vision problems, vomiting, dizziness, sore throats and the beginning stages of respiratory distress. A three-year-old child was rushed to the hospital, but later reported as being in stable condition.
So, what's causing the increase in pool-related chemical incidents and why now? A variety of factors could be at play, including the shortage of stabilized chlorine and trained workers.
SHORTAGES
The backyard swimming pool pandemic surge of 2020 certainly caused an unprecedented demand on chlorine supply. But the situation quickly worsened when a BioLab plant in Lake Charles, La., burned down last year after being impacted by Hurricane Laura, destroying some manufacturing capacity.
As one the leading suppliers of chlorine tablets, BioLab is the main source of chlorine for many pools around the country. With operations at the Lake Charles facility not expected to resume until spring 2022 — and only two other domestic chlorine tablet manufacturers, Occidental Petroleum and Clearon Corp. — pool operators and owners are facing a worsening widespread chlorine shortage and ever- increasing prices.
RELATED: Chemical Reaction at Georgia-Based Facility
With some chlorine products tough to come by, many operators and maintenance professionals have been forced to use alternative chlorine products — perhaps those they aren't as familiar with, increasing the likelihood of chemical incidents and injury.
At the same time, pool operators and maintenance companies have been hard pressed to keep a full complement of qualified professionals in the field. Our industry struggles aren't news — for years now, we've experienced staff shortages across the country and beyond, due to a number of factors. But this year, the ongoing COVID-19 pandemic and the national chlorine shortage have combined to steepen
the challenge for public and residential pools.
SAFEGUARDS
Chemical-related injuries do not rest solely on the staff, but on how the systems are designed. Pools should be designed with interlocks that prevent chemicals from being injected into the recirculation system when there is no flow, either through a shutdown of the pool pump or while the filter system is being backwashed.
When the filtration system is in a state of no flow in the return lines to the pool, chemicals — specifically chlorine and pH controlling chemicals — can mix in the return lines, potentially creating harmful gases. When the system is returned to normal flow, these gases are injected into the pool, often causing eye, skin and lung irritation, and in some cases, severe respiratory issues that require hospitalization.
Interlocks are commonly found as a function of pool automation — computers that control the injections of sanitizer and pH controlling chemicals into the pool. They can come in other forms, specifically electrical interlocks that disable the chemical feed systems when there is no flow. It's not enough to have the interlocks in place; interlocks should be regularly tested to ensure proper operation and ultimately, the safety of staff and swimmers.
MAHC GUIDANCE
Owned by the Centers for Disease Control and Prevention (CDC), the Model Aquatic Health Code is a voluntary set of guidelines to prevent injury and illness at public aquatic venues such as pools, hot tubs and water playgrounds. MAHC guidelines bring together the latest science and best practices to help jurisdictions save time and resources when they develop and update pool codes.
RELATED: Chemical Mishap Leads to Death of Restaurant Employee
The MAHC addresses such topics as how aquatic facilities are designed and built, how chemicals are added and maintained, and how facilities keep staff and swimmers safe.
The full code is available here, and select "Mini MAHCs" are offered, as well, to make the guidance more accessible by aggregating the code and annx language on a specific public health issue into a concise and easy-to-use document.
Preventing pool chemical injury is just one topic condensed into Mini MAHC form. Available on CDC's website here, it includes recommendations on how to decrease injury risk through safe equipment room and chemical storage area design and construction, pool chemical safety and training, and chemical spill procedures and emergency response.
As Executive Director of the Council for the Model Aquatic Health Code (CMAHC), Kristie Riester has more than 20 years of experience in public service and worked her way up from lifeguard to Community Services Director. Dewey Case serves as Technical Director at CMAHC and has more than 20 years of experience in aquatics management. He also manages aquatic facilities for his local YMCA.
---
This article first appeared in the October 2021 issue of AQUA Magazine — the top resource for retailers, builders and service pros in the pool and spa industry. Subscriptions to the print magazine are free to all industry professionals. Click here to subscribe.
---