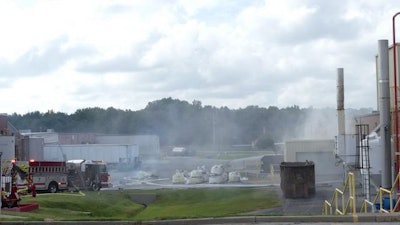 On Monday, Sept. 14, a chemical reaction occurred in BioLab's Conyers, Ga., facility, caused by roughly 12 pallets of dry chemicals. A BioLab spokesperson states that the incident was a result of water exposure, which caused the response team to be especially cautious while dealing with the situation.
"We are investigating a chemical reaction that occurred at our BioLab facility in Conyers, Ga. due to water exposure, leading to smoke over Interstate 20," BioLab stated in an email. "We are not aware of any injuries and have confirmed there is no fire at the facility. Our management team is on the scene, working with first responders and local authorities to assess and contain the situation."
The recent incident has not resulted in the need for residential evacuation as others have in the past, though major delays have been caused following the closure of I-20 in Rockdale County. Clouds of heavy chlorine smoke prevented visibility, and officials urged drivers to find alternate routes. The route has since been reopened, and still no injuries have been reported among BioLab employees or first responders.
BioLab has stated that they will release further information as it becomes available.
Original source: AJC News