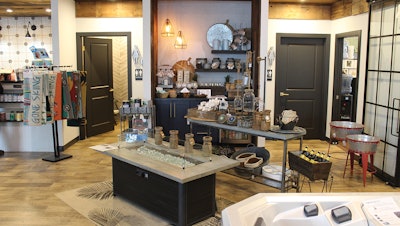 Photo courtesy Rene Huston
"Our industry is always evolving," says Rene Huston, president of Patio Pleasures Pools & Spas in Madison, Wis., "but in some ways, it remains constant. For example, I think the way consumers like to entertain in the backyard has stayed the same, but some of the products that used to be of interest to them when it comes to entertaining have changed."
For retailers in our niche industry, finding the right product balance is an art. They must find outdoor living items that give customers a reason to come to their store instead of going online or to mass merchants. The reasons may have to do with support, like hot tubs, or they may have to do with exclusivity, which can be short-lived if the product is a big hit, like pellet grills. It just means you have to be nimble and move on when you need to.
"When we first brought in wood pellet grills a handful of years ago, we really wanted to be selective so that we were hitting more of a niche market," Huston says. "They were very popular for many years, and then we decided to offer flatiron grills. However, because grills are now available through so many different outlets, we have decided to move away from selling any type of grill."
Of absolute importance is the constant evaluation of the local market, including exactly what the target market is doing with its money, and how tastes are changing. Huston's customers are tasting pizza, to be exact, in a renovated backyard space.
"Outdoor kitchens are still really popular. When a consumer is adding an outdoor kitchen to their space, it's usually in conjunction with a larger backyard project, which includes landscaping and other things, but we don't have the capabilities or department to do that. However, what does work well for us, and is comparable on a smaller scale to outdoor kitchens, is the pizza oven. Pizza ovens have been a great addition to our product mix thus far."
Sometimes, you may want to offer a product in your store just because you like it. And you have to trust your instincts, to some extent. However, you must not let your personal preferences get in the way of your company's overall mission, image and goals. For example, Huston appreciates the visual appeal of blow-up pools, and understands their popularity, but knows they wouldn't fit in with the store's brand and values.
"It's really painful for us at times because blow-up pools can be very attractive in design, structure, curb appeal and price; however, then the customer may not get the best support equipment in order to keep that body of water clean, which is super important to us. That being said, we used to carry a soft-sided pool, which is similar to an intex pool, but we were able to pair it with some high-quality equipment. We no longer carry that pool, but I still see it as a very relevant product line for those consumers who want a swimming pool, but who are just looking for something more simple."
Taking the Plunge
Health and wellness have been trending for many years, and that movement shows no signs of fading. People want to be the best versions of themselves, and they want the best products to help them to do so. Our industry has targeted that market for decades with spas and saunas, but now, instead of offering the wellness benefits of intense heat, seeks to give customers intense cold.
"If we sell warm bodies of water," Huston says, "why wouldn't we also consider selling cold bodies of water? We get a lot of people who walk into our showroom and ask if we have a cold plunge option. We don't currently carry one because we are trying to find a compatible manufacturer who isn't competing against us by selling direct to consumers, but we've been on the lookout to get some cold plunges into our stores for a couple of years now."
Alongside hot new products, staples like casual furniture remain the backbone of outdoor living retail. But while lounging in a chaise lounge will never lose its appeal, the colors and styles are updated on a regular basis, and the ability to match all items is a strong buying incentive.
"We still do our polyresin product, which consumers especially like since it's a more eco-friendly approach to furniture. It's also a lifetime product. It's not something that has to be replaced or budgeted for at some later date. What we have seen change in the poly furniture market; however, is the different designs, colors and styles that have become available. Fire tables have also been constructed out of polyresin material to match other outdoor polyresin furnishings, as well as a ping pong table; we carry both products at our store."
Alongside the staples and the latest items, there should always be products in a pool and spa retail showroom, along with a distinct atmosphere, that sends a simple, straightforward message: fun.
"When our consumers walk into our store, they love being able to see all the trinkets we have to offer," Huston says. "We want to display items that remind them of their upcoming pool party, which then inspires them to purchase some new items for it. I think most professionals in the pool and spa industry know these items are not a high-profit product or product line. But we still carry them, and other products like them, because it's part of our showroom vibe that our customers have come to look forward to and enjoy.
"We want to provide them with an experience. Both of our showrooms have complimentary alcoholic and nonalcoholic beverages, freshly popped popcorn and occasional ice cream events. We have a designated children's area, complete with a variety of toys and games to keep children entertained while their parents shop. The reality is, we compete not only with big-box stores, but we also compete with online retailers and one another. You need both complementary and non-complementary peripheral products in your retail store to differentiate yourself from the competition and therefore, set your business up for success."
---
This article first appeared in the September 2023 issue of AQUA Magazine — the top resource for retailers, builders and service pros in the pool and spa industry. Subscriptions to the print magazine are free to all industry professionals. Click here to subscribe.