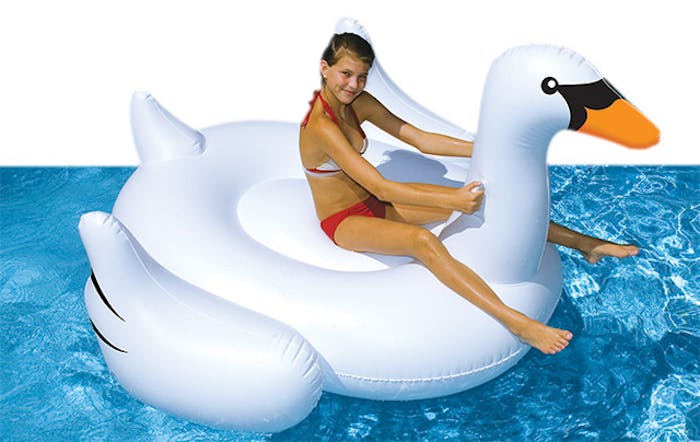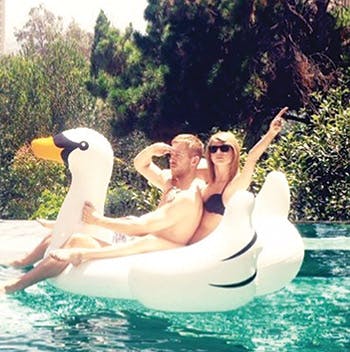 Photo courtesy of Taylor Swift - Click to enlarge
Almost everything Taylor Swift does feeds into popular media, so it was only a matter of time before she created a small sensation for the aquatics industry. The pop music phenomenon has recently drawn attention as the Swan Princess of Song — at least where inflatable swans are concerned.
As unlikely as it may seem, Ms. Swift's public association with an elegant pneumatic swan has sent sales of blowup waterfowl through the roof. It all started in June when she posted an image on Instagram of herself and boyfriend Calvin Harris riding a blow-up swan in a beautiful residential pool. As is often the case with celebrity tweets and posts, the image immediately went viral, creating a sharp upsurge of interest in creative pool toys, particularly swans.
However, according the manufacturer of the swan, Swimline Corporation, this isn't the first time images of celebrities riding birdback have stoked demand. In recent years, other pop-icons including Kim Kardashian and Kate Upton have been photographed riding swans in pools.
In a recent Wall Street Journal article covering the swan craze, Swimline sales manager Kieran Glackin was quoted saying, "I've seen swans in 15-foot aboveground pools and swans in the backyards of $5 million homes." He attributes swan stardom not only to celebrity exposure, but also the swan's elegant appearance. "If it was floating in a pond, you could see other swans floating up to it saying, 'Hey, how are you doin'?'"
The company does not intend this episode to be its swan song. Swimline is poised for future success with other creative flotation devices including the ice-cream sandwich, pretzel and pizza slice. Shouldn't be too hard to get a picture of a star holding one of those too.